Fairfax County is often cited as one of the best places to live in northern Virginia. The Fairfax public school system is consistently ranked as one of the best in the country, there is plenty of economic opportunity, great healthcare facilities, low crime rates, and gorgeous green spaces to enjoy. Best of all, Fairfax is diverse – over 200 languages are spoken by the 180,000 students in the Fairfax county public school system - welcoming place with people who care passionately about the well-being of their neighbors and community. No wonder it's often included in lists of the best places to live in America.
If you're thinking about moving here, read on for insider tips and need-to-know info that will help you decide whether and how to make the move. And when you're ready to go, give us a call. We're Bellhop, and our local Fairfax movers would be happy to help you settle into your new home.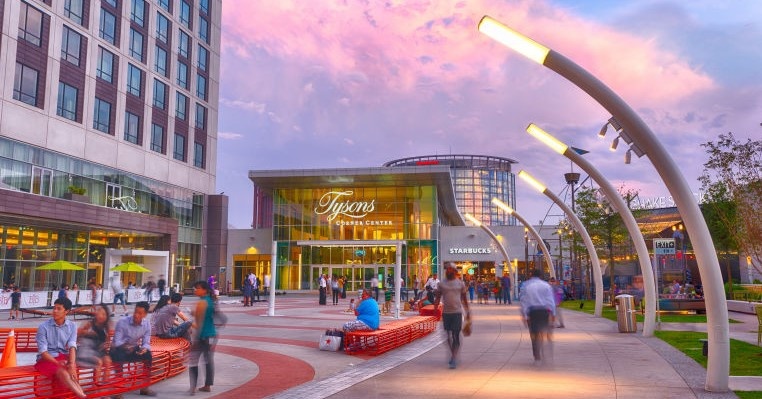 Fairfax County and Fairfax City
It's easy to confuse the city of Fairfax with Fairfax County, so let's start by getting situated. Fairfax County is just across the Potomac River from Washington, D.C., it has a population of about 1.15 million, with a median household income just over $116,000. Much of the county is suburban, with some urban and rural areas. Fairfax County is home to more than 37,000 businesses, including about a dozen Fortune 500 companies.
Fairfax City, a six-square-mile jurisdiction surrounded by Fairfax county, is located roughly 19 miles southwest of DC and is an independent city under Virginia law (fun fact: In the United States, there are 41 independent cities, and 38 of them are in Virginia). Other independent cities in the area include Falls Church, Alexandria, Manassas and Manassas Park. Fairfax City has a population of roughly 24,000 people, with a median household income of $104,000.
Pros of living in Fairfax:
Diversity
**In general, the**close proximity to the many embassies in DC, along with established immigrant communities, has created a unified community of shared cultures in much of the county. According to data from the U.S. Census Bureau, the largest immigrant groups in Fairfax County are from El Salvador, India, and Korea. Other immigrant groups with significant populations in the county include those from Vietnam, China, the Philippines, and Mexico.
Diversity makes for an interesting, educational and exciting place to live. Among the perks are cultural festivals, including the annual Korean Day Festival (held every September) which features traditional Korean food, music, and dance, the International Children's Festival (held in May) which celebrates the diversity of Fairfax County and features performances, food, and activities from a variety of cultures and the Fairfax Asian Pacific American Heritage Month Celebration (also held in May) that celebrates the contributions of Asian and Pacific Islander communities to the Fairfax County area and features performances, food, and cultural exhibits.
Diversity has also resulted in Fairfax's thriving international restaurant scene.
Fairax Restaurants
Churrasco's - Brazilian steakhouse serving a variety of grilled meats, including beef, chicken, and pork, as well as a variety of sides and salads.
El Pollo Rico - A Peruvian restaurant known for its rotisserie chicken, which is marinated in spices and cooked over an open flame.
Kabob Bistro- A middle-eastern restaurant offering a range of dishes, including falafel, shawarma, and kabobs, as well as traditional sides such as hummus and rice.
Kojawan- This Korean restaurant serves a variety of traditional dishes, including bibimbap, bulgogi, and kimchi stew.
Pho 75 - This Vietnamese restaurant is a local favorite for its delicious pho noodles and other traditional dishes, such as spring rolls and banh mi sandwiches.
Saffron Grill - An Indian restaurant is known for its flavorful dishes, including tandoori chicken, lamb vindaloo, and biryani.
Economic Opportunity
Northern Virginia has a strong job market, with plenty of government and private companies looking to hire for roles ranging from entry-level to executive. Salaries tend to be in-line with the high cost of living in the area. And if you're looking for a solid talent pool for your start-up or relocated business, Fairfax's colleges provide a wealth of smart potential hires.
The Arts
You are a quick drive away from Washington D.C, one of the world's best known cities, with world-class arts, dining, and entertainment offerings. And there is an amazing amount of great things to do here for free – like touring the 17 world-class museums and galleries of The Smithsonian Institute (and the National Zoo). No need to leave your new home town to have fun though, many of Fairfax's neighborhoods offer family friendly events, as well as unique locally-owned restaurants (try Chubby Squirrel for craft beer, poutine and pierogi, Pho Thang Long for Pho, Bakery, Bread & Grill for Bolivian dishes and Latin breads and pastries, Chutzpah for deli and classic comfort food, Meokja Meokja for Korean barbecue, Captain Pell's for seafood and Dolce Vita for Italian-American), breweries (like the aforementioned Chubby Squirrel and Bunnyman Brewing, Mustang Sally, the Ornery Beer Company, and Honor Brewing), and stores.
Cons of living in Fairfax
The Traffic
sometimes it seems like everyone in Fairfax country is in their car, on the move, all the time. You can count on heavy rush hour traffic and heavy weekend traffic in the urban areas and main streets of the suburbs. Part of this is due to Fairfax County's lack of a master plan, the various cities and suburbs seem to have evolved organically. So those backstreet shortcuts you may have depended on back home can be harder to locate here. This will be more of a hassle when you first move in. Soon enough, you'll figure out the traffic patterns and how to get from one place to another as efficiently as possible.
The Weather
The DC area is known for its hot, muggy summers. Temperatures can occasionally reach up to the high 90s. But even when it doesn't get that hot, you can feel like you're wrapped in a warm wet blanket. Winter? Bitter cold, usually not much snow – except for a blizzard once or twice per decade. Thankfully, Autumn and Spring are amazing, and anticipating those two seasons will get you through the less pleasant ones. (And if you happen to love extreme winter and summer weather too – yay, you! You will thrive in Fairfax.)
Cost of living in Fairfax, Virginia
All the perks of living in Fairfax come at a price, and the cost of living in Fairfax County is about 56% higher than almost anywhere else in America. Much of that is due to the competitive housing market. Otherwise, you'll pay about the same of the national average for things like utilities, food and healthcare. Fairfax's cost of living is in line with many of the cities in Northern Virginia, and somewhat lower than the average cost of living in Washington, D.C.
Fairfax, Virginia Economy
Fairfax has a strong economy, particularly in sectors such as education, healthcare, manufacturing and technology. There are several business incubators to help entrepreneurs and startup companies succeed.
Fairfax Infrastructure
Much of Fairfax County has a modern, well-maintained infrastructure. Cables are buried, high-speed internet access is readily available, and most of the roads tend to be in good shape.
Public transportation offers good options for avoiding the often-dense traffic in urban and suburban areas. While locals do complain about delays, the system generally works as well as you'd expect in any heavily-populated location.
Fairfax county is served by the Washington Metropolitan Area Transit Authority (WMATA), which operates the Metrorail and Metrobus systems in the Washington, D.C. metropolitan area. The Metrorail system's six Fairfax lines the Orange, Silver and Blue lines will often be the ones that get you where you want to go. The Orange Line runs from Vienna/Fairfax-GMU station through Tysons Corner, downtown Washington, D.C.. The Silver Line runs from Wiehle-Reston East station in Fairfax through Tysons Corner, Reston, and into Loudoun County. The Blue Line runs from Franconia-Springfield station in Fairfax through Alexandria, Arlington, and into Washington, D.C.
Metrobus provides public bus service throughout Fairfax and the surrounding areas. There are several bus routes that serve the Fairfax area, including routes connecting to the Metrorail stations and routes serving local destinations.
Fairfax is served by three major airports: Washington Dulles International Airport (IAD), Ronald Reagan Washington National Airport (DCA), and Baltimore/Washington International Thurgood Marshall Airport (BWI). The Washington Flyer Silver Line Express Bus provides service from Dulles Airport to the Wiehle-Reston East Metrorail station, where you can connect to the Silver Line to travel to Fairfax and other destinations in the Washington, D.C. metropolitan area. The Metrobus 5A line provides service from Dulles Airport to the L'Enfant Plaza Metrorail station in Washington, D.C., where you can connect to the Orange, Silver, and Blue lines. Reagan National Airport is located in Arlington, Virginia and is accessible by Metrorail via the Blue and Yellow lines. BWI Airport is located in Maryland and is accessible by bus and rail from Fairfax via the Marc Train and Amtrak systems.
Housing in Fairfax, Virgina
Fairfax is an appealing mix of new and old, with historic buildings coexisting nicely with more modern structures. Be aware that the housing and rental markets in Fairfax overall are very competitive. New construction is fairly limited, and residents tend to be home owners that are rooted in the community. Fear not, you'll find your home, but it may take a bit of patience. Average rent for a studio apartment in Fairfax is between $2,009 and $2,509. The median home price across Fairfax county is $704,655.
Fairfax County Schools
Fairfax County has outstanding schools. According to the Fairfax County Public Schools website, nearly 94.6 percent of FCPS students graduate high school on time and more than 92 percent plan to pursue post-secondary education. Students can take Advanced Placement (AP) or International Baccalaureate (IB) classes in high school, and the IB middle years program and the IB primary years program are offered in select schools.
Some of the top-ranked schools in Fairfax County according to U.S. News & World Report include Thomas Jefferson High School for Science and Technology, Langley High School, and McLean High School. Standout elementary schools include Oak Hill Elementary School, Great Falls Elementary School, and Chesterbrook Elementary School. That said, the "best" school is the one that meets your family's needs. Research schools in your area and consider factors such as academic programs, extracurricular activities, class sizes, and resources, as well as the school's culture and mission, in order to determine which school may be the best fit for your child.
Fairfax county is also home to several renowned universities and colleges, including George Mason University, Northern Virginia Community College, and Stratford University.
George Mason University is a public research university with a main campus in Fairfax, Virginia. It is the largest public research university in the Commonwealth of Virginia and offers a range of undergraduate and graduate programs in fields such as business, education, engineering, law, and the arts and sciences.
Northern Virginia Community College (NOVA) ranks in the top 15% of College Factual's 2023 ranking of best overall colleges in the United States. NOVA is a public community college with several campuses in the Northern Virginia region, including one in Fairfax. NOVA offers associate degrees and certificate programs in a variety of fields, as well as opportunities for students to transfer to four-year colleges and universities.
Stratford University is a private university that offers undergraduate and graduate programs in fields such as business, education, healthcare, and technology.
Best Places to live in Fairfax County
From rural to urban, Fairfax County has something for everyone. And no matter where you settle, you can typically get to/from the city/country quickly and easily. We've highlighted some of our favorite places to live in Fairfax County below. Assume that all of these neighborhoods below have excellent schools – as noted above, that's pretty much a given in Fairfax county. Also assume that you'll be paying plenty to live here, even a "bargain" in Fairfax tends to be pretty pricey when compared to much of the nation's home prices.
Country Club Hills
Despite its fancy name, this area in Fairfax City tends to be relatively affordable for first-time buyers. And living in Fairfax City, as opposed to Fairfax County, means that your property taxes are somewhat lower. Country Club Hills is a great place for families, with spacious lots, a park (the Commons) that backs to Accotink Creek and an active civic association that plans fun events that can help you meet your new neighbors. The neighborhood is very close to Fairfax City's Main Street hub, with its restaurants, shops and library. Also within walking distance are a swimming pool, the Army Navy Country Club, several parks and walking/biking trails. Houses here are 1950s style ramblers, and start at around $550,000.
Fairfax City
Looking for a safe, suburban community that doesn't feel like a walled garden? Fairfax, an independent city in the Commonwealth of Virginia, might be the place for you. Located just 20 minutes from the nation's capital, tiny-but-mighty Fairfax City packs so much into its six-square-miles. The city has a cozy small town feel with the amenities and opportunities of a thriving urban area. You'll find great restaurants, coffee shops, museums, parks and public schools here, and you can easily walk wherever you want to go in town. The historic Old Town section is an interesting mix of old and new. It's home to events including Rock the Block, Derby-Q, Fall Festival and Festival of Lights and Carols, along with numerous concerts and entertainment events. There are gardens and a pergola, as well as a water park. There are over 258 acres of green space, comprising 25 parks, and 28 miles of trails. One bedroom apartments start at around $1750, and the median home price is $650,000.
Kent Gardens
Close to McLean, Kent Gardens is an older neighborhood with great schools, a strong sense of community and somewhat more affordable home prices - think $700,000+ for older Cape Cod-style homes and ramblers. Newer houses start at $1.3 million. It's worth it if you can afford the cost. Your children can learn French in the immersion program offered by the excellent Kent Gardens Elementary School. In the summer you can head to The Kent Gardens Recreation Club, for swimming and social activities, and year-round you can enjoy the 26-acre Kent Gardens Park's hiking trails and playground.
McLean
If your budget is robust, McLean is a wonderful place to live. Just 10 miles from DC, McLean's history goes back four centuries to the Lord Fairfax of Cameron who owned a huge chunk of Virginia, including the land McLean is now situated on. Nowadays, McLean is a family-friendly area with easy access to DC via its own Metro stop. In a county known for its excellent schools, McLean's educational offerings are outstanding. Crime is low, community amenities include beautiful parks with hiking and biking trails. The McLean Community Center offers original theatrical productions, art exhibits, and classical music performances year-round. Tyson's Corner Center and Tyson's Galleria, renowned shopping districts, are right here. Other local amenities include the McLean Farmer's Market and the Robert Ames Alden Theatre. Median home price here is $1.3 million.
Merrifield
This planned community is home to roughly 18,500 residents, and is a great place for young professionals and families. Merrifield is affordable, given the high costs of homes in much of Fairfax County, and is one of the few places where many people rent their homes. You'll find plenty of restaurants, coffee shops, and parks in Merrifield along with those excellent public schools that Fairfax is known for. Median price for a home is $535,000, and the average rent is $2,100.
Reston
Reston's town motto is "Live, Work, Play" which sounds fine to us. The vibe of this suburban town is similar to Merrifield, upscale but relatively affordable and especially appealing to young professionals and families. Reston offers beautiful public open space, a thriving restaurant and arts scene, plenty of shopping, and family-friendly activities. Reston was purposely designed to preserve undeveloped green spaces for public enjoyment and boasts 800 acres of woodlands with 4 lakes, 4 wetlands, 3 ponds, 50 meadows, and 30 streams. You can explore much of this green treasure on the town's 55 miles of paved and natural trails. Median home price here is $535,000.
The Town of Vienna
Known simply as "Vienna" to its friends, this area has a great community feel, and is an eminently walkable neighborhood. You can stroll over to the restaurants and shops on Maple Avenue, where you'll find specialty shops, a collection of restaurants, family-run businesses, and small stores. You can also meet and mingle with other residents at the excellent annual Halloween Parade, various block parties and free summertime concerts. Median home price here is $1.45M. You may be able to find one of the few remaining bargains in the Vienna Woods area, some of the older, smaller homes here can be had for $650,000+.
Other City Guides
Still thinking it over? Check out our guides on these nearby cities:
Ready to move to Fairfax?
Ready to make the move to North Virginia? Our Bellhop movers in Fairfax County can help optimize every step of the process. Whether you're moving fromacross the country or from one a local Fairfax move, Bellhop works hard to make your move as stress-free as humanly possible. Contact us today!