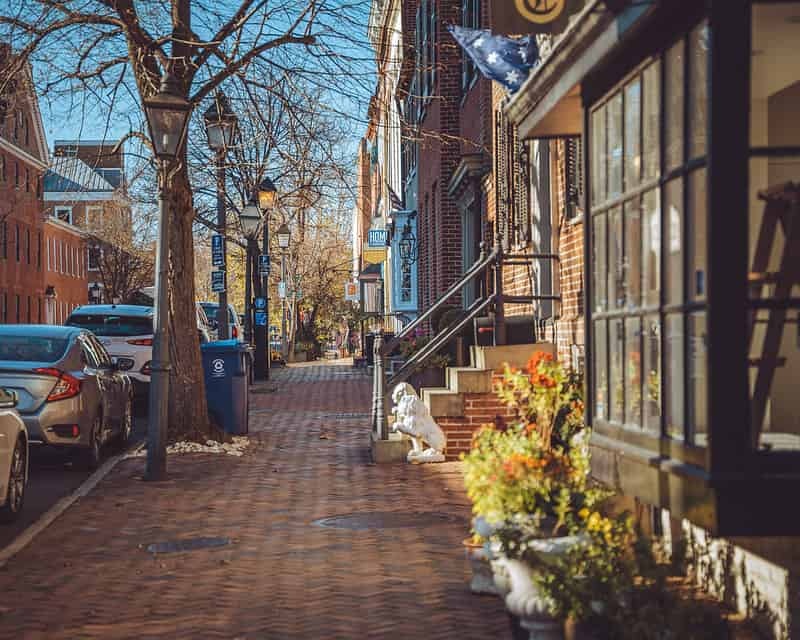 Moving to a new city can be stressful. Even when you're settling into a place as friendly and eventful as Alexandria, VA, getting acquainted with your new city can be tough. Whether you're sure about this move or not, our Bellhops city guide is exactly what you need. (Oh, and we're movers in Alexandria, by the way!)
Keep reading to get a well-rounded insider's scoop on life in Alexandria, from the cost of living and best neighborhoods to the job market and culture.
An Overview of Alexandria
This pretty residential pocket, about 8 miles south of downtown D.C., is as rich in history as it is current in its events and amenities. It's known for its colonial roots as George Washington's hometown and is home to several historical attractions that were once frequently visited by America's founding fathers. But the city doesn't have its eyes locked on the rearview mirror. It also hosts some of the most creative and current events you'd find in a city its size.
Alexandria is home to some of the oldest houses in the area. In portions of the city, these character-rich homes border worn, cobblestone streets. The entire east length of Alexandria lines the Potomac River. Packed with parks, this little city enjoys some spectacular waterfront views.
What Is Alexandria's Cost of Living?
The cost of living in Alexandria is a bit higher than the rest of the country's average, with housing expenses 133% higher than the national average. Transportation expenses like bus fares and gas prices are also about 10% higher, and groceries ring up at 17% higher than the national average.
That said, Alexandria's median household income is $10K higher than the national average, at $87,319 a year. So Alexandrian's aren't exactly suffering under their city's costs.
How Is the Job Market in Alexandria?
Sitting just a few miles away from Washington D.C.'s strong job market, residents of Alexandria have close access to a wide range of careers. But Alexandria offers thousands of its own thriving job options.
The city's largest employers include the Department of Commerce, Alexandria City Public Schools, The Alexandria Hospital, ABM Janitorial Services Inc., Institute for Defense Analyses, Commonwealth of Virginia, CNA Corporation, and Grant Thornton LLP.
Where to Live: The Best Alexandria Neighborhoods
We've explored its streets, heard from locals, and found the five best areas to live in Alexandria.
The winners:
Old Town
Eisenhower East
North Ridge
Rosemont
Del Ray
West End
Check out our Alexandria neighborhood guides for more info on these top spots and insider's tips so that you can get to know each neighborhood like a local.
What to Expect: People of Alexandria and Crime in the City
Alexandria's Culture
Friendly Alexandria is known for its love of dogs, and a multitude of local businesses offer "yappy hours" where patrons can bring their pups along with them. In fact, it's hard to find a restaurant that doesn't allow pets on the patio here!
But Alexandria isn't only friendly to the furry — people of all backgrounds and beliefs, as well as bikers, walkers, joggers, and stroller-pushers are all welcomed and accommodated in Alexandria.
Is Alexandria Dangerous?
Many cities have higher crime rates than the nation's average. Unfortunately, Alexandria is no exception. Relative to Virginia, Alexandria has a crime rate that is higher than most of its other cities and towns.
But Alexandria's crime rates have been going down steadily. Since 2015, each year, the crime rate decreases notably. If security is your top priority, consider moving to one of Alexandria's safest neighborhoods, like Alexandria West, Eisenhower East, Old Town North, and Potomac West. Check out our guide to the best family-friendly neighborhoods in Alexandria for other tips on safer Alexandria neighborhoods.
Get Moving: How to Get Around and Stay Active in Alexandria
Walkability and Public Transportation
While it's not uncommon for residents to own their own car in Alexandria, many certainly leave the wheels behind and get around on foot. Alexandria is laced with many lanes, paths, and trails made especially for peddlers and pedestrians.
The city offers several public transportation options, like their National Railroad Passenger Corporation, known as Amtrak, which takes Alexandria residents in and out of D.C. Locals can also get around and between cities via the Virginia Railway Express and Alexandria's four Metrorail stations. You can also get to where you're going using any of their four bus services.
Sports and the Outdoors Around Alexandria
This active community offers residents several chances to enjoy fresh air and escape the city bustle.
Alexandria provides hiking and biking trails, waterfront walking paths, and boating along the Potomac River. During warmer summer months, locals and their families can cool off at the Cameron Run Regional Park's water slides and wave pool.
Alexandria also encompasses over 900 acres of parks and public space. Throughout the parks, joggers can enjoy the winding and peaceful Mount Vernon Trail, garden gurus can explore the Winkler Botanical Preserve, and families can picnic and play volleyball by the river.
The city also hosts several adult sports leagues covering everything from flag football and 3-outs softball to late-night basketball and coed kickball.
Alexandria Culture and History
Alexandria Food, Drinks and Dining
Alexandria is full of top dining spots and a thriving bar scene.
Elizabeth's Counter may be one of the best "I can't believe it's vegan" breakfast spots you'll ever find.
Don Taco, a tasty taqueria serving Mexican street food and margaritas, is a popular local hub.
Vermilion, a farm-to-table hub hosts promotional events about local farmers and foragers.
Brabo, a fancy French stop whips up some kick-butt cocktails.
We're just scratching the surface. Alexandria won't leave you hungry or thirsty. Its culinary scene is vastly diverse, so you'll be sure to find those hole-in-the-wall spots that satisfy your cravings.
Alexandria Festivals
Alexandrians don't have to worry about a dull weekend. With its close proximity to Washington, D.C., plus its own festivals, parades, art shows, live music, theater, history reenactments, and holiday celebration, Alexandria's award-winning culture never stops.
The city doesn't just tack on the typical beer fest or cultural event such as the Turkey Trot and call it a day. Alexandria's events are creative and plentiful, and they vary from educational — like the Breaking Down the Wall of Slavery event — to fantastical — like their Banquet and Ball at the Gadsby's Tavern Museum.
Some of their events last year and this year have been canceled, postponed, or swapped out for a virtual version. You can easily check the status of an event on the city website.
Even on the weekends empty of events, Alexandria locals can still experience their city's culture, because this little city celebrates its culture with art, food, and entertainment throughout the year. For example, the Torpedo Factory Art Center features more artist studios (82, to be exact) available for public visits than anywhere else in the country. Plus, they offer seven galleries that will fill any art-lover's pining heart.
Alexandria's History
Alexandria was founded in 1749. Over the many years, this city was a tobacco trading post, one of the ten busiest ports in America, a Civil War supply center for Union troops, and the hometown of George Washington, Robert E. Lee, Jim Morrison, and Cass Elliot.
Between its museums and historic districts, Alexandria takes care to protect and preserve its older days.
The Alexandria Black History Museum honors the African American experience and cultural diversity within the neighborhood.
Jones Point Park weaves a path through the city's past.
Historic tours of the city pass by the D.C. boundary stones laid in 1791, a lighthouse established in 1855, and a World War I shipyard.
More Resources for Moving to Alexandria
Interested in learning more about the city? Feel free to tailor your research and dive more deeply into Alexandria topics that appeal to and relate to you.
VisitAlexandria.com: Get to know the city, find your way around, learn more about its history, and read up on the best restaurants and entertainment Alexandria has to offer.
AlexandriaVA.gov: Reference Alexandria's official website for info about affordable housing, parking, neighborhood services, city history, parks, and facilities.
GreatSchools.org: Find some assistance in sorting through Alexandria's best schools here
Like What You See?
If you decide to take the plunge and move to Alexandria, don't hesitate to reach out to your friends at Bellhops. We coordinate local and long-distance moving services in Alexandria and we would love to help.