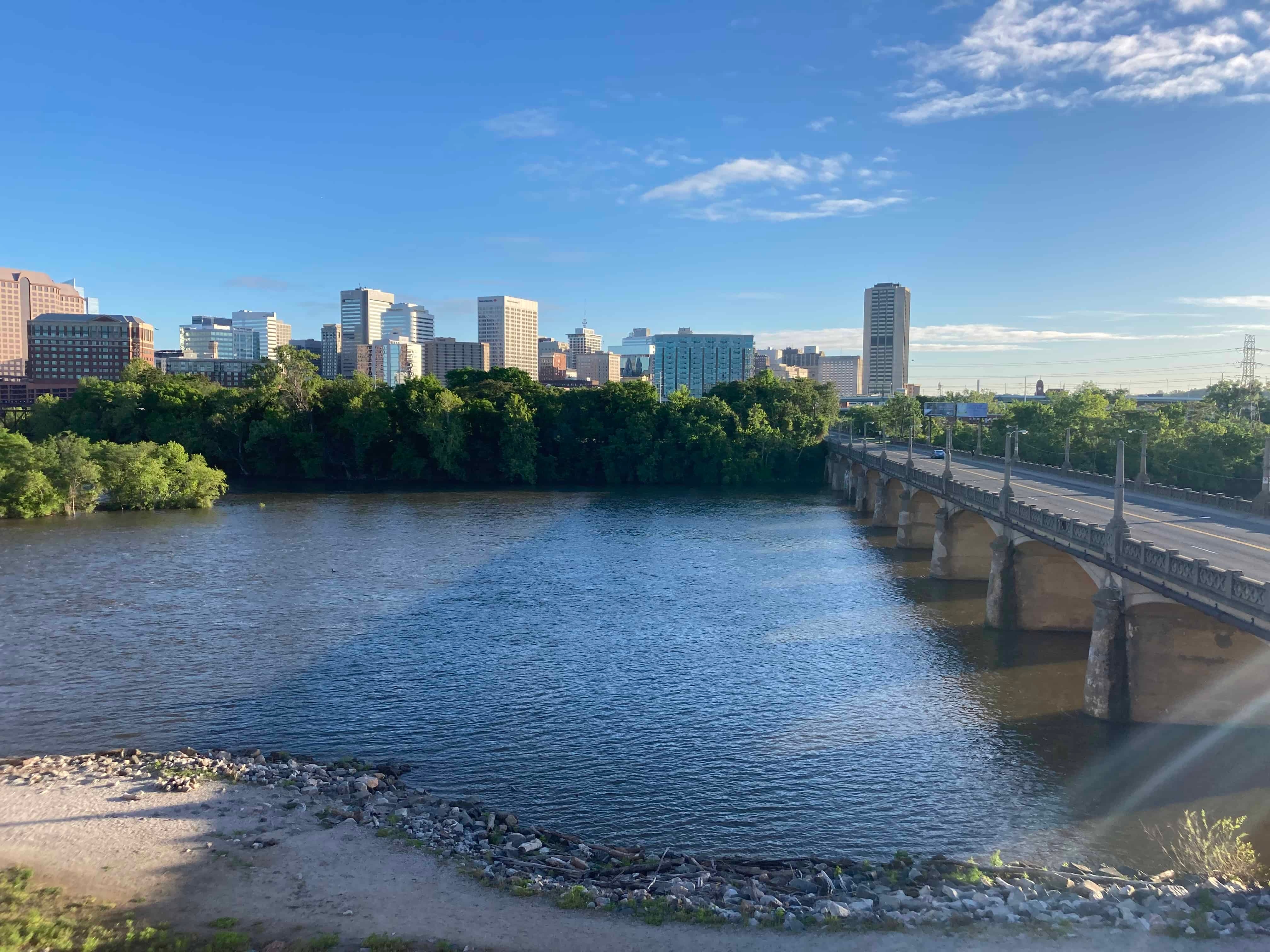 Richmond, Virginia – also known as RVA – is widely known for its Civil War history, but Richmond is more than a history lesson. The city has an incredibly strong local culture featuring tons of locally owned breweries, eateries, boutiques, and stores filled with regionally made products.
But, that's just scratching the surface. You're probably wondering what it's like to live in Richmond, what the cost of living is, how the public transportation ranks, and where the cool Richmond neighborhoods are.
Luckily for you, we've gathered information and resources to help you discover all of this and more. We've also reached out to folks who live there to find out what they love about the city and what they think it could improve upon.
A Brief Overview of Richmond
Richmond was founded in 1607 - so named because the view from Libby Hill Park of the James River looks like the Thames River as viewed from Richmond, England. Richmond is the capital of the Commonwealth of Virginia. The Greater Richmond area includes four surrounding counties:
Chesterfield
Hanover
Henrico
Powhatan.
The James River's fall line is located in Richmond, making it a river city. The city's population is around 227,000 and growing because of Richmond's increasing popularity.
Cost of Living in Richmond
The cost of living in Richmond is only slightly higher than the national average. But don't worry, because it's still lower than a lot of other U.S. cities like Miami, L.A., and New York City.
What Is Employment Like in Richmond?
Richmond has a diverse number of industries including financial, medical, biotechnology, knowledge-based services, manufacturing, and transportation. The area is filled with Fortune 1000 companies like WestRock, Universal, and NewMarket and others specializing in manufacturing products such as paper, plastics, fabricated metals, and tobacco products.
There are also a number of creative agencies in the Richmond area, and Virginia Commonwealth University is known as one of the top public arts and design schools in the nation.
Richmond's economy is primarily driven by law, finance, and government, with the United States Court of Appeal for the Fourth Circuit and the Federal Reserve Bank of Richmond located there.
Learn more about Richmond's jobs and economy.
Getting Around Richmond
Richmond is an incredibly walkable and bicycle-friendly city, where the need for a car isn't always necessary. The city has a network of sidewalks that make it easy to walk or bike from one neighborhood to another, and Richmond has a bus-based public transportation system. We will mention though, that many of the streets are one-way, which can be confusing for visiting drivers.
Richmond's public transportation options include the GRTC Pulse. The GRTC Pulse is a modern, high quality, high capacity rapid transit system that serves a 7.6-mile route along Broad Street and Main Street, from Rocketts Landing in the City of Richmond to Willow Lawn in Henrico County.
For a fun and unique experience, take a Segway touraround the city.
Crime in Richmond
At one point within the last 15 years, Richmond was ranked as one of the worst cities for violent crime in the nation, but Richmond is changing that. Thanks to its Respect Richmond campaign, the city's crime rates are down sharply from it's historical peak.
And remember, as with any major American city, crime is a factor and varies based on which part of town you live in.
The Best Neighborhoods in Richmond
Here are 5 of the best neighborhoods in Richmond, full of new places to explore and exciting places to live.
Scott's Addition
Scott's Addition may sound like a TV sitcom, but it's actually one of Richmond's fastest-growing neighborhoods. The area was previously owned by Major General Winfield Scott, a hero of the War of 1812 and the Mexican War.
This historic district of Richmond is known for its abundance of breweries, cideries, meaderies, and distilleries. It also provides convenient access to Interstates 64, 95, 195 and the Powhite Parkway.
Though Scott's Addition is home to a diverse mix of businesses including film studios, marketing companies, advertising groups and architectural firms, there are a number of historic houses and apartments as well. A thriving neighborhood association led by residents and business owners work to preserve the history of the area while making sure it has a strong future.
Church Hill North
Church Hill North began as a neighborhood of middle-class merchants and tradesmen at the beginning of the 20th century. As the years passed, the area saw many highs and lows.
In the 1960s and '70s, the city introduced urban renewal, demolishing many of the older homes in the area, including that of Shed Town, a neighboring community. In the 1980s, the Historic Richmond Foundation bought more than 30 historic properties in Church Hill North. Since then, more than 200 houses have been restored in Church Hill North, mostly by white and African-American first-time home buyers.
The Church Hill North Historic District was listed on the National Register of Historic Places in 1997. Parts of this community are in transition, with older homes being rehabilitated and new construction going up, as well as new businesses like the East End Grocery Store and the J. Sergeant Culinary Institute. And with these projects, more new residents are calling Church Hill North home.
Manchester
Manchester was founded in the 18th century as a separate city but merged with Richmond in 1910. It's located south of the James River and offers urban conveniences in a fun and outdoorsy setting. This neighborhood is close to Interstate 95 and downtown.
The old Virginia Bakery building, built in 1850, was bought and renovated into 80 condo-style lofts in Manchester called the Old Manchester Lofts.
Brookland Park
Brookland Park has a rich history and houses the first integrated school in Richmond, the former Chandler Jr. High, which is now Richmond Community High. The neighborhood is home to new coffee shops, restaurants, and stores, making it an attractive destination for young families.
Greater Fulton
The community that now includes Historic Fulton, Fulton Hill, and Montrose Heights was home to a lot of farmhouses in the late 1800's.
Now, Greater Fulton is making a comeback thanks in part to the construction of the Virginia Capital Trail, which stretches from Richmond to Jamestown. Also, new breweries such as Triple Crossing and Stone Brewing have helped attract attention to the neighborhoods.
Richmond's Culture
Richmond is definitely a place for creative types, and art is infused into the Richmond culture. The city has one of the best art museums in the world, the Virginia Museum of Fine Art, which has 10 regular galleries, and is open 365 days a year.
If you like live theater, the Richmond Triangle Players has some entertainment for you. Also, check out shows at the Firehouse Theatre and the Richmond Performing Arts Alliance.
For movie buffs, Richmond has plenty of traditional movie theaters, but it's their non-traditional theater that we can't stop talking about. Where can you see a movie in a retro-style movie theater that has its own Wurlitzer Organ that plays before Saturday movies? The Byrd Theatre. Sure, the theater plays only second-run movies, but admission is cheap and the atmosphere hearkens back to the golden age of movie theaters.
Richmond is a foodie town with some of the best chefs and restaurants in the nation. An interesting tidbit is that the city has a 10% meal tax, which sounds steep. But, as it drove many of the restaurant chains out of the area, it allowed for a rise in locally-owned eateries.
One of those restaurants is GWARbar, where you can eat gourmet junk food. And, of course, there's the local Richmond brewery scene. From Legend Brewery to The Answer Brewpub, there are all kinds of beer here for even the pickiest of critics.
Richmond's underground music scene is one you'll have to experience if you're a fan of live music. To see which bands are playing where, check out Richmond's music calendar.
More Richmond Resources
Interested in learning more about the city? Feel free to tailor your research and dive more deeply into Richmond topics that appeal to and relate to you.
Additional Richmond Guides
Like What You See?
If you're feeling overwhelmed by your potential move, that's OK. It's all part of the process. Hopefully, what we've provided will help alleviate some of your anxiety and enable you to decide if Richmond is the right place for you. If you decide to take the plunge, get in touch. We know some people who might be able to help.