Where to Live in Chicago: The Lowdown on the Best Neighborhoods for You
We certainly don't want to intimidate you, but Chicago has more than 200 neighborhoods. It's official marketing site, Choose Chicago, divides the city into four sections: Downtown, North, South, and West, listing around 50 of the most popular neighborhoods. To make it simpler, we're highlighting one of our favorites from this list.
Chinatown
One of the largest neighborhoods of its kind in the United States, Chinatown boasts more than 65,000 Chinese residents. Here, not only will you experience Chinese culture in every facet— from public art to authentic restaurants and specialty shops—you'll also be near the largest Chinese mall in the Midwest, Chinatown Square.
North Chicago: Wicker Park/Bucktown
One of Chicago's largest creative hubs, these two adjoining neighborhoods are rich with live music, art galleries, restaurants, coffee shops, and plenty of shopping.
If you like leisurely walks, the 606 is a 2.7-mile path of previously abandoned railroad track that connects several different parks and public art installations throughout the area. Also, if you like live music, Subterranean is a great venue to catch a show.
Rent here generally starts around $1,250 and goes up from there considerably. If you're looking to buy, expect to pay just under $1 million.
West Chicago: Humboldt Park
The Humboldt Park neighborhood boasts a Spanish-Colonial architecture, brightly colored murals and national pride, as one quarter of its residents are of Puerto Rican descent. Not only will you find the National Museum of Puerto Rican Arts & Culture but also a host of authentic restaurants and specialty shops. The neighborhood also holds two huge events every year, the Puerto Rican People's Parade and the Fiesta Boricua.
If you're looking to buy in this area, houses tend to be affordable but might require some renovation work. Rent, on the other hand, starts around $800.
South Chicago: Bridgeport
Bridgeport is a working-class neighborhood where politics and art collide with White Sox pride, rent here starts around $850, and houses and condos can be purchased for around $130,000.
Although Schaller's Pump, Chicago's oldest tavern, has recently shut its doors after 136 years of business, don't worry. There are plenty of other treasures, such as Nana, Pleasant House Bakery, Bridgeport Coffee Company, Let's Boogie Records & Tapes, and a Godzilla superstore called Monster Island Toys. Yup, you read that right, a toy store specializing in Godzilla merchandise.
Schools in Chicago
Chicago, Illinois, has 1,958 schools, giving your kids hundreds of options for elementary, middle, and high school. Let's talk a little more about what to expect from the schools in Chicago.
How are public schools in Chicago?
There are many above-average public schools in the city of Chicago. One of the biggest school districts is Chicago Public Schools, which consists of 341,382 students between grades PK and K-12. The district has a 24% math proficiency and 27% reading proficiency.
Are you wondering how that compares to Illinois as a whole? In the state of Illinois, the math proficiency is 32%, and the reading proficiency is 38%.
Now, while Chicago Public Schools scores an A for diversity, clubs, and activities, there's room for improvement in the academics area, according to reviews. This district has a high-school graduation rate of 82.9%. That is a little below the state graduation rate of 88%.
When it comes to the best public schools in Chicago, we encourage you to look around at many different schools before making your choice. That includes checking out the suburbs, which are generally known for ranking highly in most areas, including test scores and college prep.
Top-rated public schools in Chicago
Consider these schools in Chicago for your kids:
Best Elementary Schools in Chicago:
Best Middle Schools in Chicago:
Best High Schools in Chicago:
What private schools are in Chicago?
Here's a quick list of the best Chicago private schools:
What are suburban Chicago schools like?
If you go to the suburbs, you'll find many public schools that rate well in terms of academics, teachers, administration, college prep, and the works. That is great news for your kids. One hard part about the suburbs is that they lack diversity in some areas. However, if you research the different schools in your local area before enrolling your kids, you're sure to find a good fit for your family.
What suburbs have particularly good school systems?
Below are the best suburbs for schools in the Windy City:
What are the best school districts in Chicago?
Here are a couple of the top school districts in Chicago:
What to do in Chicago: Culture and Nightlife
Garfield Park Conservatory
Whether you're looking family-friendly activities or the best bars to grab a drink, Chicago doesn't disappoint. Instead of focusing on the typical touristy things—since you'll be living there and all—we'll turn your attention to Garfield Park Conservatory, where many residents go to escape the harsh Chicago winters. One of the largest conservatories in the nation, you'll find thousands of plant species, along with free yoga classes, a monthly lecture series, a free bi-monthly concert series for kids, and lots more.
Shopping Local
If you love shopping for antiques and all things vintage, the Randolph Street Market is a perfect way to spend that hard-earned money burning a hole in your pocket. If you're looking for fresh produce and locally made goods, then the Logan Square Farmers Market is another good choice.
Art, Jazz, and, of course, Pizza
If you're looking for a little culture, then the Art Institute of Chicago is a place you need to visit. In fact, with world-famous pieces by Edward Hopper, Georgia O'Keeffe, and Georges Seurat, along with rotating exhibits, outdoor areas, and dining options, it's a place you'll want to visit again and again.
If you're a jazz fan, then you'll love the Green Mill Cocktail Lounge. Inspired by Clark Monroe's Uptown House in Harlem, circa the 1940s, this place offers delectable drinks, great live music, and fascinating stories about Al Capone and his legendary booze runs.
We know it's cliché to mention "deep-dish pizza" and "Chicago" in the same sentence, but Pequod's Pizza is something you need to know about. It has a loyal following among Chicago residents and visitors alike—and the long lines to prove it.
Let's Hear from the Locals
When we asked residents what they love about Chicago and what they think could be improved, we got some good responses.
Eddie Mercado—who lived there until 2006, left, and then came back in 2017—thinks the city has a lot to offer as far as entertainment and events.
"There is always something going on in the city," he says. "The food is amazing. Chicago is truly a melting pot, and because of this it creates some of the best restaurants in the whole country."
He also says there are plenty of job opportunities and the transportation service is great, noting that the "CTA runs smoothly and timely at all hours." But, he says, the traffic is terrible, taking at least 30 to 40 minutes to drive what would otherwise take 10 minutes.
Louise Elliott, who has lived in Chicago for more than a year now, says there are tons of street festivals and beautiful scenery, but that sometimes she "can't feel her fingers." We assume she's talking about the extremely cold winter weather.
And, finally, Stacy Platt says that "compared to other large cities, [Chicago] feels very livable…" But, she warns, "Midwesterners have a different mind-set and ethos compared to other parts of the country, and it can feel alienating."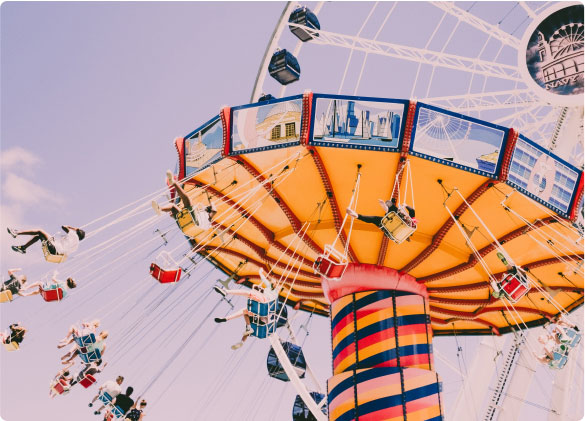 Good Luck with Your Move to Chicago
And that's it. Our job is done. If you're feeling overwhelmed by your potential move, that's okay. It's all part of the process. Hopefully, what we've provided will help end some of your anxiety, and will help you decide if Chicago is the right move for you. If you decide to take the plunge, don't hesitate to reach out to your friends at Bellhops. We coordinate local and long distance moving services in Chicago and we would love to help.