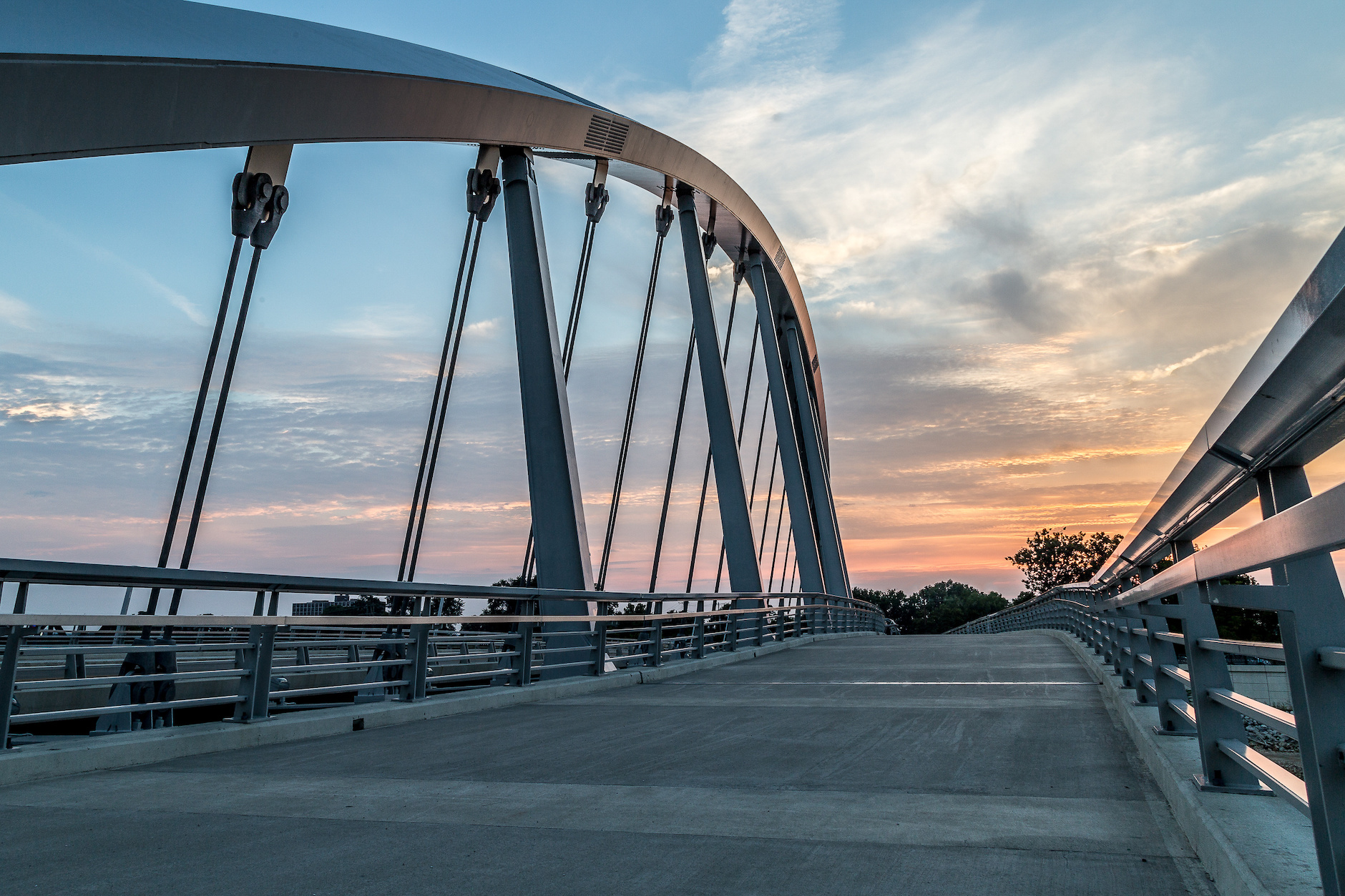 Maybe when talk of Columbus arises you think about The Ohio State University, the Buckeyes, and the legendary Horseshoe, one of the largest on-campus college football stadiums in America. Or — who knows — maybe you think of the stuffed two-headed on display at the Ohio Historical Connection.
Regardless of what comes to mind first, moving to Columbus is an exciting opportunity to get to know the city for more than just its unique landmarks and attractions. But it can also be intimidating.
That's where we come in. We're Bellhops, your friendly Columbus movers.
For those considering a move to Columbus, we've gathered information and resources to help make the decision easier. Keep reading for information about what it's like to live in Columbus.
An Overview of Columbus
Columbus is Ohio's most populous city, with more than 870,000 people calling The Arch City home. Its residents find themselves amid a lot of rich history: Founded in 1812 and named after Christopher Columbus, it is both the state capital and the county seat of Franklin County.
Since it's in the middle of Ohio, Columbus also experiences a variety of weather patterns. Residents experience warm air that comes up from the tropics in the summer and the cold air that comes down from Canada in the winter. On average, it gets two inches of rain each month and 28 inches of snow each winter, so pack your boots, umbrella, hat, and gloves.
Columbus Cost of Living and Employment
When it comes to growth, Columbus is on the up-and-up, and Columbus's cost of living is on par with the rest of the country.
Unlike many areas in Ohio, Columbus's job market isn't heavily reliant on manufacturing. Instead, many residents work for one of the city's two largest employers: the government and Ohio State University.
Industry leaders in health care (Cardinal Health), insurance (Nationwide), and retail (Big Lots and Limited Brands Inc.) are also headquartered in the city, as is the Battelle Memorial Institute, the world's largest private research and development foundation.
Getting Around Columbus
If you make Columbus your home, you'll most likely rely on driving. However, that's not your only option.
Columbus and Franklin County also have a massive Metro Parks system that consists of 16 parks totaling 24,000 acres. Though this might not help you get to work, it's great for leisurely strolls and hikes.
In terms of public transportation, Columbus offers:
COTA: COTA provides bus service throughout the Greater Columbus region. Many routes run every 15 minutes, all day, seven days a week. Free Wi-Fi is available on all buses. One-way fare is $2, and day passes are $4.50.
FreeRide: FreeRide is a micro-transportation company that offers—you guessed it—free rides for everyone. (Of course, tips are encouraged.) These open-air golf carts serve downtown Columbus. To take advantage, just hail one the same way you would a taxi.
CBUS: COTA's free CBUS circulator runs every 10 to 15 minutes from the Short North Arts District to the Brewery District and German Village downtown. Free Wi-Fi is available on all buses.
Yellow Cab of Columbus: Yellow Cab's been serving the city since 1928. You can download the app and track your ride or hail one the old-fashioned way.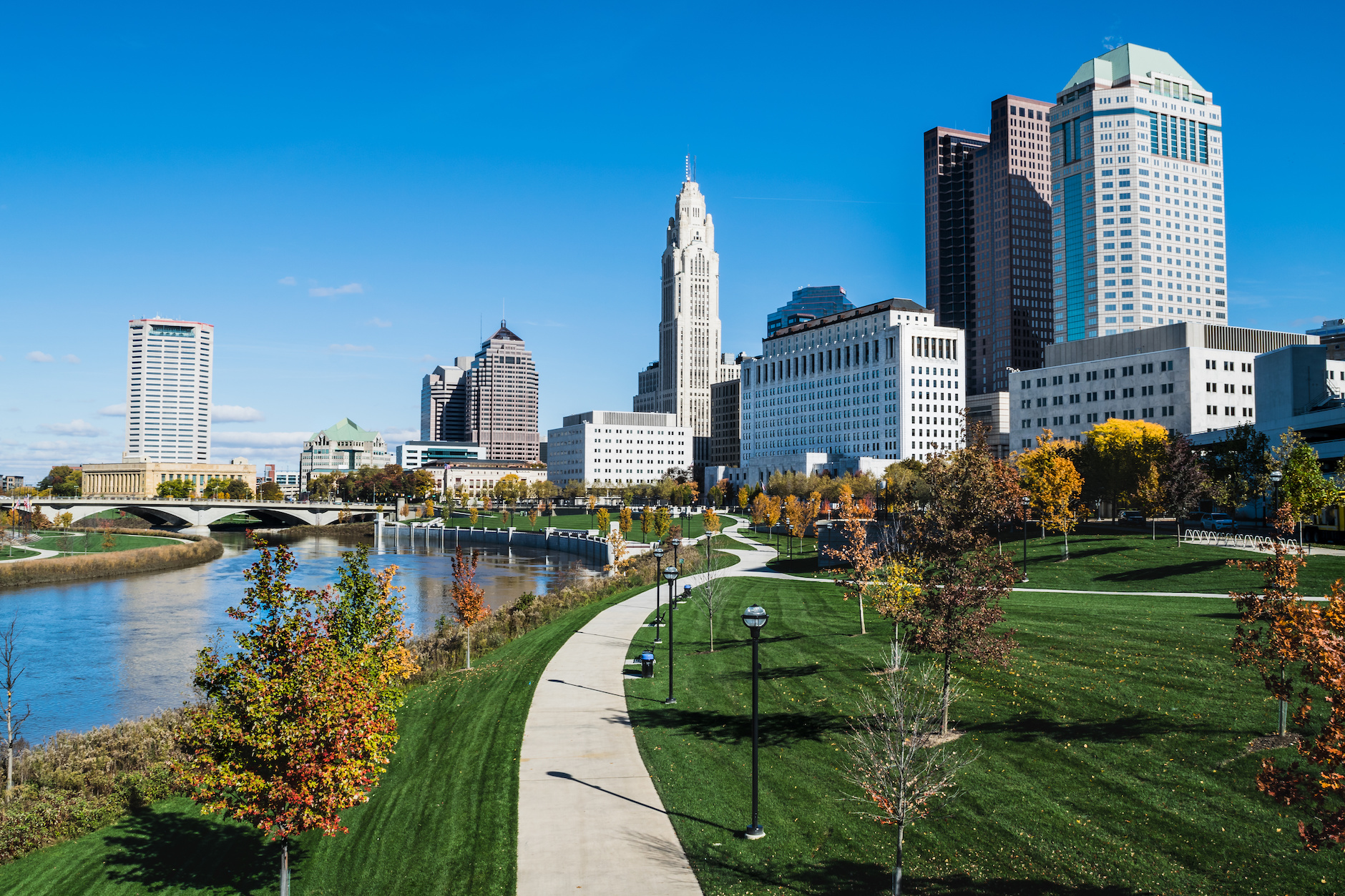 The 5 Best Neighborhoods in Columbus
In Columbus, smaller neighborhoods are often found within larger neighborhoods, and sometimes those neighborhoods overlap, so this guide will occasionally mention two communities within the same listing.
We've tried to simplify things by briefly highlighting some of our favorite areas, but we also have more detailed highlights in these other articles: "Best Suburbs in Columbus," "Best Neighborhoods in Columbus," and "Best Neighborhoods for Families in Columbus."
Downtown and Franklinton
Franklinton, or West Columbus, was Central Ohio's first settlement. These days, it has a new nickname, "The Next Short North," which is a reference to another popular neighborhood in the city. Franklinton is making a comeback after decades of neglect, and developers are buying properties left and right, breathing life into the area, and attracting both new businesses and residents.
Short North
Short North is one of Columbus's most-popular neighborhoods. It's fast-paced, close to downtown, and filled with art galleries, boutiques, restaurants, bars, and the distinctive lighted arches above High Street. It's also home to the Short North Arts District, a hub for the local arts scene.
German Village and the Brewery District
This area is historic but by no means dated. Its story begins almost 200 years ago, when it was built by German settlers. Over time, its Brewery District became the industrial center of Columbus's beer scene, and today the restored brick homes and shops line streets full of old-world charm.
Arena District
As you might expect, there are a number of arenas here, including the Nationwide Arena, Kemba Live!, and Huntington Park. The upside: the exciting hustle and bustle. The downside: the noise and traffic. In any case, this is a vibrant neighborhood filled with great places to live, eat, and play.
University District and Clintonville
You guessed it: The University District, located a couple miles from downtown, includes the massive Ohio State campus as well as its sports venues, plenty of restaurants and bars, and the nightlife that accompanies campus life.
Between the university and Worthington is Clintonville, a large neighborhood with a more intimate feel than its high-energy neighbor.
Columbus Culture
Columbus may have a reputation as a football city, but if that's not your style, don't fear. There are plenty of other things to do and see, such as:
The Columbus Zoo & Aquarium, which has been named the number one zoo in America several times, thanks in part to its famous gorilla program and its Director Emeritus, Jack Hanna.
The Scioto Audubon, which is a 120-acre oasis complete with native fauna, natural ponds, and the largest free outdoor climbing wall in the U.S.
The Short North Arts District, which serves as a hub for the creative community in Columbus and offers excellent shopping, galleries, restaurants, bars, and spas.
The Wexner Center for the Arts, which is Ohio State University's "multidisciplinary, international laboratory for the exploration and advancement of contemporary art." It features modern art exhibitions in a variety of genres, including music, theater, dance, and film.
The Billy Ireland Cartoon Museum, which houses the largest collection of cartoons and comics in the world. What's not to like?
The Axis Nightclub, which is Columbus's largest dance club. It features two-levels, a VIP room, and the best in drag entertainment in the city.
The Columbus Pride Parade, which ranks among the largest in the Midwest and attracts more than 500,000 people each year.
More Resources for Moving to Columbus
Like What You See?
And that's it. Our work here is done. If you're feeling overwhelmed by your potential move, that's OK. It's all part of the process. Hopefully, what we've provided alleviates some of your anxiety and enables you to decide if Columbus is the right place for you.
If you decide to take the plunge, get in touch. We know some people who might be able to help.