Durham is a wonderful mix of urban excitement, natural beauty and a friendly, small town atmosphere. It's a diverse, inclusive city that is both rooted in history and embraces change.
Durham prides itself on its diversity and inclusivity, its thriving arts scene, its award-winning restaurants and local eateries, strong economy and the Durham Bulls, its minor league baseball team. No wonder that a recent U.S. News & World Report ranked the area as #1 in "Best Places to Live in North Carolina" and #6 in "Best Places to Live" in the U.S.
Yes, you've got a lot to look forward to if you're moving to Durham. And a lot of decisions to make too. We' can help. Below is the Bellhop guide to the city, which includes information about Durham's neighborhoods, cost of living and jobs market data, and insider information on the great (and, yes, slightly less than great) parts of living here. And if you need some assistance with the logistics of your move to Durham, you can trust Bellhop's Durham movers to treat you (and your belongings) right.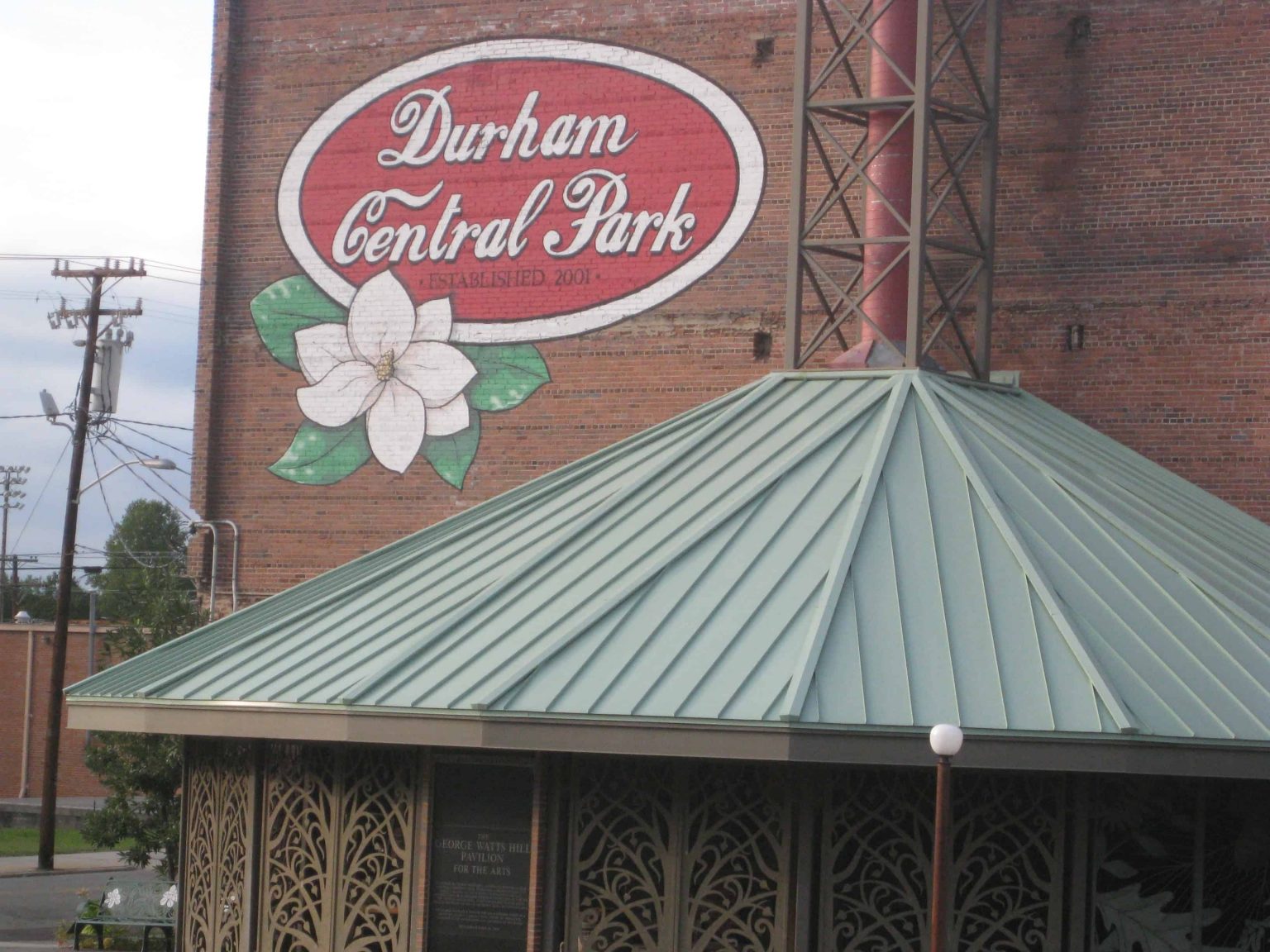 Bull City meets the City of Medicine – Durham Facts
Back in 1849, the wonderfully-named Dr. Bartlett Leonidas Snipes Durham donated land to the North Carolina Railroad Company. That train station eventually evolved into the city of Durham. Nicknamed "Bull City" back when it was the center of the tobacco business in the late 1800s. Durham's newest nickname, the "City of Medicine," refers to the over 300 medical and health-related companies that are now located here. Locals are rightfully proud of their city's association with advanced healthcare, but have a strong emotional attachment to the "Bull City" spirit.
Along with Raleigh and Chapel Hill, Durham is one of the three points that make up North Carolina's Research Triangle region, home to thousands of start-up companies along with some of the world's biggest corporations. Each city is also home to a prestigious university; Duke is in Durham, UNC-Chapel Hill is right where you'd expect it to be, and North Carolina State University is in Raleigh. The presence of Duke University definitely enhances life in Durham, bringing first-rate cultural and educational opportunities and sports events (Go Blue Devils!) to residents of the city.
Durham Amenities and Entertainment
You will never lack for something to do in Durham. The city hosts5,000 annual events, including art festivals, kitschy celebrations (we're looking at you, Beaver Queen Pageant!), sports and outdoor challenges. Head to the Durham Performing Arts Center for off-Broadway performances, concerts, standup comedy and other major shows. The historic Carolina Theatre of Durham is a beautiful venue for performing arts, film, educational and family programming. And the live music scene at local bars is always fun. And your kids will love The Museum of Life and Science and its outdoor water playground, huge treehouse and dinosaur trail.
If you want to get away from it all, there are a wealth of parks, nature trails, lakes, ponds and protected forests to explore. Try the American Tobacco Trail, a 22-mile reclaimed greenway for walkers and bike riders that was once an abandoned railroad corridor. For a more manicured experience, there's Sarah P. Duke Gardens, a 55-acre botanic garden located in the heart of the city, where you can experience nature in different world locales and historical periods. Duke University has its own 7,000 acre forest, which is primarily an outdoor teaching and research laboratory, but parts of it are open to the public on the weekends. If you want the full-on nature adventure, head to Eno River State Park where you can camp, fish and swim as well as hike 30 miles of trails including ones that bring you along the river bank, through the woods or up Cox mountain. And these are just the highlights – each of Durham's neighborhoods offers its own unique pleasures.
What Does it Cost to Live in Durham?
Durham's regional cost of living index is 95.4, slightly lower than the national average score of 100, according to Best Places to Live. But Durham has become a very popular place to live, and costs are going up. That said, it's still more affordable than other technology-science hub cities. According to data from Redfin, the median price of a Durham area home is $425,750, townhouses average out at $352,138, and condos are priced at $260,000. Apartments average out at $1,033.00.
The Durham Job Market
Durham has a robust economy centered on information technology, biotechnology, pharmaceuticals, and medicine. If you work in these fields, you'll find great career opportunities, whether you're just starting out or are already established. Durham is also a wonderful, affordable place to launch your startup, with access to students and new graduates who thrive on the hustle culture.
Pros and Cons of Living in Durham
What annoys one person can totally delight another, so review this opinionated list with your personal preferences in mind.
Advantages to living in Durham
Food -Durham is the perfect place for folks who like to eat. It's got world-renowned chefs with award-winning restaurants cooking up pretty much any global cuisine you might crave. But it also fully honors its homegrown southern food traditions, with excellent BBQ options and farm-fresh, long-cooked veggies. Downtown Durham limits the number of chain restaurants on Main street, so you can count on plenty of local family-owned eateries to enjoy.
The vibe - One of the first things you'll notice is that the people who live here seem genuinely delighted that they get to live in Durham. And thankfully, they welcome newcomers, it's a friendly place to start off adult life, raise a family or retire.
Healthcare - People travel across the country to receive treatment at Duke Medical. You're a quick drive from outstanding care.
Lemurs!- The Duke Lemur Center houses over 200 lemurs and bushbabies across 13 species. Unless you live in Madagascar, there's no better place than Durham to hang out with these lovely little beasts.
The Cons of living in Durham
Steamy -Durham has a hot muggy summer, but depending on where you're moving here from, and your feelings about summer in general and damp heat in particular, it may not be a big deal. June, July and August are hot and damp, with July being the hottest of the three with an average temperature of 89 – but the humidity can make it feel like the mid-nineties. October-May are glorious, although it can get chilly in deep winter – January is the coldest month, temperatures can fall to 30 degrees. You probably won't have to worry about shoveling snow though, Durham averages only about 4 inches of the fluffy white stuff per year.
Getting around –Unless you're living in downtown Durham, you'll probably need a car. The public transportation system is affordable and covers much of the area, but cars are the quickest way to get around. (There is a planned commuter rail project that is expected to connect all three points of The Triangle, but it's going to be awhile until its ready for use.)
The traffic - Nowhere near the horrors of a Chicago, Miami or New York City commute, but area roads can get really backed up during rush hours. There's an easy fix: pick a neighborhood close to your work.
Where to Live in Durham: A Neighborhood Overview
Downtown Durham
Downtown Durham is the liveliest of all Durham's neighborhoods, with everything you'd expect from an urban environment - museums, restaurants and bars, interesting shops and a thriving arts and live music scene. You don't need a car here, you can walk/bike. Best choice for people who want an apartment in the midst of everything.
Duke Park
Duke Park, unsurprisingly, boasts a beautiful 17-acre park, with a playground, walking trails, picnic area and dog run. The park is the heart of the community, and is the site for several popular, annual Durham events. It's surrounded by beautiful, historic homes built during the 1920s through the 1950s. Great for folks of all ages.
Forest Park
Forest Park, like Duke Park, offers convenient access to restaurants and shopping options, as well as historic homes. Its namesake park boasts playgrounds, tennis courts, swing sets, a walking trail, even a swimming and spray pool for cooling off in the summer. Perfect for families.
Hillsborough
The town of Hillsborough is located right outside of Durham, and is a great place for anyone who likes a small town feel with big city amenities. It boasts boutiques, spas, wineries, art galleries and festivals that celebrate BBQ, bluegrass music, and the arts. Housing is a mix of historical to brand new.
Old West Durham
Old West Durham is close to Duke University's east and main campuses, near restaurants and shopping areas, including the Ninth Street Shopping District with its bookstores, coffeeshops, interesting crafts stores and global cuisine. You'll see Craftsman and Victorian-style homes and cozy bungalows here. It feels like a college town due to its location, and its great for young professionals.
Trinity Park
One of the oldest neighborhoods in Durham, is a peaceful oasis of tree-lined streets between Downtown Durham and Duke University's East Campus. Trinity Park is listed on National Register of Historic Districts. A perfect choice for anyone who is looking to live in one of the most beautiful homes in the area, close to amenities and the universities.
Managing your move to Durham
No matter how excited you are to start your new life in Durham, moving can quickly become a hassle. Bellhop is here to help make it easier, whether you're a resident of Durham who is moving to a new neighborhood or you're relocating to Durham from elsewhere in the U.S. (actually, we can help you move from and to any place in the nation). Get in touch, we're always happy to answer your questions!