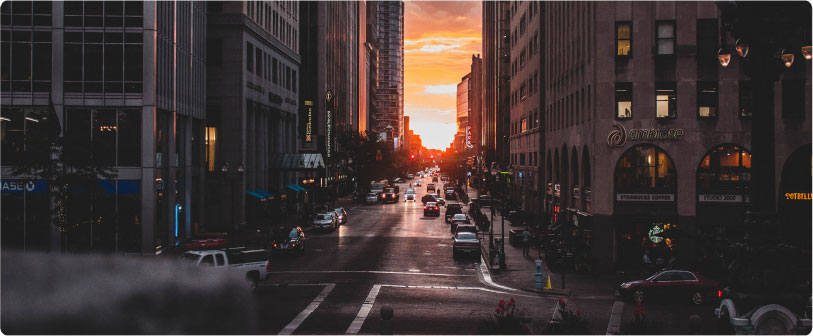 You've got a decision to make: You're thinking about moving to Indianapolis, maybe because of a job, or for family, or just because you're looking for a change. But then you realize that it's in Indiana, and you're just not sure about that part of the country.
Your friends at Bellhop are here to help (we're movers in Indianapolis, FYI). Because if relocating to Indianapolis is a possibility in your future, you'll need to know, not just about things to do there, but about what it's like to live there. That's why we've gathered all the best info and resources to help make your decision easier. We've also talked with several Indy locals about what they love about the "Crossroads of America."
Indianapolis Culture: The History and People of Indy
If you're looking to move to a big city with a small-town feel, then Indianapolis is definitely a place to consider. This ever-changing city has a low unemployment rate of 2.6%, a dynamic sports scene, and one of the best growing sustainable food and agriculture scenes in the country. Located in the heart of the Midwest, Indy is a welcoming city with a growing economy/
Indiana's capital, Indianapolis, is the most populous city in the state. With a population of over 880,000 people, Indianapolis (or Indy, for short) is the economic and cultural center of Indiana.
Indy was founded in 1821 as a transportation and manufacturing hub. Following the Civil War, Indianapolis grew quickly, becoming the world's third-largest pork packing city and the second largest railroad center in the U.S. It also became home to 60 automakers, rivaling Detroit as the center of the automotive manufacturing industry.
But Indianapolis is more than ham and trains. The city is also known for its amateur sports. The city is not only home to the largest, single-day sporting event in the world, the Indianapolis 500, the city has one of the largest children's museums in the country, the Children's Museum of Indianapolis and features many other great museums and parks.
Indianapolis is a very family-friendly place. Over 54% of people in Indianapolis live in owner-occupied housing. Many of these families and young residents are attracted to the city's low cost of living (more on that in a bit) and the job opportunities.
It's not uncommon to hear foreign languages spoken on the streets, with new residents moving to the city from around the world.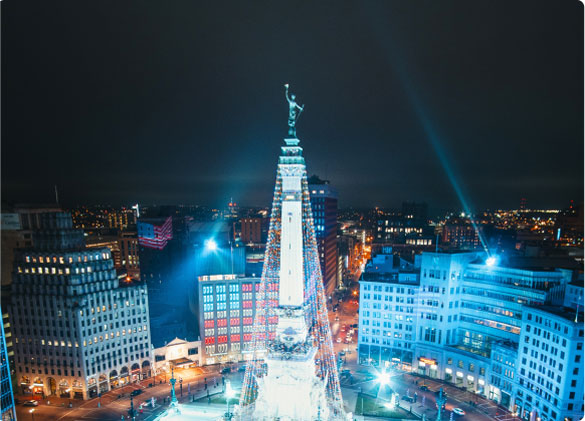 Indianapolis Cost of Living
According to Forbes Magazine, the cost of living in Indianapolis is 2% below the national average, making it a great place to both live and work. The median household income is $61,748.
The median gross rent in Indianapolis is a little over $960, and the median monthly cost for a homeowner with a mortgage is $1,230.
The Indianapolis Job Market
Indianapolis has seen extensive job growth over the past few years, with healthcare, tourism, and sports among the top industries there.
More than 90 national companies have headquarters in the city, including:
Eli Lilly and Company
Anthem Inc.
Angie's List
RCI
Simon Property Group
Finish Line
The NCAA
Having so many employment opportunities is obviously a good thing if you're looking for work. Indiana is one of the only Midwest states guaranteeing residents the right to work without the obligation to join a union.
How Is Transportation in Indiana?
Indianapolis isn't called "The Crossroads of America" for nothing. Several major interstates surround and intersect the city, allowing for easy access for road trips to other destinations in the Midwest.
The Indianapolis International Airport serves all major US airlines and flies to over 40 non-stop domestic destinations. In 2022, the airport received the highest satisfaction rating from customers for medium-sized airports by J.D. Power.
The city is on its way to becoming one of the greenest, most sustainable cities in the nation. IndyGo, the city's public transportation system, can get you where you need to go throughout the city but has limited stops the further you travel from downtown. The city is working on expanding public transit, but for now, you may still need a car to get around if you live outside the downtown area.
What Is the Weather in Indianapolis?
Winter in the Midwest can be brutal. Between cold temperatures and snow, it'll take you a little longer to get from point A to point B from November through February. Be sure to invest in a sturdy winter jacket and boots to keep you warm.
Most say the summers make it worth enduring the long, cold winter months because summers in the Midwest are sunny for the most part. However, it can get a little humid in July and August, so beware.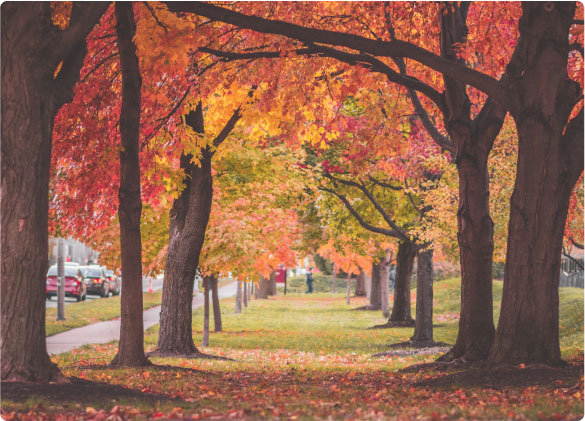 Where to Live in Indianapolis: Indy's Most Popular Neighborhoods
Downtown Indianapolis
In the midst of the high-rise buildings downtown, you'll find several luxury apartments. But, like many metropolitan areas, choosing to live downtown in Indy's Wholesale District will cost you a pretty penny.
The good news is there is a trade-off for the higher rent price; Living downtown provides easy access to favorite hotspots within walking distance. You can enjoy a stroll to Lucas Oil Stadium, museums, the White River or even grab a quick cocktail after work at a local favorite Ball & Biscuit.
And if you're in the mood for fine dining the Wholesale District, provides prime dining opportunities like Harry and Izzy's, a steakhouse started by two friends back in the 1940's, a favorite of both locals and tourists.
Bates Hendricks
Bates-Hendricks is a neighborhood in transition, with young professionals flocking to the area over the last five years to take advantage of low home prices and costs of living. Located just east of downtown and bordered by Interstate 70 and Interstate 65, this growing neighborhood boasts easy interstate access, as well as a short downtown commute. Many consider this an optimal neighborhood for those who want to live in Indy without owning a car. Bike lanes also provide a safe commute around town.
Fountain Square
If you're looking for a small town feel in the big city, then Fountain Square may be the district for you. Located just southeast of downtown and Interstate 70 and Interstate 65, it is a haven for artistic types. The Murphy Art Center resides here. Virginia Avenue is full of local restaurants with varying cuisines. It's the perfect walk for those who are hungry.
Broad Ripple
This popular neighborhood extends from North College Avenue on the west and North Keystone Avenue on the east. Housing is predominantly single-family bungalows along with smaller, older apartments and lofts. Local businesses are on full display, with many unique restaurants, cafes, and local gift shops. Millennials spend their weekends playing at the breweries, comedy clubs, and bars. Broad Ripple also has an artistic feel. The Indy CD & Vinyl Record Shop is a can't-miss for music nuts.
Schools in Indianapolis
If you're a parent, there are plenty of quality Indianapolis schools for your kids to attend. If you want your kids to be pushed and prepared academically for college, Indianapolis is a great place to move to. The schools there are known for clubs, activities, sports, and great ratings for academics in general.
The four-year high-school graduation rate in Indianapolis was last recorded at 72% in 2020. How does that compare to Indiana a whole? It's lower than the state average, which is roughly 87% for public schools. However, it is important to note that the graduation rate may vary by school, meaning that there are Indianapolis schools that score above the city's average.
The Indianapolis Nightlife
Indianapolis is a sports-crazed city. But whether you're looking to watch a game or dance the night away, there is a ton to do downtown.
Some locals say they love the 'chill bars' and arts in the area. Indianapolis resident Christine Johnson said, "if you're into the arts, we get touring theater, big art shows in the summer, and there are some smaller finds: a divey Korean-style karaoke bar and a great drive- in."
Indiana is known in the sports world for being a basketball state. The movie Hoosiers is based on a small-town Indiana basketball team's journey to win the 1954 state championship as underdogs.
If college basketball is your scene, The Indiana Hoosiers compete in the Big 10 and are a March Madness favorite annually. And last but not least, there are the Indiana Pacers, because a basketball state needs a professional basketball team.. It's not just a sport; it's a way of life.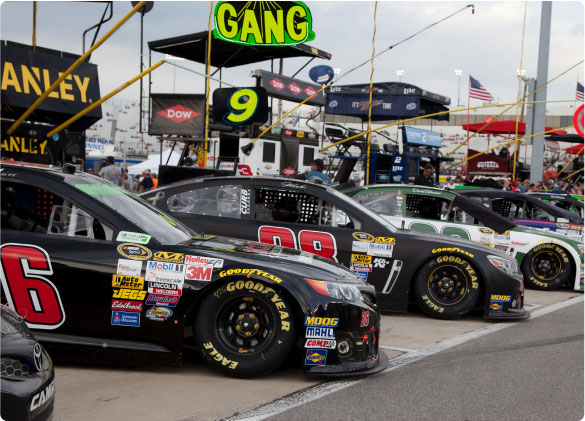 Good Luck with Your Move to Indianapolis
To conclude our guide on moving to Indianapolis, we thought we'd let you hear from Christine one more time. Here's her overall take on living in Indianapolis, "Ultimately, if you dig the Midwestern mentality, Indy is a great place to hang your hat. There are good folks here, and the place is small enough that you run into people you know. You can network easily. And you still get into a great restaurant even if you've failed to make a reservation. People who stay in Indy care about their community. The ingenuity of Hoosiers is showcased in their capital!"
If you decide to take the plunge and move to Indianapolis, don't hesitate to reach out to your friends at Bellhop. We coordinate local and long distance moving services in Indianapolis and we would love to help.