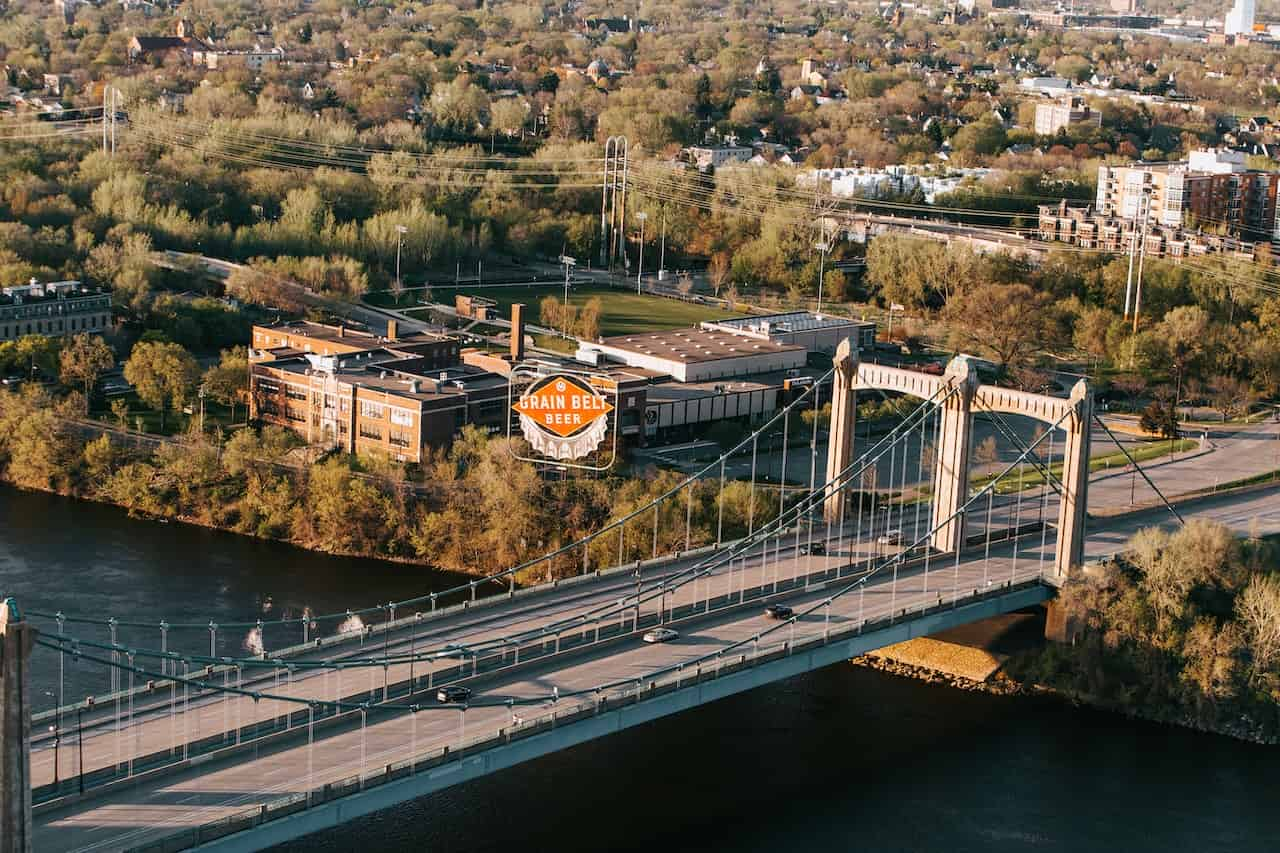 If you're looking for diversity and a fusion of American immigrant culture, Minneapolis is your city. The upper Midwest and Minnesota have attracted immigrants for centuries, and today is no different. Although many of Minneapolis's immigrants are naturalized citizens, about 80,000 undocumented immigrants are in Minneapolis.
If you're considering a move to Minneapolis, don't skip this guide. We're Bellhop! We provide comprehensive moving services, so you don't need to pull your hair out over how to decide. This guide includes information about five of Minneapolis's distinct neighborhoods and a brief list of attractions.
The Twin Cities
Minneapolis is often grouped with its neighbor, Saint Paul, because it has similar political and cultural tendencies with roughly equal population numbers. The Twin Cities and their suburbs form Minnesota's largest metropolitan region. Minneapolis and Saint Paul developed industries around the confluence of three large rivers: The Minnesota, The Mississippi, and The St. Croix Rivers. Rivers were the first "superhighways" for importing and exporting goods and raw resources into the upper Midwest. Not surprisingly, The Twin Cities had been a draw for immigrants and migrants for much of the nineteenth and twentieth centuries, a trend that continues in the twenty-first Century.
By 1950, officials started understanding population trends and other demographic patterns. Minneapolis's population was 996,000 in 1950 and would increase to 1,384,000 by 1960. With much of Minnesota classified as rural, records show the rural population is shrinking, and thirteen urban centers are experiencing growth.
The Upper Midwest is a unique region with defining characteristics representing the area's past and present immigration trends. Some of the first settlers were Scandinavian and felt at home in the winter landscape. In the second half of the nineteenth century, Chinese immigrants settled in the Minneapolis-Saint Paul area, bringing Chinese food and laundry facilities.
Current immigration trends represent different ethnic groups slowly developing large and vibrant communities. The 2020 Census lists the Minneapolis immigrant population at 470,387, about 8% of the total population. Immigrants from Mexico make up the largest non-white population at 59,137. People immigrating from Somalia make up the second largest non-white population at 42,503. The third largest immigrant population is Ethiopian, at 22,453. In total, at least twenty-two ethnic groups call Minneapolis-Saint Paul home.
Advantages of Living in Minneapolis
The cost of living, while higher than 65% of North America, is one of the lowest for a major metropolitan region.
All-season outdoor activities.
A vibrant Job Market
Reasons Why You Might Not Want to Move to Minneapolis
Minnesota's tax burden
Urban traffic and congestion
Long, bleak winters (outside the Skyway)
Top Five Neighborhoods in Minneapolis
Minneapolis's immigrant population brings diversity and cultural enrichment to the neighborhoods they call home. From the suburbs to downtown, Minneapolis welcomes immigrants into the umbrella of American freedom. For a brief look into these neighborhoods, we've listed five of the best neighborhoods in Minneapolis.
North Loop and Warehouse District
Northwest of First Avenue North, the North Loop and Warehouse district is an urban hotspot for up-and-coming residents. City planners and real estate developers gradually transformed abandoned warehouses into thriving communities.
Average home price: $360,000
Points of Interest : The North Loop and Warehouse district is home to Target Field and the Minnesota Twins. The neighborhood has several restaurants and other eateries that reflect the region's cultural diversity. One notable restaurant–the Smack Shack–is a local favorite with the best lobster rolls in the city. Want class and elegance? The Monte Carlo is a traditional supper club with decor and opulence that reminds patrons of the early to mid-twentieth century.
Linden Hills
Minneapolis has more than twenty lakes that residents use for water sports in the summer and ice fishing in the winter. Linden Hills borders two of Minneapolis's biggest lakes: Bde Maka Ska and Lake Harriet. An old and restored street car called the Como-Harriet still operates the transportation line from downtown into the neighborhood.
Average home price: $675,000
Points of interest: Linden Hills is home to the Bakken Museum, which celebrates science and technology. The Martina is an Argentine-inspired restaurant famous for empanadas. Want to blend in with locals? Head to Convention Grill for juicy burgers and conversation. The Grill has been open since 1934.
Nicolett
As a companion neighborhood to the North Loop and Warehouse District, Nicolett is a mile-long pedestrian-friendly oasis for shopping, working, living, and playing in Downtown Minneapolis. The only vehicles allowed are public transportation. Nicolett provides more than twenty access points to the Skyway, a series of covered bridges that keep for protection from Minnesota's harsh winters.
Average home price: $272,000
Points of interest: We can't discuss Nicollet without mentioning Minneapolis's Skyway system of covered bridges. At 9.5 miles, the Skyway is the largest covered bridge system in the world. While traversing the Skyway, stop by Come Pho Soup, a French-Vietnamese restaurant with pho soup and Banh Mi sandwiches.
Loring Park
Loring Park is the largest park in Minneapolis. The homes and businesses on the outskirts make up the vibrant Loring Park neighborhood. Not surprisingly, the Park borders homes and restaurants that inspire park activities, like the handful of festivals hosted at the Park.
Average home price: $217,000
Points of interest: One of the country's most visited museums, The Walker Art Center is one of the country's most visited museums. The museum features an outdoor sculpture called _Spoonbridge and Cherry,_a unique art piece that doubles as a fountain. From Italian food at Buca di Beppo to classic American burgers and shakes at the Nicollet Diner, there's something for everyone in Loring Park.
Seward
Seward is one of the oldest neighborhoods in Minneapolis. The "big city" grew around the neighborhood even as it kept its small-town vibe. Seward combines a laid-back vibe with contemporary cool that attracts the more eclectic residents.
Average home price: $355,000
Points of interest:You'll find world-class theater productions at the acclaimed Playwrights' Center. The theater hosts first-run plays, actor workshops, and the PlayLab, a comprehensive development platform for aspiring playwrights. Seward also supports Memory Lanes, a classic bowling alley experience with state-of-the-art equipment and technology. One of the most popular eateries in the neighborhood is Pizza Luce, which has a unique take on artichoke dip that is a Seward legend.
Minneapolis Public Schools
With wide cultural diversity, MPS reflects the immigrant nature of the region. Minneapolis's Public Schools consistently rank above average in test scores. MPS educates more than 32,000 students across 96 schools. One reason for the higher test scores is the 15 to 1 student-to-teacher ratio.
What's the Crime Rate in Minneapolis-Saint Paul?
The Minneapolis-Saint Paul metropolitan region has a crime rate comparable to any big metropolis. U.S. News and World Report ranked the region as 7.6 out of 10. In 2020, the region's violent crime rate was lower than the national average. However, the property theft crime rate was higher than the national average. Minneapolis-Saint Paul's crime rates are lower than the national average, even as both are slowly declining.
The Minneapolis Job Market
The Minneapolis-St. Paul metropolis hosts several biotech and healthcare technology companies. For example, Boston Scientific and Upsher-Smith manufacture medical devices and pharmaceuticals. Minneapolis-St. Paul is also home base for the National Bone Marrow Donor Program. The region has seen steady growth in the clean energy industry in recent years. Companies like Xcel Energy and Andersen Corp employ thousands of workers.
While the national unemployment rate is 3.8%, Minneapolis's unemployment rate is steady at around 3%. According to the U.S. Bureau of Labor Statistics, the May 2022 average hourly wagein Minneapolis was slightly higher at $32.24 than the national average hourly wage of $29.76. The average annual salary was $89,630 in May 2022.
Things to Do in Minneapolis, MN.
Minneapolis has a thriving professional sports industry, which includes an NFL team (The Vikings), an MLB team (The Twins), and the Timberwolves from the NBA. The NHL is also the home of The Minnesota Wild.
Located in Bloomington, a Minneapolis-Saint Paul suburb, the Mall of America is a shopping and entertainment mecca for people worldwide. MoA isn't an ordinary mall. In addition to the hundreds of retailers inside the MoA is the Nickelodeon Universe, an amusement park that spans over seven acres of indoor space.
Minneapolis's nightlife rivals that of New York City and Miami. Enjoy an intimate concert at the 7th St. Entry or attend a show at First Avenue, a world-famous concert venue where bands like Prince and Soul Asylum once played to concertgoers. For a unique Gothic/Horror nightclub dancing experience, head over to Ground Zero. The Basement Bar has a small dance floor for an intimate dancing-focused nightclub and hosts local DJs that spin modern EDM and hip-hop dance mixes.
Closing Thoughts
Minneapolis is, in many ways, a microcosm of American life. From its eclectic neighborhoods to outdoor winter sports opportunities, Minneapolis and its twin city, Saint Paul, including its suburbs, make up more than three million people. If you're planning a move, consider hiring Bellhop to do it for you. Our moving services are personal, with each client receiving precisely what they need for a worry-free move.