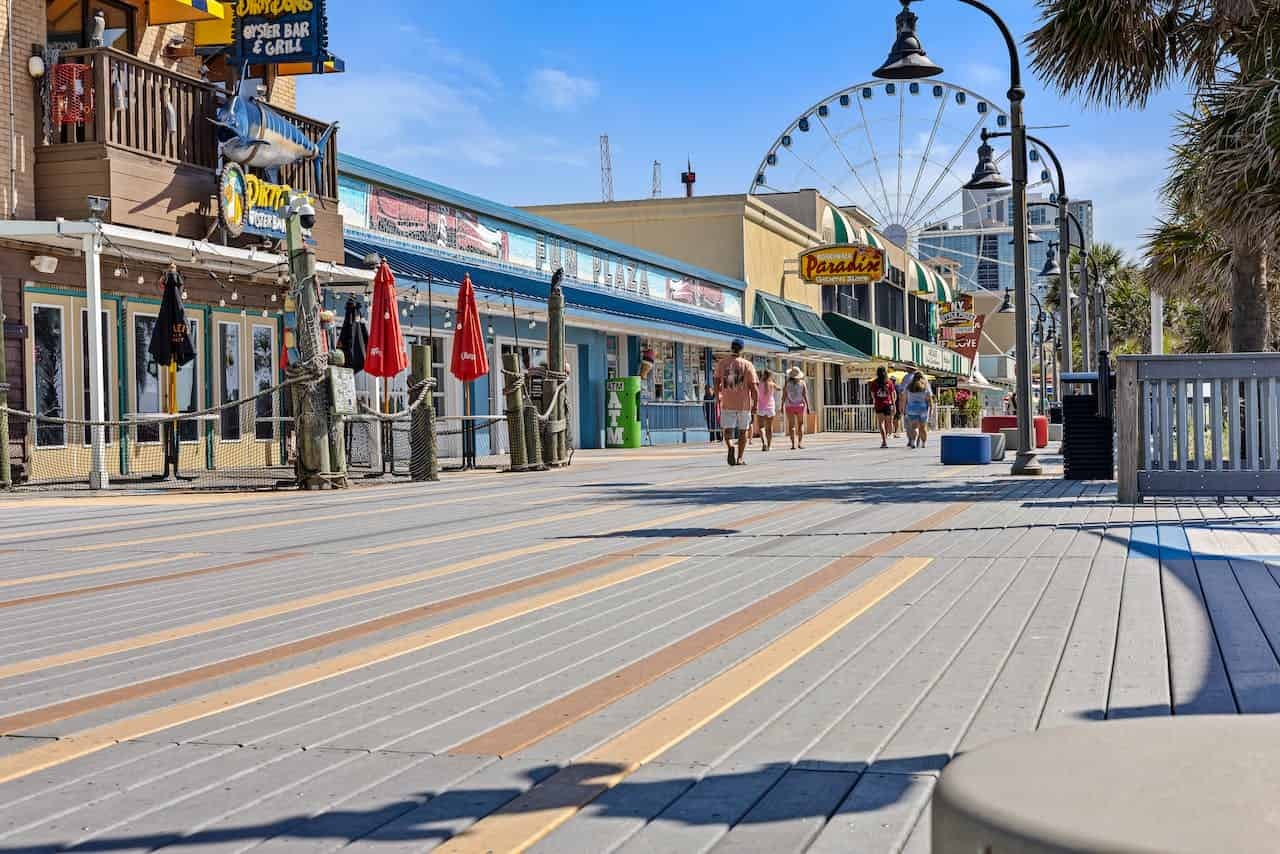 Myrtle Beach, South Carolina, is a captivating coastal city, with its soft sandy beaches that gently kiss the Atlantic Ocean. It's a place where the sunrise paints the skies with hues of oranges, pinks, and purples, providing a picturesque backdrop to the beginning of your day. Offering a wonderful blend of southern charm and vibrant tourist life, Myrtle Beach is more than just a popular vacation destination; it's a thriving community that invites newcomers to immerse themselves in its beauty and warmth.
Unsurprisingly, Myrtle Beach is a city witnessing a surge in growth, with many people succumbing to its allure and choosing to make it their home. The city was recently ranked in the top spot of U.S. News and World Report's "Fastest-Growing Cities in the U.S." This growth brings a blossoming vibrancy, continuously reshaping the city's culture and community structures to accommodate the influx of residents with various backgrounds and expectations.
Thinking about a move to Myrtle Beach? We offer local Myrtle Beach moves, as well as long-distance movers in Myrtle Beach.
Why move to Myrtle Beach, SC?
Myrtle Beach is more than its beautiful oceanfront. It's signature charm is characterized by friendly locals, delightful cuisine, and a multitude of recreational activities. Its subtropical climate brings warm (and yes, humid) summers and mild winters. The city seamlessly blends tranquility with entertainment, offering peaceful neighborhoods a short drive away from lively entertainment hubs, shopping centers, and exquisite dining experiences.
Meet the neighbors – Cities Close to Myrtle Beach
Located approximately 15 miles northwest of Myrtle Beach, Conway is a nice getaway away from the hustle and bustle of its more famous neighbor. It's a city that exudes historical charm and grace, laced with moss-draped oak trees, brick-lined streets, and classic Southern architecture that takes one back in time. Visit Conway's historical district and its vibrant downtown area, where you can explore an array of delightful shops, restaurants, and art galleries. Conway is also home to Coastal Carolina University, infusing the town with a youthful vibrancy and a plethora of cultural and educational activities.
Also about 15 miles away, North Myrtle Beach offers an expansive beachfront and a variety of attractions, such as Barefoot Landing, renowned for shopping and dining. The city is famous for its golf courses, offering both seasoned golfers and novices beautiful greens to practice their swing.
The closest big city is Charleston, SC, located about 95 miles to the southwest of Myrtle Beach. A drive between the two cities would typically take around two hours via US-17 S. Charleston, rich in history and known for its well-preserved architecture and robust restaurant scene, offers a contrasting cultural richness and urban vibe relative to the beach-focused lifestyle in Myrtle Beach. Another nearby city is Wilmington, North Carolina, also around 95 miles away and about a two-hour drive via US-17 N, offering a mix of historic charm and modern amenities.
Best Neighborhoods in Myrtle Beach, SC
Great neighborhoods for families include Carolina Forest, a planned community located to the west of Myrtle Beach. Average home prices are around $370k, It's a favorite among families due to its excellent schools, vast parks, shopping centers, recreational facilities, and dining options – like Sam Snead's and Clean Eatz – that cater to all members of the family. Also check out Plantation Lakes, known for its beautiful homes, spacious lots, lakes (no surprise, right?) and community clubhouse. Close to some of the best schools in the Myrtle Beach area, the neighborhood is a top choice for families prioritizing education. Average home prices here are around $716,500.
Young professionals are likely to enjoy the downtown area, with it's easy access to entertainment, dining, and the boardwalk. Apartments and condos are prevalent here, with rent ranging from $1,200 to around $2,000. The Market Common, an urban, mixed-use, walkable area offers a blend of modern residential and commercial spaces, average cost for a home here is around $400k. The area hosts numerous events and is home to many shopping and dining options. Restaurants like CO Sushi and Tupelo Honey are popular with the locals.
Retirees will also enjoy the Market Common and may want to check out Cresswind. This is a community specifically designed for active adults. Amenities include a fitness center, walking trails, and a multitude of activities aimed at an active and sociable lifestyle, as well as easy access to everything the Market Common neighborhood offers. Love golf and the ocean? Check out Seasons at Prince Creek West
If budget allows, consider Grande Dunes, with luxurious homes averaging $1.28 million. This is an upscale, situated along the Intracoastal Waterway. The community features a range of luxurious real estate options, including single-family homes, villas, and condominiums. Residents have access to an award-winning golf course, tennis facilities and private beach access. Dining options include restaurants like Ocean Club and Hook & Barrel.
The Economy and Myrtle Beach
The job market in Myrtle Beach is as vibrant as its tourist life, characterized by a low unemployment rate and opportunities majorly in tourism, retail, and healthcare. The tourism industry, in particular, plays a pivotal role in driving the city's economy, offering myriad job opportunities ranging from hotel management to culinary arts.
Apart from hospitality and healthcare, Myrtle Beach has diversified its economy by nurturing several other industries. Some significant sectors that play a substantial role in the city's economy are real estate and construction, education (Notable institutions include Horry-Georgetown Technical College and Coastal Carolina University) and a growing manufacturing and technology sector.
The cost of living in Myrtle Beach is 8% lower than the national average.
What to do in Myrtle Beach?
From the iconic Myrtle Beach Boardwalk to the Broadway at the Beach shopping complex, there's no shortage of places to explore and enjoy. Nature lovers will find their happy place in the Brookgreen Gardens, while golf enthusiasts can practice their swing at one of the numerous golf courses dotted around the city.
Take a ride on the SkyWheel for the best view in town. Broadway at the Beach beckons next, an immersive epicenter of excitement, effusing the essence of entertainment, shopping, and dining. Strolling through this dynamic venue, one encounters an ebullient atmosphere where the scent of delightful cuisines flirt with the air, and the sounds of laughter and music fill the ambiance. A visit to restaurants like Mr. Fish offers a symphony of flavors, where the ocean's finest creations grace the plate, tantalizing taste buds with exquisite seafood delicacies. For those seeking to indulge in the warmth of southern hospitality, Simply Southern Smokehouse unfurls a banquet of southern-style BBQ and homely comfort foods, each bite echoing the traditions and tastes of the South.
Education in Myrtle Beach
Education is a priority in Myrtle Beach, with a collection of schools that promise quality education and holistic development. Horry County Schools is the main school district in the Myrtle Beach area, and within it, some exceptional schools and zones have stood out. The Carolina Forest area is often lauded for its schools. The schools here, such as Carolina Forest High School and Ocean Bay Middle School, have been praised for their academic programs, dedicated staff, and well-maintained facilities.
Another noteworthy area within Horry County Schools is the St. James zone, which includes schools like St. James High School and St. James Elementary School. This zone is recognized for its strong community involvement, comprehensive educational programs, and various extracurricular offerings.
Socastee is another area that is recognized for its good schools within the Horry County School District. Socastee High School, for instance, has a diverse array of programs that cater to different interests and talents, from academics to the arts and athletics.
For parents considering private education, Myrtle Beach Christian Academy and St. Andrew Catholic School are among the reputable private schools in Myrtle Beach. They offer robust academic curricula, strong moral guidance, and a multitude of activities to ensure a well-rounded education, receive commendable ratings, demonstrating a commitment to academic excellence and a variety of extracurricular activities.
Crime and safety in Myrtle Beach
Well, here's the bad news. Myrtle Beach ranks fifth in Southwest Journal's 2023 list of the 10 most dangerous cities, based on FBI crime statistics. The chance of becoming a victim of violent or property crime is one in 11. The property crime rate is 112.87 per 1,000, compared to 29.4 per 1,000 for the rest of the state.
As in any city, crime varies across neighborhoods. Efforts are being made by the local authorities to improve safety and reduce crime levels. The safest neighborhoods in the Myrtle Beach area include Carolina Forest, Pine Island, Osprey Cove, Peachtree Estates, Queens Harbour/Laurel Woods, Carnaby Loop/Alvina Way, West Hyde Park/Summertree Village, Tuscany Village/Members Club, Waterford Plantation/Windsor Green and Bridgecreek/Lawsons Landing.
Advantages to living in Myrtle Beach, SC
Beachfront Living
Living in Myrtle Beach means having access to some of the most breathtaking beaches on the East Coast. The beautiful coastline offers residents a chance to indulge in a multitude of water and beach activities, such as swimming, surfing, and beachcombing, infusing daily life with a sense of vacation-like relaxation and joy.
Affordable
Compared to many other coastal cities, Myrtle Beach boasts a more affordable cost of living. The housing market offers a variety of options that can fit diverse budgets, making beachfront living more accessible. And South Carolina does not tax Social Security benefits, which can be particularly advantageous for retirees.
Recreational and Cultural Activities
Myrtle Beach is not just about the ocean; it's also a hub for recreation and culture. From golf courses and parks to theaters and museums, the city offers a rich tapestry of activities and experiences that cater to various interests, ensuring that there's always something engaging to explore.
Mild Climate
The city's climate is another attractive feature. Myrtle Beach experiences mild winters and warm summers, making it suitable for those who prefer a warmer climate. The pleasant weather also allows residents to enjoy outdoor activities year-round, contributing to an active and healthy lifestyle.
Disadvantages to living in Myrtle Beach, SC
Tourist Crowds
Especially during the peak summer months, the influx of tourists leads to crowded beaches, longer wait times at restaurants, and increased traffic, which might detract from the city's overall livability for permanent residents.
Weather Vulnerabilities
While the climate in Myrtle Beach is generally mild and pleasant, the city is susceptible to hurricanes and tropical storms. Residents may have to prepare for and deal with the impacts of severe weather, including potential property damage and evacuations.
Crime Rates
Myrtle Beach has experienced issues related to crime, particularly during the tourist season. While this is not unique to tourist destinations, it's still a consideration for potential residents. The city has been actively working on improving this aspect, but it remains a point of consideration for those looking to settle in the area.
Educational Considerations
While there are some great schools in the Myrtle Beach area, the educational offerings are somewhat limited compared to larger cities.
Moving to Myrtle Beach?
Myrtle Beach, with its oceanic allure and flourishing community life, presents a persuasive argument for those considering relocation. Despite its challenges, it is a beautiful welcoming city with great opportunities, waiting to welcome those ready to call it home.
If you're moving to Myrtle Beach, Bellhop can help you get there. We know moving is no one's idea of a good time, and we've dedicated ourselves to figuring out how to make the experience as stress-free as humanly possible.
We have long distance service options for moves of any size and budget. Options range from labor only service to our unique direct truck moves. We can help you with packing, storage, car shipping, junk removal and many other needs. And our flat rate pricing option ensures that you are not surprised by hidden fees on move day. Plus, our terrific customer support team is with you every step of the way. Tell us what you need, and we'll do our best to find a way to make it happen.