So, you're thinking about moving to San Antonio? But you're not sure what to expect. You want to know about the touristy stuff, sure. But you're not looking to visit; you're looking to live there. And that's a big difference. Thankfully, your friends here at Bellhops want to help (to introduce ourselves, we're Bellhops—movers in San Antonio and around the country).
For this article, we're bringing you the best advice on moving to San Antonio there is. This advice comes not only from the blog posts and websites about fun things to do in San Antonio but from people who actually live there. Keep reading to find out about the cost of living, pros and cons, where to live, the job market and other juicy tidbits to help you decide whether San Antonio is right for you.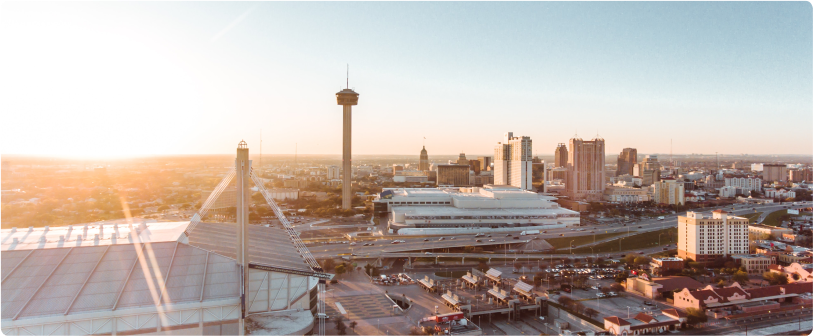 The San Antonio Basics
Some Good, Old-Fashioned Population Data.
San Antonio is the second-largest city in Texas after Houston and the seventh-largest city in the U.S. Located in Bexar County, it has a population of 1.4 million people. It's the home of The Alamo, the River Walk, and the NBA's San Antonio Spurs.
With steady job growth, beautiful scenery, and a booming food scene, San Antonio has established its own distinct personality.
The Cost of Living in San Antonio
Ultimately, San Antonio provides a more affordable living scene than other big cities in Texas, such as Austin or Dallas. The cost of living is actually 8% below the national average, according to RentCafe. Depending on what job you're looking for, the average annual salary is $55,000. For housing, expect to pay, on average, $1280 for rent and $327,000 to buy a home.
You'll Save on Income Tax
If you're coming from out of state, your pay stubs may look a little different than the ones you've seen before. Texas is one of the few states that does not collect state income tax. At payday, you'll have a little more in your pockets than what you're used to. Don't get too excited, though, as most state and city projects are funded through higher business and property taxes.
The Weather: Brutal Summers, Mild Winters
When you're thinking about moving anywhere, the weather is often a concern. Let's do some math: Texas + the South = HOT.
Hot temperatures are the norm in summer months, typically reaching 90 to 100 degrees in July and August. The good news? Winters are mild. So, while your friends up north are bundled up in every piece of clothing they own from December to February, you can coast through temperatures well above freezing with a light jacket.
A Military City
The city is proud of its honorable history and commitment to the military. San Antonio is home to one of the largest military bases in the country, Joint Base San Antonio, which primarily serves the Air Force. Currently, the base has four major locations that provide training, health care, education, and combat support.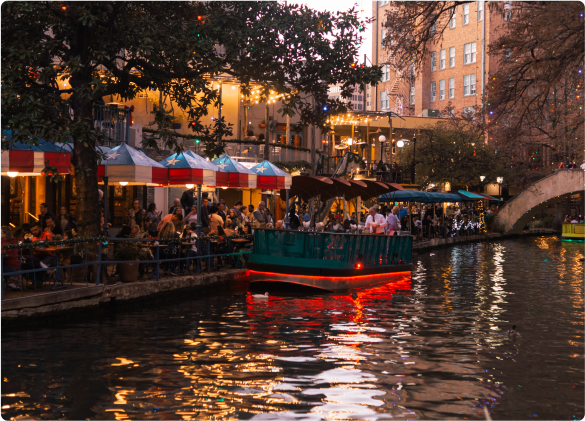 Getting Around the City: Public Transportation, Walkability, and More
Navigating San Antonio by Car.
The average commute time by car is 25 minutes in the city. There are a lot of drivers, which means a lot of traffic. But not as much as, say, New York City or Atlanta.
John Hughes on Quora, says, "I grew up here and then moved away for about 30 years. I just moved back a little over a year ago. When I left, I never saw myself coming back, but the city has changed so much. The only negative I see is the traffic. It was a big shock when I moved back. I was running errands that first weekend and got a little overwhelmed. But, soon enough, you will learn what times are best to be out and about. Occasionally, I still get stuck in traffic, but, for the most part, I have learned to live with it."
Walking in San Antonio.
Jeff Speck, guru of walkability and author of Walkable Cities: How Downtown Can Save America One Step at a Time, praises San Antonio in his work Walkable Cities. This has sparked a conversation in San Antonio about ways to make their city even more walkable.
In particular, Speck praised the River Walk, which we mentioned earlier. Also known as Paseo del Rio, it's a network of walkways along the banks of the San Antonio River that spans 15 miles. But be careful, as resident Daniel Pickett says, "The River Walk is a must-see tourist trap. But locals usually avoid it."
Public Transportation Infrastructure
There is no metro, but there is a bus system called VIA Metropolitan. The system includes 89 bus lines and a streetcar downtown. For more info about VIA, here's a helpful article from Trip Advisor.
Bike Sharing
If you're a cycler, there's always B Cycle, San Antonio's bike-sharing program—something that Jeff Speck also praised in his book on walkability! It even has an app.
The People of San Antonio
A Diverse and Friendly Place
San Antonio's population is diverse, with a large Hispanic concentration. The average age there is 34. Tracy Morgan on Quora says, "San Antonio is an amiable and diverse place. For me, the demographics of a city and state were the most important things to look at before moving there."
For a breakdown of San Antonio residents by race, nationality, gender, age, and household, check out Suburban Stats.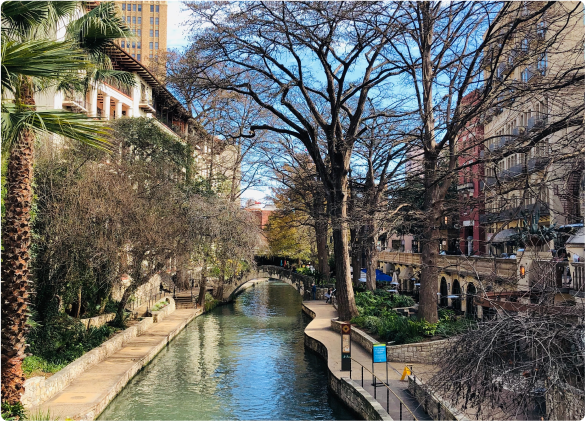 Where to Live in San Antonio? Hot Neighborhoods
Honestly, there are too many neighborhoods in and around San Antonio to list here, so here's a handy list of them all. We've condensed this list to highlight the city's hottest places to live. Or at least right now, because, let's be honest, "hot" is relative.
As resident Andy Kabbe commented on Quora, "I moved here five years ago from San Diego. I find the city to be very similar [to San Diego]. Hispanic tradition, progressive, family-oriented, up-and-coming city scene for young adults, friendly, growing, affordable and nice, but the beach is three hours away. Great place to live and play. Lots of great neighborhoods to choose from—not any one part of town is "'it.'"
Downtown: City Center, King William Historic District, Southtown.
The perks of living in downtown San Antonio include proximity to the River Walk, bike lanes in the majority of streets for commuting, and a growing food and drink scene. It will cost you, though. Fortunately, City Center is full of lofts and apartments, primarily geared towards renters.
In King William and Southtown, you will find a pleasant mix of single-family homes and apartments. These provide flexible options for those willing to pay for the great location. Southtown is the main arts and culture scene for the city. This also happens to be a neighborhood with some great dining options. The Alamo Street Eat Bar is like a food court, but outdoors with unique food trucks—it's delicious.
Tobin Hill and Pearl: Exploding with Opportunities.
After brewery renovations in 2001 transformed Pearl Brewery into a culinary mecca, the neighborhood around the complex flourished. Because it's considered to be one of San Antonio's hippest neighborhoods, young professionals often flock to this district. The surrounding neighborhood of Tobin Hill is located just two miles north of downtown and close to Interstate 35. It's conveniently located just west of the Pearl complex, which many young professionals call home. You'll also want to try North St. Mary's Street, which is full of restaurants and shops.
Alta Vista and Beacon Hill
Just under three miles north of downtown lie two tried-and-true districts, Alta Vista and Beacon Hill. These two neighborhoods are great options if you need to commute downtown. They provide easy access to US Highway 281 and Interstate 10, which leads to the center of the city. The housing there provides a mix of apartments and homes that are more affordable than in the downtown proper area.
Alamo Heights
Located about six miles north of downtown off of US Highway 281, this older affluent suburb is popular but pricey. As young professionals turn into young families, they often move to this area due to the residential feel and solid school district. Broadway Avenue provides the backbone of this popular community. Residents commonly congregate at local restaurants, bars, and unique shops.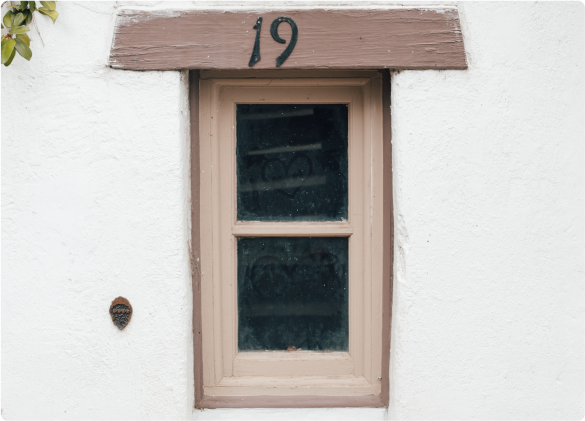 The Job Market and the Crime Rate (Or, 'What to do and what not to do')
Working in San Antonio: The Job Market (What to Do)
San Antonio has a prosperous tourism industry. But that's not all it's known for. According to this resource, big tech and the financial industry are booming there. And the city's Economic Development Department is growing its core industries, such as Aerospace, Biosciences, advanced manufacturing, and others.
Here are some other helpful resources if you're job hunting: The City of San Antonio Business Climate, Glassdoor's 2018 Best Places to Work in San Antonio, and San Antonio Business Journal's Best Places to Work.
Crime in San Antonio (What not to do)
We mentioned that we'd talk the pros and cons of moving to San Antonio at the beginning of the article. Unfortunately, a discussion of crime in San Antonio is definitely one of the cons. Like any other city, crime is a fact of life in San Antonio. Thee city's violent crime rate is 64.6% higher than in all of Texas, with the property crime rate at 61.6% higher than the state.. Recent crime data shows there was a decrease in violent crime in 2022, but an increase in car theft.
But also,, it's perfectly natural for crime to fluctuate from year to year. Here are more stats and a breakdown of the safest suburbs in the San Antonio area. But also, San Antonio was ranked one of the top 100 places to live by U.S. News & World Reports, so what do we know?
Schools in San Antonio
Would you believe that there are a whopping 1,140 schools in the San Antonio area? If you're a parent, that should give you confidence that there are plenty of quality schools for your kids to attend. Let's chat about the public and private schools here in San Antonio.
How are public schools in San Antonio?
If you want your kids to be pushed and prepared academically for college, San Antonio is a great place to move to. The schools there are known for clubs, activities, sports, and they have great ratings for academics in general.
The high-school graduation rate in San Antonio was last recorded at 80.7%. How does that compare to Texas as a whole? It's lower than the state average, which is roughly 90% for public schools. However, it is important to note that the graduation rate may vary by school, meaning that there are still San Antonio schools that score above the city's average.
Like the graduation rate, the math and reading proficiencies also vary by school. For example, in the San Antonio Independent School District, the math proficiency is 33%, and the reading proficiency is 29%. These are below the state average (51% for math and 47% for reading). But again, depending on where you choose to send your kids, the math and reading proficiency levels will be different. (The suburbs generally score highly in these areas.)
Top-rated public schools in San Antonio
Here are some suggestions for public schools in San Antonio:
Best Elementary Schools in San Antonio:
Best Middle Schools in San Antonio:
Best High Schools in San Antonio:
What private schools are in San Antonio?
There are 609 private schools in this Bexar County city. Here are a few of the top options:
What are suburban San Antonio schools like?
As parents, we look at a lot of factors when deciding what school is right for our kids. That includes things like academics, teachers, and college prep to diversity, clubs, and activities. The good news is that suburban San Antonio schools are top of the line, usually offering a lower student-to-teacher ratio, fun activities for your kids to be a part of, and challenging curriculums that can help them get ready for college.
What suburbs have particularly good school systems?
Check out these suburbs for highly rated schools from elementary school to high school:
What are the best school districts in San Antonio?
Here are some top choices for San Antonio school districts: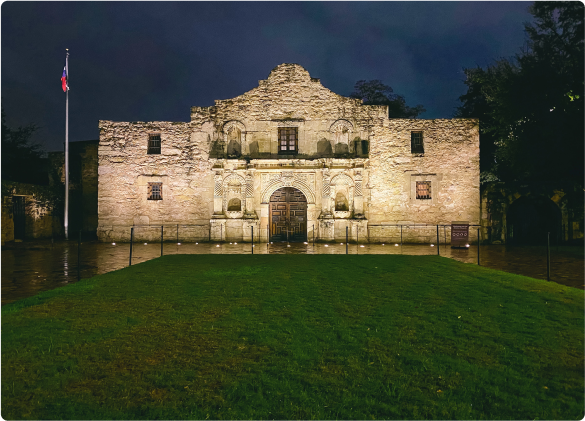 Things to Do, Places to See: Parks, Beer, History, and more.
Break a Sweat
San Antonio is home to plenty of parks and walking/jogging trails. As a result, it makes physical activity affordable and accessible. Eisenhower Park is one of the most popular and largest parks in the city, with plenty of space to relax or picnic, but also sports hiking trails for those looking for a challenge. This popular area fills up quickly on weekends and holidays.
If you can't make it to Eisenhower Park, don't worry. The city announced in 2016 that it would continue to dedicate funding towards green spaces and parks, securing 200+ acres for future open spaces.
The River Walk
We mentioned the River Walk before, and for a good reason. San Antonio thrives around the San Antonio River. With over 30 miles of dedicated boardwalk, tourists and residents alike enjoy all that San Antonio has to offer.
The River Walk winds its way through several neighborhoods and downtown with easy access to dining and shopping. A nice bonus: if you'd prefer not to do too much walking, there are also water taxis that you can take along the river.
San Antonio Missions National Park
The Alamo is one of the most important historical landmarks of San Antonio. But there's more to San Antonio than just this historic memorial. The San Antonio Missions National Historic Park boasts four of the city's five Spanish missions—outposts that date all the way back to the 17th century. Today, they're pretty much at the top of any San Antonio visitor's to-do list.
Pearl Brewery: A Can't-Miss San Antonio Legend
Once just a legendary brewery (the brewery operated from 1883 to 2001), the historic Pearl complex has transformed into a "culinary and cultural destination." This large, industrial-inspired area now hosts the Culinary Institute of America, events, live music, weddings and even a farmer's market. Wondering where the beer is? While the brewery proper is no longer operational, several award-winning restaurants, taprooms, and shops flourish in this area. Be sure to grab a pastry at Bakery Lorraine, enjoy a savory barbecue at The Granary, and dive into the latest culinary creations with a farm-to-table emphasis at Supper.
Giddy Up!
It wouldn't be home in Texas without a little rodeo action, and Mission City has one of the best around. Each year, the San Antonio Stock Show Rodeo draws approximately one million fans from around the world. Experience bull-riding, the horse show, and even a petting zoo for the kids at this San Antonio annual staple. The event has won the "Best Large Indoor Rodeo of the Year" twelve years in a row from the Professional Rodeo Cowboys Association. Dang.
Like what you see?
There's not much more we can add, so we'll let Corey George, who we talked to on Facebook leave you with this: San Antonio is the best burrito town in the country. If you decide to take the plunge and move to San Antonio, don't hesitate to reach out to your friends at Bellhops. We coordinate local and long distance moving services in San Antonio and we would love to help. Also, if you're interested in Texas, but not sure if San Antonio is right for you, check out our guide on moving to Texas.