Published August 21, 2023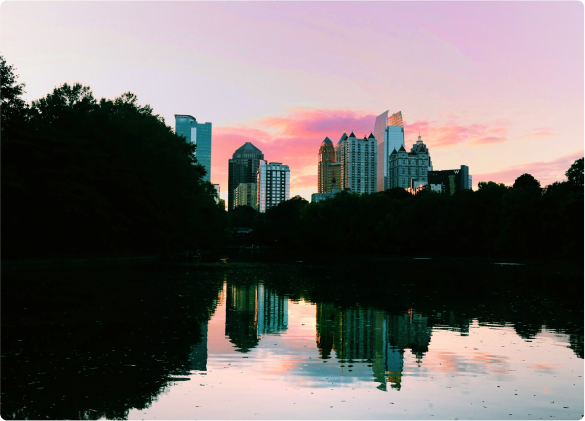 Famous for its peach cobbler and fried chicken, Georgia has much more to offer than its food, from breathtaking scenery to southern hospitality.
The Peach State is also the home of Martin Luther King, Jr., and Ray Charles, fun festivals and famous golf tournaments. Besides these delights, people gravitate from Florida towards the Peach State for its adventurous hiking, camping and backpacking opportunities. A quick peek at the exquisite Hemlock and Cherokee Falls in Cloudland Canyon State Park is just a taste of what awaits the outdoor enthusiast.
Is moving from Florida to Georgia a good choice?
Absolutely! Other than the wonderful features that Georgia offers, most people want to learn about the practical side of making a move from Florida to Georgia.
For instance, they want to know what popular destinations they can look forward to in a new state and how the pros and cons of a move weigh up. Also, there's the decision of the best places to live in the new state.
We cover several main issues below to help you decide whether a move from Florida to Georgia will enhance your lifestyle.
What are some popular destinations in Georgia?
Between the locals and tourists, Georgia has many popular destinations. Here's a taste of outdoor and indoor destinations to visit:
Outdoor enthusiasts
Stony Mountain is the number one attraction in Georgia, but families can enjoy Driftwood Beach on Jekyll Island, climb Arabia Mountain or paddle Banks Lake. Other popular activities include hiking to see Hurricane Falls, camping on Cumberland Island or visiting the Phinizy Swamp Nature Park.
Culture
Enjoy a Hop On, Hop Off Old Town or Ghosts and Gravestones Tour in Savannah, or visit the Atlanta Zoo or Aquarium. Other enjoyable cultural activities include walking tours for sightseeing or viewing local architecture, cemeteries or mystery and crime entertainment.
Other popular destinations include The Olde Pink House, World of Coca-Cola, Fox Theater and Wormloe. Hilton Island water cruises and an excellent array of traditional food also form part of Georgian culture.
But no matter how much entertainment is available, there are some cool tips to know before moving to Georgia.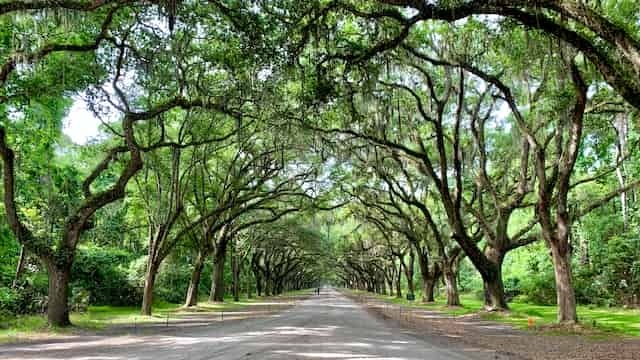 What should you know about Georgia prior to moving there?
Atlanta is pronounced, Atlannuh.
"Bless your heart" has many meanings.
When in Georgia, act like a Georgian; otherwise, you may be considered an ignorant hick and attract a "bless your heart," which doesn't quite mean what you'd imagine it to be.
Yes, it's hot in Atlanta, even hotter and more humid than Florida in summer, but no one will bless your heart for calling it Hotlanta.
No — Georgians do not have accents, but everyone else does.
Although known as the Peach State, Georgia produces more pecans.
Metro Atlanta is divided into ITP, inside the perimeter, and OTP, outside the perimeter. The perimeter is an interstate highway loop around the city. Locals use OTP and ITP to indicate one or the other. Know the difference.
The PGA Masters Tournament is held in Augusta every year.
Anyone wanting to make the move from Florida to Georgia should also know some of the pros and cons involved.
What are some pros and cons of living in Georgia relative to Florida?
Every state has pros and cons, so it is essential to research before packing and moving anywhere.
Pros
Cons
Education costs: Florida in-state college or university tuition will set you back an average of $4,477 per year, while in-state tuition in Georgia averages $9,790.
Healthcare: Florida ranks #27 in healthcare (#10 in best states overall), and Georgia ranks #41 for healthcare (#21 in best states overall).
Job growth:From 2022 to 2023, the job market in Florida grew by 413k jobs and Georgia's by 133k, a difference between a 4.5% and 2.8% increase.
What are some of the best places to live in Georgia?
Here's a list of some of the most popular locations to live in Georgia:
Alpharetta
Athens
Atlanta
Savannah
Roswell
Marietta
Gainesville
Brookwood
Kennesaw
Suwanee
Decatur
Peachtree City
Woodstock
Sandy Springs
Johns Creek
Canton
Dahlonega
Blue Ridge
Ellijay
Dawsonville
Cumming
Interested in moving to Georgia?
Give us a call! We have long-distance movers in Atlanta and elsewhere in the state, able to get you moved in from your current home in Florida to your new spot in Georgia.
The Average cost of moving from Florida to Georgia
In general, it's good to allocate about $2,000 to $2,500 for your Florida-to-Georgia move. There are a few things that affect the cost, including the moving company, as well as if you need a moving vehicle, packing supplies, storage, etc.
Other Moving Costs in Georgia
You'll eventually need to get a driver's license in Georgia, which will cost $32. You can get $5 off by starting the process online, though.
Georgia also requires that you transfer your car title and registration within 30 days of moving. There's an $18 fee to re-title your car, and a $20 fee to switch your registration to Georgia.
Tips to help with your relocation to Georgia
Here are some things to do upon deciding you're ready to move:
#1: Order the right packing materials
Flimsy moving boxes can quickly complicate a long-distance move. Invest in quality moving boxes to ensure your items stay secure while on the moving truck. Also, don't forget to get different boxes for your computers, printers, electronic devices, and kitchen appliances. That way, you'll know that they're safe while in transit.
Another thing to do is set up a color-coding system so that you can figure out where different items go with ease (which is especially helpful if you're moving from one home to another and have accumulated many things over the years).
If you need packing help, we can help you out with that.
#2: Get a parking permit (if applicable)
Some parts of Georgia may require you to get a permit to park your moving vehicle. Be sure to get in touch with the city where you plan to move so that you can find out if you need one before moving day. That can save you time and headaches later.
Alternatively, if you'd rather not spend your time worrying about permits, consider hiring a long-distance mover to help you out.
#3: Dedicated truck or container?
When you're moving a long distance, you have more options than just batching and van line services. Bellhop offers a dedicated truck, which can transport you from Florida to Georgia, saving you time during your move.
In addition, Bellhop has a dedicated support and coordination team that can help you figure out the logistics of your move. We can also load up your items onto the moving truck, unload them in Georgia, match vadayou up with a quality storage provider, and help disassemble and reassemble couches and other types of furniture.
If you'd prefer to load your belongings into a batched container, like PDOS, we can help with that too. Our Bellhop Pros can load your belongings into the container, and then unload them into your new home when it arrives.
If you're concerned about the cost of your move to Georgia, don't be. We have financing that helps you get the great moving services you deserve. (By the way, we don't make you pay based on the weight of your items. We simply make sure the items fit. That's how we work here!)
Want to learn more about Atlanta? Check out our Atlanta moving guide.