Moving to Atlanta: Pros and Cons
Advantages to living in Atlanta:
The Hotlanta Nightlife.For live music, Atlanta's offerings are impressive. Here are a few of our favorites. There's The Tabernacle for popular rap, rock, or R&B outfits. There's the Fox Theatre, which hosts both all sorts of live music and comedy acts. There's Eddie's Attic, a quiet, intimate setting for singer-songwriters, poets, and more that also happens to have killer food and drink options. Finally, there's The Masquerade, one of the most uniquely designed and diversely programmed venues in America. The bar scene in Atlanta is big, diverse, and great. That's a simple way to put it, but it's true. You've got secret speakeasies like Red Phone Booth where you enter by dialing a secret code in an antique London phone booth (seriously, check it out). You've got retro arcade bars with machines all the way from the 1970s at Joystick Gamebar. You've got a karaoke bar with an in-house church organ to accompany all your warbling. And it also happens to have a great name, Sister Louisa's Church of the Living Room. And there's way more to explore. These are just a few of our favorites.
Centennial Olympic Park.Located downtown, Centennial Olympic Park commemorates Atlanta's hosting of the 1996 Olympic Games. 21 acres of green space provide plenty of places for an ultimate Frisbee game or picnic. Kids can also cool off in the Olympic fountains, designed in the shape of the five Olympic rings.
Atlanta is (Kind of) A Pro Sports Paradise.We won't say that Atlanta has every sport. But as far as we can tell, it's got the big ones--or all the American favorites, at least. Professional baseball (The Braves), football (The Falcons), basketball (The Hawks), soccer (Atlanta United), and tennis (Atlanta is home to the BB&T Atlanta Open every summer). Atlantans love their professional sports, too. If you're hoping to move to a new city where you can get invested in the local sports teams, Atlanta will not leave you disappointed.
Disadvantages to living in Atlanta:
The Traffic in Atlanta Sucks. For Real.When we asked Atlanta locals to let us know what they loved and hated about Atlanta, overwhelmingly, people like Tommy Simpson cited traffic as their most-hated aspect of living in the city. "I don't like the traffic for sure! The public transit is mostly a joke, and everything is very spread out and not as condensed as most major cities." Atlanta and its suburbs are spread out, intersected by several interstates. One of the biggest complaints residents have is the sub-par walkability of the city as a whole. Unless you live near downtown, the walkability and Marta—the city's public bus and rail system—leave something to be desired. Most people own cars and rely on the interstate system, which jams easily from all the traffic. Most residents need to account for additional commute time because of this.
You Have to Own a Car.Atlanta writer and city planner Hannah Palmer told us, "There's no way not to be car dependent in Atlanta. The trick is to find a balance. I feel very comfortable in Atlanta; I feel like I've kind of hit that sweet spot. I can use public transportation. I can walk some places. But I still do a lot of driving, especially the-running-kids-places kind of driving. I think I'd be miserable if I had to drive more than an hour to work. That's normal for a lot of Atlantans, that 45-minute or hour long commute." The good news is that Atlanta has committed to building The Beltline, which will increase walking, jogging, and bike paths throughout the entire city. It's one of the largest urbanization projects in the US.

There's a Reason for the Name Hotlanta.Atlanta isn't called Hotlanta for no reason. True to the climate in the south (which is technically a humid subtropical climate), the temperatures can get uncomfortably hot in the summer. Most summer days reach the mid-nineties and can often be quite humid. However, the winters are fairly mild. Snowstorms are quite rare, but when they do hit, they have a knack for shutting down the entire city. Because people in the south don't know how to handle snow, as any of your northern friends will gleefully point out to you.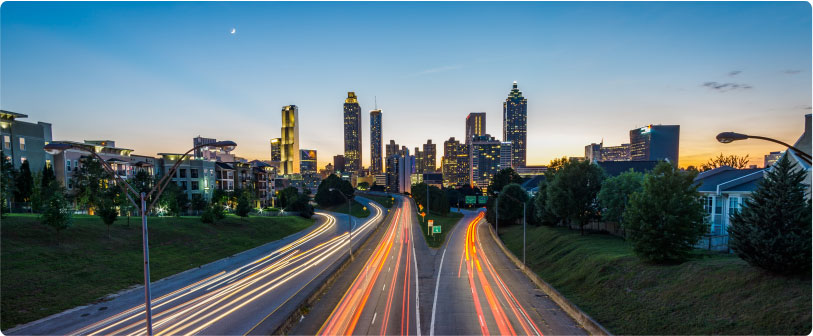 Where to Live in Atlanta: A Mini-Neighborhood Guide
Geoff Bartlett, who has lived in Atlanta for more than ten years, tells us, "Neighborhood culture in Atlanta is a major factor of life here. The city is a patchwork of areas whose borders often delineate very different cultural and aesthetic sensibilities."
And, in light of our previous discussion of the traffic, here's another piece of advice from our friend John Edmonson: "The key to happy Atlanta Metro living: live as close as you can to work. The traffic is the number one problem. It wastes time. Better to arrange your affairs so that you don't have to deal with it on the daily."
Atlanta has a lot of neighborhoods. So we are going to limit our list to the downtown area only.
Castleberry Hill: The Last of the Warehouse Districts
First up on our list of downtown neighborhoods is Castleberry Hill. Located in the southwest corner of downtown, Castleberry Hill is one of the few surviving warehouse districts in the country. It also happens to be a growing Atlanta neighborhood known for the arts and culture. Many of the old warehouses here have been converted into lofts for housing, making for some exciting, if non-conventional, places to call home. The main boundaries are I-20, MLK Jr. Pkwy, and Northside Drive. If warehouse-turned-apartment living is your thing, check out the Atlanta Convention and Visitors Bureau website. There you'll find a thorough list of eateries, festivals, and things to do on the daily.
Fairlie Poplar District (No, not 'Fairly Popular')
Next up we have Fairlie Poplar District. The Fairlie Poplar District is listed on the National Register of Historic Places. The neighborhood blossomed in the 19th and 20th centuries as a business district while Atlanta established itself as one of the major business hubs of the Southeast. Luckie Street Studios and The Balzer Theater anchor the arts and culture scene in the district and they are recognized city-wide. Beautiful architecture is also a hallmark of Fairlie Poplar. The district's crown jewel is the Flatiron building. Opened in 1897 and designated as a world heritage site in 1976, its construction predates the construction of the famous structure in NYC bearing the same name.
Midtown & Buckhead: Where the Young Professionals Are
If you've done any reading at all about Atlanta neighborhoods, then you have likely heard of Midtown and Buckhead. And, if that's the case, we don't need to tell you that they're popular neighborhoods. (If that's not the case, then let us take the time to say to you right now: they're popular neighborhoods).
First up, a little about Midtown. The main drag in Midtown is the Midtown Mile, a section of Peachtree Street between North Avenue and 15th Street. The mile has loads of shopping, from local boutiques to national stores, as well as several restaurants and unique, local cuisine along the way. Midtown is one of the young and hip neighborhoods, and it's been attracting young professionals since all the way back in the 1980s. The neighborhood sports many luxury high rise buildings among its walkable streets. With an average walk score of 88, Midtown is the 6th most walkable neighborhood in Atlanta. You can do almost all your errands here on foot.
Second, a little about Buckhead. The fancier older sibling of Midtown, Buckhead is another popular neighborhood for Atlanta young professionals. With a central location, a thriving nightlife, and a supremely walkable layout, Buckhead's popularity is no small wonder.
Buckhead is one of the more affluent neighborhoods in Atlanta which lends itself to the obvious pros and cons. You have some of the best amenities in the city, easy access to the Marta and beautiful properties. This also has its downsides. Real estate in Buckhead is pricey, with the average single-family home starting around $500K. Rental prices are more reasonable for young professionals but are still on the more expensive side. For young families, the public school system is solid, although, as with most affluent areas, most kids end up at one of the many local private schools. Apartment hunting can be a little tough here, so check out either rent.com or apartmentguide.com. Both are excellent apartment aggregators with impressive databases.
Eastside: Growing and Expanding
Once again, if you've heard much about Atlanta, then you know that the Eastside is getting hot. Here, let's talk about two prominent neighborhoods: East Atlanta Village and The Historic Old Fourth Ward District.
East Atlanta Village, located between I-20 and Moreland Avenue, has undergone significant revitalization in recent years. This has effected a major shift: what was once considered a dangerous, undesirable part of Atlanta has become one of the most sought-after. And, it doesn't hurt that the Eastside also boasts affordable housing and abundant local food options.
The Historic Old Fourth Ward District is located north of downtown, east of I-85, and split by highway 10. The neighborhood is home to beautiful old homes, a budding restaurant scene, and residents of all ages. Further east, Little Five Points is another popular neighborhood. A word of caution, though: the crime rate here is a bit higher than the other neighborhoods we previously mentioned.
Westside: Hip and Walkable
The two dominant neighborhoods in west Atlanta are Atlantic Station and West Midtown.
Atlantic Station feels a little paradoxical. The majority of the neighborhood is accessible by public transportation, but the majority of the neighborhood is also privately owned. The neighborhood has the convenience of everything you could ever want, including an IKEA, in easy walking distance. However, the neighborhood is popular for tourists and can be crowded in the summer and holidays.
West Midtown is known as the "design district" and is full of warehouses, lofts, art galleries, and shopping. The Westside Provision District within provides unique, minimalist architecture and some of the top restaurants in Atlanta. For example, Antico Pizza, one of our personal favorites, has a location in the neighborhood.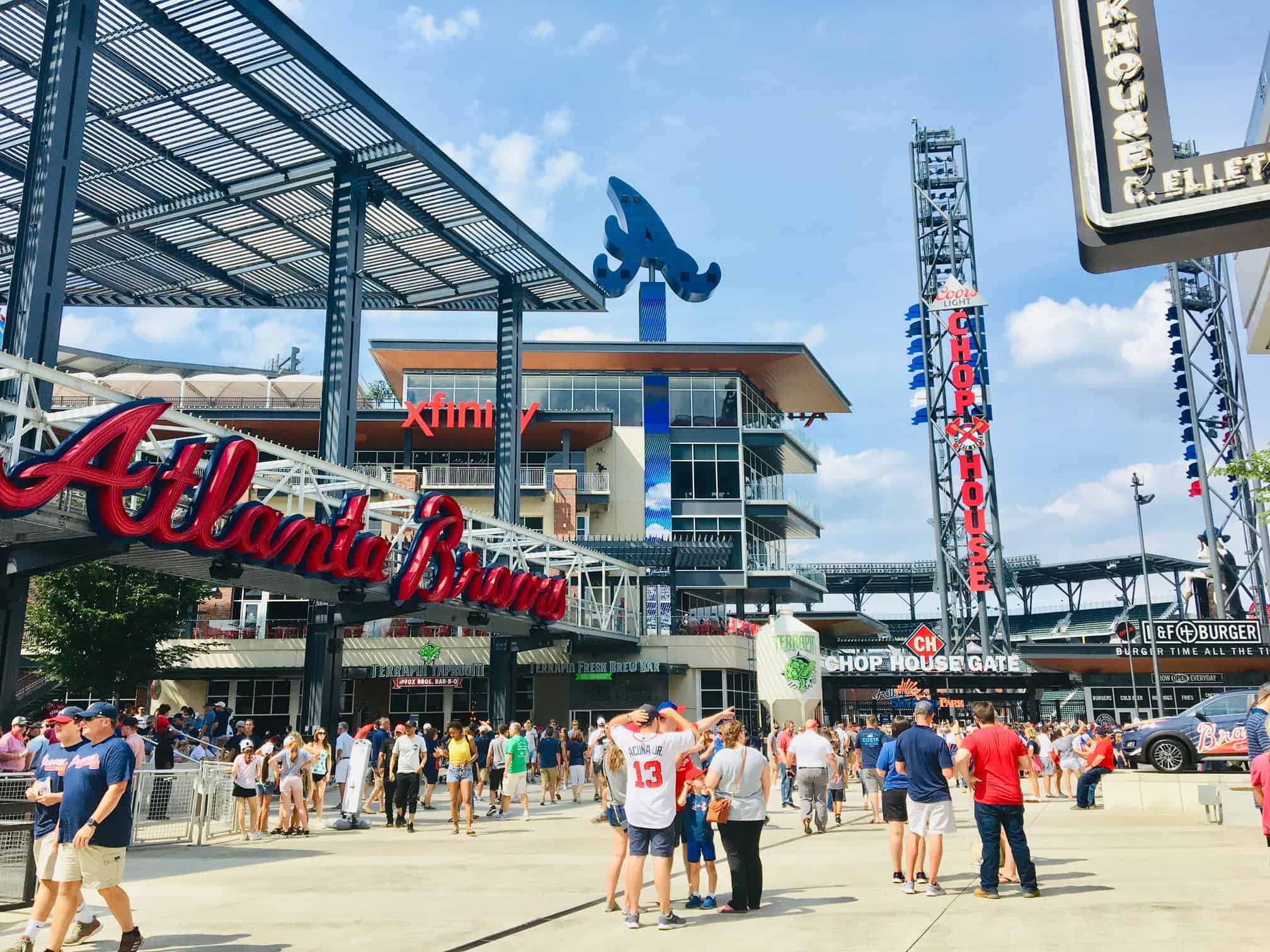 Good Luck with Your Move to Atlanta
To close, we'll let Atlanta resident Gary Tanner try to help you make your decision easier. He commented on Facebook, "Move to Atlanta for neighborhood theaters like Dad's Garage. Small towns that still exist inside a giant metro area like downtown Decatur and Marietta Square. Move to Atlanta where you get great pho in tiny family-run joints in your neighborhood, or can get world-class cooking at Staplehouse. The biggest bummer by far is the traffic. The first step to recovery is acceptance and knowing that the longer you live here the more back roads you'll discover."
So there you have it. The Bellhop city guide to Atlanta. If you decide to take the plunge, don't hesitate to reach out to your friends at Bellhop. We are the best local movers in Atlanta****and would love to help. We also coordinate long distance moving services