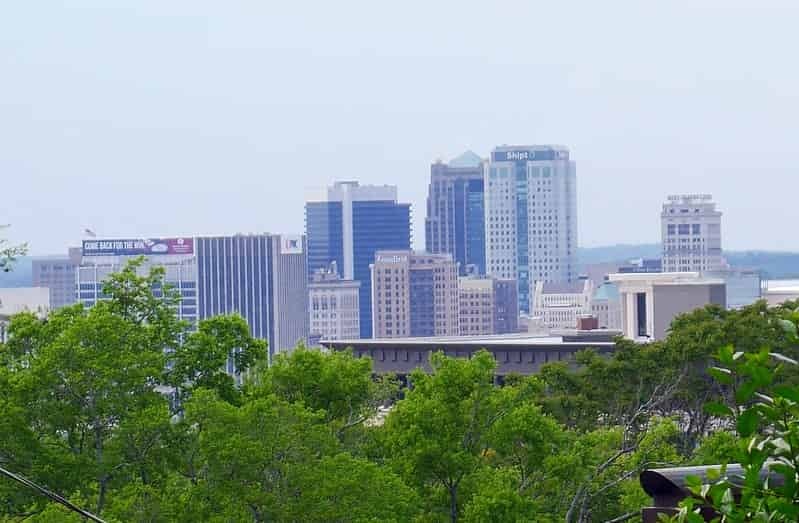 Moving to a new city can be stressful. Even if you're moving to a place as booming as Birmingham, AL, getting acquainted with a new city can be tough. Whether you're sure about this move or not, our Bellhop city guide is exactly what you need (oh, and we're movers in Birmingham, by the way).
Keep reading to get a well-rounded insider's scoop on life in Birmingham, from the cost of living and best neighborhoods to the job market and culture.
An Overview of Birmingham
From beer and baseball to barbecue and rock music, Birmingham has moved into the spotlight and gained national attention.
The city's rich cultural fabric adds a unique character to its booming culinary scene and thriving downtown. Large corporations have snagged skyline real estate and plenty of newcomers from across the country are calling Birmingham home.
Economics: Birmingham's Cost of Living and Job Market
Birmingham Is an Affordable and Growing City
In the past year, Birmingham's home values have increased by 10 percent. Real estate investors and researchers estimate that the next 12 months will bring an even bigger increase in home values and push the city forward into a hot seller's real estate market.
Even with the jump in prices, Birmingham is still ranked as one of the nation's most affordable cities, with low property tax and great first-time home-buyer opportunities. The city's cost of living is 19% lower than the national average, making it a great spot for newcomers and investors.
Where to Live: The 5 Best Birmingham Neighborhoods
With dozens of growing and popular Birmingham neighborhoods, you may be wondering where you should buy or rent. We've explored its streets, heard from locals, and found the five best neighborhoods Birmingham has to offer:
Vestavia Hills
Mountain Brook
Homewood
Avondale
Hoover
Check out our Birmingham neighborhood guide for more info on these top spots and insider's tips so that you can get to know each neighborhood like a local.
What to Expect: People of Birmingham and Crime in the City
Who Lives in Alabama's Largest City?
Birmingham, Alabama's largest city, spreads over 330 square kilometers of land and 5.2 square kilometers of water. Home to about 210,000 people, Birmingham is also Alabama's most populous city. Its greater metro area holds about 1.2 million people, making up over a quarter of the state's entire population.
"The Magic City" has been voted one of the nation's most livable cities. And there's still plenty of room for newcomers. Birmingham has a median age of about 36. The city's large population is wonderfully diverse. In recent years, it's had one of the biggest influx of millennial residents (ages 25-34) in the country.
Is Birmingham Dangerous?
Many cities have higher crime rates than the national average. Unfortunately, Birmingham is no different, with a crime rate significantly higher (3.2 times greater, in fact) than the national average. That said, these numbers vary dramatically from neighborhood to neighborhood.
Birmingham's crime rates rose by 4% between 2015 and 2018. While this might not sound like good news, it has ramped the city into gear to crack down on crime. Birmingham's crime data of this past year shows that crime numbers are down across the board throughout the city. According to the Birmingham Police Department in accordance with the FBI Uniform Crime Reporting Program for law enforcement nationwide, Birmingham's homicide rates have shown a 9% decrease from 2018.
Get Moving: How to Get Around and Stay Active in Birmingham
Walkability and Public Transportation in Birmingham
Birmingham's public transportation runs on their MAX Transit via the Magic City Connector and Max Direct buses. The city's 109 buses follow a few dozen routes that weave all throughout Birmingham.
Living in this populous city does require a car. Its sprawling and green landscape makes things a little more spread out, and walking from place to place can only be done in pockets of the city, especially downtown.
There are a number of bike routes and paths throughout the metro area for every level of rider. These can now be easily accessed thanks to the city's Zyp Bikes. Insider's tip: The bikes with the lightning bolt on the rear fender are electric!
Sports and the Outdoors Around Birmingham
Birmingham offers a thriving community and culture and holds more green space per capita than any other city in the nation. Its green-packed grid is laced with a number of great walking and biking trails. Many of Birmingham's popular spots for workouts, bike rides, and walks are settled within the city's many parks. Each of these also offers great outdoor features like playgrounds, sports fields, and picnic areas.
A 15-mile trail system traverses the diverse terrain of Red Mountain Park. Shades Creek Greenway features a 3-mile paved and multi-use path that stretches through Birmingham's metro area. Downtown offers several miles of paved path along Railroad Park. Vulcan Trail is home to a 2-mile trail that extends to Green Springs Highway. Another 2-mile walking and cycling trail, called the High Ore Line Trail, was more recently constructed as part of the Red Rock Ridge & Valley Trail System.
Vulcan Park is a must-visit and one of the city's biggest tourist attractions. The park is home to the world's largest cast-iron statue depicting Vulcan, the god of the forge. Pride for the city's industrial beginnings and local iron can be clearly seen in this tall figure that sits atop its pedestal on Red Mountain. The city also shows off with a number of botanical gardens, ziplines, cable watersports parks, and paintball fields.
Baseball is played in Birmingham all year long. Decked out with old fashion features like wooden scoreboards and grandstands, downtown's Rickwood Field has held its spot since 1910 and serves as the home field for the minor league Birmingham Barons and the Birmingham Black Barons. Once per year, this park opens up to host one of the most popular city events, the Rickwood Classic.
Birmingham Culture and History
A Civil Rights Watershed
The culture of Birmingham has been largely shaped by events that took place in the '50s and early '60s. In those decades, Birmingham was considered the most segregated city in the country. Protests against integrated schools by the KKK in 1963 resulted in several deaths of children. The event drew attention to the inequalities in Alabama and neighboring states and roused the federal government to take action on civil rights legislation, which led to the passage of both the Civil Rights Act of 1964 and the Voting Rights Act of 1965.
Today, the city owns up to its unflattering past, recognizing that these events happened relatively recently and still have their effects on our society today. The 58,000 square foot Birmingham Civil Rights Institute encourages Birmingham to remember and learn from its past. Its exhibits and galleries display the chronological history during these decades and ends with a window view of Kelly Ingram Park.
Burningham's historic Civil Rights events marked this park in May of 1963 when police and their dogs chased off the Children's March for Civil Rights. Today, you can walk or bike through the park, pass by statues honoring the marchers, and learn more about the events that shaped this city.
Birmingham City Celebrations
While there's still plenty of work to be done to mend our society from its segregated past, there's also a lot to celebrate in Birmingham. This big city is quickly becoming the go-to festival destination in the southeast, and over 40 million yearly visitors hit Birmingham's streets during the city's regular events like their massive outdoor festival, Birmingham Weekender.
Birmingham is the Place to Indulge in Southern Cuisine
American culinary expert Andrew Zimmerman has named Birmingham the "hottest small food city in America right now." The city's unique culinary scene has landed on numerous national "Food City" lists. As the city grows, newcomers are joining the cuisine scene and establishing their spots on many must-try picks.
Birmingham's diverse food culture can be tasted at places like Bottega and their Beef Carpaccio.
Miss Myra's pit-smoked barbecue and white sauce puts other southern meat shops to shame.
You can snag a classic Cuban sandwich from Kool Korner or an authentic bowl of pho from Saigon Noodle House.
Classy french sweets are served at Olexa's.
Fresh and buttery seafood can be found at Ocean.
Gianmarco's serves handmade pasta, like their Rigatoni with sage and prosciutto.
More Resources for Moving to Birmingham
Interested in learning more about the city? Feel free to tailor your research and dive in more deeply on Birmingham topics that appeal and relate to you.
Like What You See?
A scan of Birmingham's long list of amenities and attractions will reinforce any desire you've had to move to this booming city. If you decide to take the plunge and move to Birmingham, don't hesitate to reach out to your friends at Bellhop. We coordinate local and long-distance moving services in Birmingham and we would love to help.