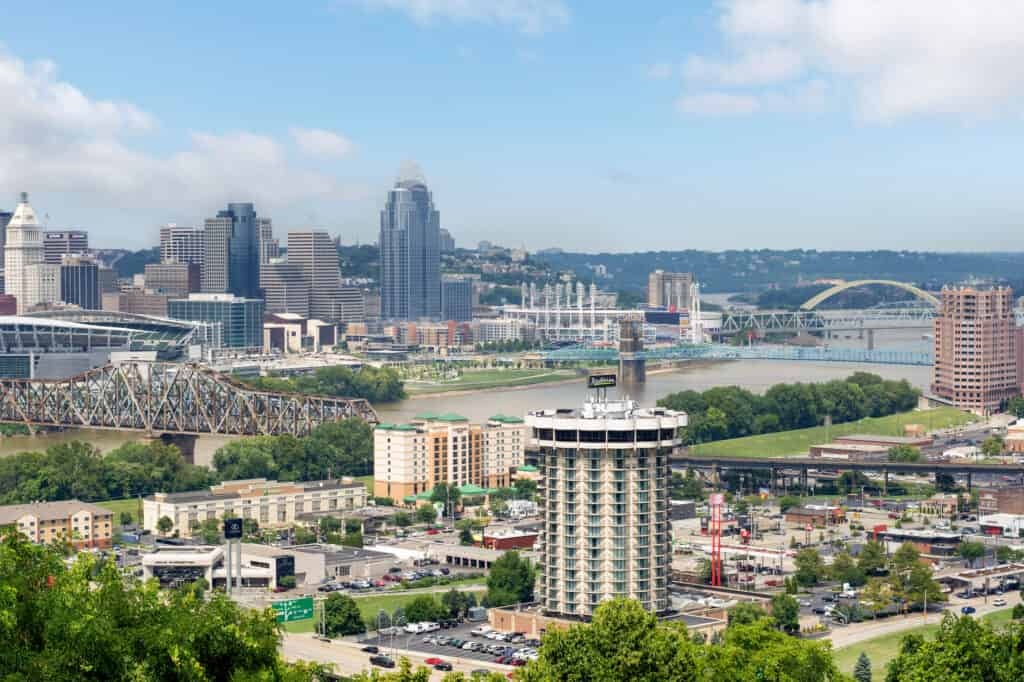 Cincinnati might not be the first place that comes to mind when you hear the term "travel destination," but thanks to its world-class art, extraordinary architecture, and rich history, maybe it should be. It also has a thriving nightlife scene and hosts the country's largest Oktoberfest celebration, which attracts more than 500,000 people each year.
hopIf you're considering a move to Cincinnati, we're your friendly movers in Cincinnati, and we've gathered information and resources to help make the decision easier. We've also reached out to folks who live there to find out what they love about the city and what they think it could improve upon.
A Brief Overview of Cincinnati
Cincinnati is located in the southwest corner of Ohio, along the border to both Kentucky and Indiana. This means it's also situated right on the border of the Midwest and the Southeast, so residents experience all four seasons, ranging from winter snowstorms to 90-degree days in the summer.
The city's population is growing steadily — it surpassed 300,000 in 2017 — and the greater metropolitan area, which includes counties in Kentucky and Indiana, includes about two million people.
Cincinnati Economy and Employment
Due in part to the city's compact downtown and stellar airport, Cincinnati is home to a collection of Fortune 500 companies, including Kroger and Procter & Gamble, the parent company of brands such as Gillette, Crest, Pampers, Tide, Old Spice, Pantene, and Febreze.
The area's large number of top-rated hospitals also makes nursing one of the most common professions in the city. And the University of Cincinnati is one of the largest single employers in the area.
Getting Around Cincinnati
Although you can navigate popular areas such as Downtown and Over-the-Rhine without a car, Cincinnati's surrounding neighborhoods and suburbs have limited bus routes and aren't particularly bike-friendly. This is our way of saying that if you decide to move to Cincinnati, you should plan on owning a car. But if that's not an option, here are your best alternatives:
go-Metro: This bus route carries more than 14 million passengers throughout the Greater Cincinnati area each year.
Cincinnati Bell Connector: This 3.6-mile streetcar line runs through downtown and Over-the-Rhine.
Cincy Red Bike: This nonprofit bike-sharing system is dedicated to "providing a low-cost, healthy, and green transportation option that makes Greater Cincinnati a more vibrant and connected community."
The Best Neighborhoods in Cincinnati
Cincinnati has a wide variety of neighborhoods to choose from, whether you're looking for something more exclusive or up-and-coming. To give you a feel for all the city has to offer, we've highlighted some of our favorites.
And if you're interested in a more in-depth review, be sure to check out our other guides: "Best Suburbs in Cincinnati," "Best Neighborhoods in Cincinnati," "Best Neighborhoods for Families in Cincinnati," and "Best Up-and-Coming Neighborhoods in Cincinnati."
Hyde Park
Even though it's only a few minutes from downtown, Hyde Park possesses its own distinct identity, largely by design. It was established in the late 1800s to serve as an enclave for the area's wealthy business leaders. And, to some extent, it has maintained that aura of exclusivity ever since.
Its bucolic shopping district, Hyde Park Square, attracts visitors from all over the region and is often considered one of the most expensive neighborhoods in Ohio.
Oakley
After the Recession, people began to take notice of this neighborhood's affordability, access to major highways, and events like Oakley After Hours and the Oakley Fancy Flea. What followed was an influx of cafés, coffee shops, and all manner of artisanal goods and services.
Homes are known to sell within hours of being put on the market. But that shouldn't deter you. Its popularity is well deserved.
Over-the-Rhine
As much as Oakley has changed since 2009, Over-the-Rhine's transformation has been even more dramatic. Despite its stunning architecture, which earns it comparisons with cities such as New Orleans and Charleston, South Carolina, this area was once considered one of the most dangerous in the country.
A series of private urban-renewal efforts have since leveraged more than a half a billion dollars to turn it into a popular district teeming with restaurants, breweries, and theaters.
Mount Adams
From atop a steep hill, this historic neighborhood overlooks Downtown Cincinnati and the river. Its architecture recalls a time long past, but there's still plenty going on. Much of that new activity can be found in Eden Park, a 186-acre oasis that includes the Cincinnati Art Museum, the Cincinnati Playhouse in the Park, and the Seasongood Pavilion.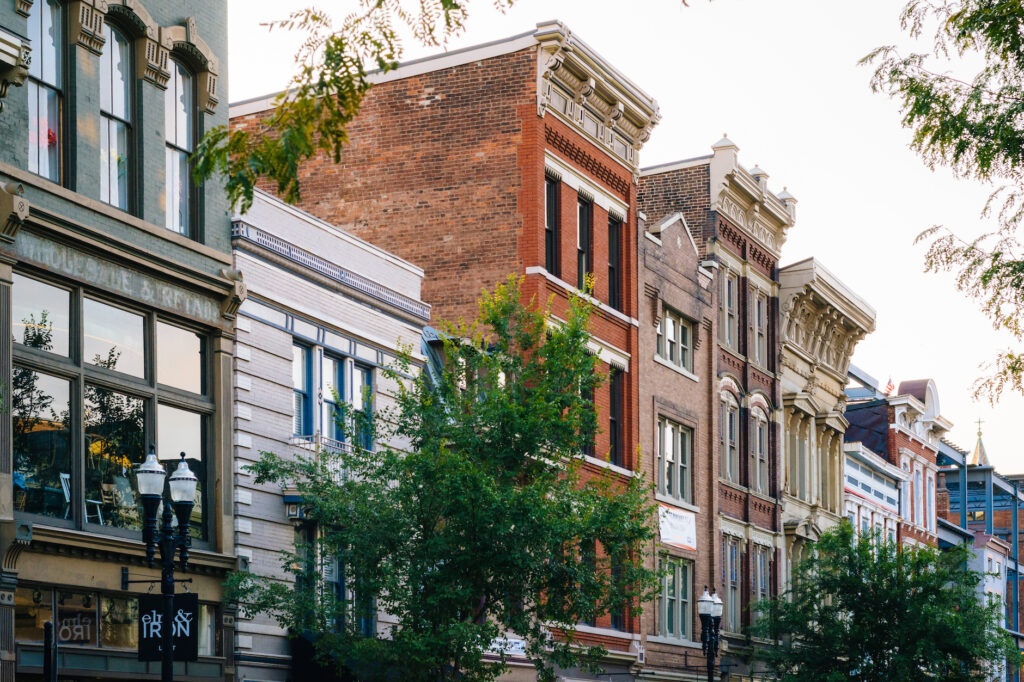 Cincinnati's Culture and History
Once you get serious about your move, there's a good chance you'll plan to visit. Here are four ways to make the most of your trip.
Get in touch with Cincinnati's story
Tour the city's underground brewing heritage. Stroll across the iconic Ida Street Viaduct to Eden Park. Catch the Cincinnati Symphony Orchestra, Opera, or Ballet at the renovated Cincinnati Music Hall, a national historic landmark.
Check out the beauty Cincinnati has to offer
Spend an afternoon at the Cincinnati Art Museum, which contains more than 67,000 pieces. Or visit the Cincinnati Observatory, which is home to the world's oldest telescope still in use.
Dive into Cincinnati's shopping outlets
If you're a devoted shopper, it won't be long before you learn about Fountain Square. This local landmark features shops, restaurants, bars, hotels, an ice-skating rink, and many historical gems dating back to the late 1800s.
Experience Cincinnati's great local cuisine
The city offers a wide range of restaurants from fine dining to comfy cafés. At some point, you'll want to try Cincinnati-style chili, which comes buried beneath a three-inch pile of shredded cheese. And, probably after a few days of exercise, you'll also want to try the city's famous ice cream.
The Pros and the Cons of Living in Cincinnati
So far, we've focused on the reasons why you might want to move to Cincinnati. But, as with any city, living here has a few drawbacks as well. Here, we'll briefly weigh a few of those — along with the top benefits — to help you decide whether a move to Cincinnati is the right choice for you.
Pro: Affordable housing
Home prices are a good bit lower than a number of other American metro areas, so living in Cincinnati can leave you with a considerable amount of disposable income you might not otherwise have living in a more expensive city..
Con: High taxes
Although housing is less expensive, living in Cincinnati will cost you in other ways. Cincinnati's tax rate typically ranks highly when compared with other large metro areas.
Pro: Beautiful architecture
Cincinnati's architecture is frequently compared to world-renowned locations such as Manhattan's Greenwich Village and New Orleans's French Quarter. In particular, Over-the-Rhine has the largest collection of Italianate architecture of any neighborhood in the country.
Con: Decreasing but persistent crime
As we mentioned in our neighborhood section, initiatives to make Cincinnati less dangerous have been very successful, but crime is still a factor.****
More Resources for Moving to Cincinnati
City of Cincinnati Official Site - This site provides answers to all the questions you might have about the city government, including information about building permits, birth certificates, and (sigh) parking tickets.
Hamilton County Official Site - This site contains helpful information about the county in which Cincinnati is located.
The Cincinnati Enquirer - From sports to crime to classifieds, the Enquirer has local news covered.
Downtown Cincinnati Inc. - Here you'll find all you need to know about the heart of the city: where to eat, where to shop, even its"Downtown Ambassadors."
Cincinnati Magazine - This local magazine gives an insider's view of the city, with pieces featuring the hottest new shops and restaurants, as well as information about popular events and trends in real estate.
Like What You See?
If you're feeling overwhelmed by your potential move, that's OK. It's all part of the process. Hopefully, what we've provided will help alleviate some of your anxiety and enable you to decide if Cincinnati is the right move for you. If you decide to take the plunge, don't hesitate to reach out to your friends here at Bellhop. We coordinate local and long-distance moving services and would love to help.