Updated Dec 22, 2022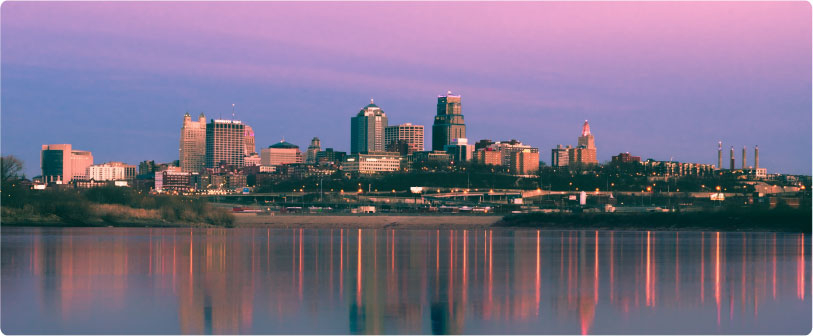 So, you're thinking of moving to Kansas City, but you know nothing about the city except that it's known for its barbeque and jazz music? Or maybe you didn't even know that?
No worries. Your friends at Bellhops are here to help (we're movers in Kansas City, FYI). We've done all the hard work of research for you. Here, we've got more than just a listicle for you.
We've done our homework, we've done the digging, and we've talked to Kansas City locals to bring you all the info you need on the economy, the people, jobs, the cost of living, and more. We've also provided several valuable resources to help you do your own research on relocating to KC.
As KC resident John Hardy told us on Quora, "Kansas City is just like Chicago, New York, and L.A., except without the [jerks]." (Except John used a different word that you can probably guess.)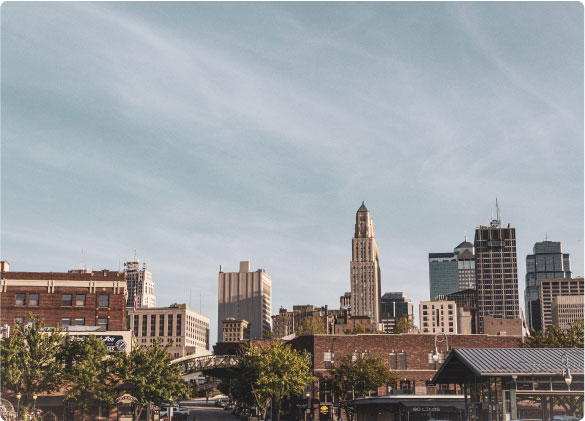 The History of Kansas City
Kansas City is the largest city in Missouri and the sixth largest city in the Midwest, with a current population of Kansas City is over 500,000.
Some confusion surrounds the city's beginnings though. First founded in the 1830s as a river port, 1850 saw the incorporation of a city called Kansas. And a little later came the Kansas Territory, which would eventually become Kansas State. Out of confusion, the city of Kansas was named Kansas City to distinguish the two.
Located on the border of Kansas and Missouri, Kansas City is spread over 15 counties in both states, with Kansas City, Missouri as the anchor city.
The People of Kansas City
The population of Kansas City is predominantly White and African-American. It's also home to a large Irish-American community and is home to the famous Browne's Irish Market.
As Leslie Alexandria told us on Facebook, "I moved to Kansas City from metro Atlanta, where the traffic is atrocious, but I've never had to sit in that type of rush hour in Kansas City. Part of that is the population difference, but also because Kansas City's infrastructure is a little better for traffic control. Kansas City is a location for a lot of refugee resettlement, which translates into some really awesome food. Notably, our two biggest refugee communities are the Congolese and Somali."
The Kansas City Job Market
According to the U.S. Census Bureau, the median household income is just over $60,000. The unemployment rate in Kansas City ranged from 2-3% during 2022.
The top industries here are healthcare and social assistance; professional, scientific and technical services; finance; and insurance. In 2022, the Wall Street Journal included Kansas City in the top 25 cities (out of over 50 cities) for the hottest job markets in America.
The Cost of Living in Kansas City
The low cost of living is one of the top reasons many people move to Kansas City. In fact, Kansas City prides itself on having one of the lowest costs of living in the country. There are tons of options for where to live and even different types of living spaces at various prices. However, they are all relatively cheap for being in such a vivacious city.
The median gross rent over the past five years in Kansas City is around $1,040 per month, and the median value of owner-occupied units in the city is $175,400.
As our friend Leslie tells us, "The most notable thing about KC is its relatively cheap cost of living — even downtown and midtown. I'm a graduate student, and I can still afford a one-bedroom apartment in midtown. And speaking of midtown, because Kansas City isn't too sprawling, I feel as though I'm five minutes from everything."
Schools in Kansas City
Needless to say, Kansas City is a unique place to live with lots to offer families and young people alike. So, what are the schools like? Let's talk about this.
Kansas City has over 180 public schools serving more than 14,000 total students. The math proficiency for students in the city is 36% (Missouri's state average is 42%), and the reading proficiency is 41% (again lower than the state average of 49%).
You can rest assured that while Kansas City comes in lower in some categories, there are still many good schools you can send your kids to when the new school year comes around. The suburbs, in particular, are a wonderful choice that comes with great ratings for classes, clubs, and activities overall.
Check out our Kansas City Schools Guide to learn more.
Where to Live in Kansas City: The Best Neighborhoods in KC
Kansas City offers a nice mixture of urban and suburban communities from which to choose. You can easily find an area of Kansas City that will make you feel like you belong immediately. A few of the more notable areas to think about living in if you're moving to Kansas City are listed below.
River Market
Located just south of the Missouri River, you'll find River Market, a riverfront neighborhood that was the first incorporated district in Kansas City. It has gone through several names over the years such as Westport Landing, the City Market, and River Quay.
River Market is home to the Midwest's largest Farmer's Market and a neighborhood booming with young professionals who enjoy that everything is within walking distance. This neighborhood is mostly made up of couples in their late 20s and early 30s.
Westside
Cottage Living magazine named Westside one of the top 10 neighborhoods in the entire nation 2008. Westside has become extremely multiracial and multicultural, resulting in one of the city's most diverse neighborhoods with an age group of the late 20s and 30s.
The Country Club Plaza
The architecture is beautiful in the neighborhood and shopping area known as the Country Club Plaza, composed of Spanish influences, fountains, hand-painted mosaic tiles, and custom ironwork. You will find most homes located on the outskirts of the shopping areas.
The home types vary between different kinds such as condominiums, apartments, and single-family homes. Some of these homes are refurbished and modern, while others have an almost antique vibe. The population here is mostly educated people in their 30s with a mixture of singles and couples without children.
Westport
Westport lies north of The Country Club Plaza and is well-known for being one of Kansas City's oldest entertainment and shopping districts. The history of Westport is interesting, as it used to be an outpost along the historic Santa Fe Trail. In this residential area, you'll find both longtime residents and a younger crowd who prefers a quieter place to live. Westport residents range in age, as the neighborhood attracts newcomers both young and old.
Brookside
Brookside is home to Kansas City's first suburban shopping area. Many people who live here enjoy an older home with shopping within walking distance. Shopping includes grocery stores, markets, restaurants, cool shops, and coffeehouses. It even hosts the Brookside Art Fair and an Annual St. Patrick's Day Warm-up Parade.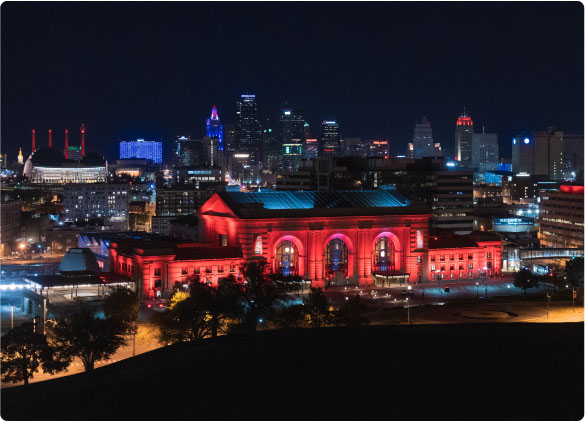 Pros and Cons of Living in Kansas City
One thing that is definitely a pro when it comes to living in Kansas City: you won't have to worry about getting stuck in traffic very often. According to the U.S. Census Bureau, Kansas City commute times average out to about 22.1 minutes, which means Kansas City boasts a shorter commute time than most major cities in the US.
Public transportation in Kansas City is only subpar. The bus system for downtown is part of the Kansas City Transportation Authority, or KCATA for short. However, buses do not often service the larger areas of the city. If you're moving to Kansas City, you are likely going to need a car.
Kansas City has a higher crime rate than most U.S. cities. In 2021, Kansas City had the eighth-highest homicide rate of major cities in the U.S. Do your research on the area you're planning to move to and decide if it's safe for you and your family.
To conclude, we'll leave you with two differing opinions about living in Kansas City to help you with your decision.
Adina Stoica lived in Kansas City for three years. She had this to say about her time there, "I didn't like it. Unless it's a first Friday, you won't find people on the street walking anywhere. Lots of barbeque and sports (baseball, football) if that's your scene. Me? I'd rather live in a 500 square foot apartment and be able to walk on the street and have something to do, without having to plan and drive and coordinate and park. Your mileage may vary. If you like suburbia, it might be your favorite place. There is absolutely nothing fast paced about Kansas City — not if you've ever lived in an actual city before..."
But Jason Wacknov on Facebook disagrees, noting all of the shopping there is to do there, "The fairly new Lenexa Market is a wonderful experience in local stores, produce, and restaurants. It's worth a day just to wander, and you'll fall in love with the charm. Furthest west is The Legends. Now Lenexa and the Legends kind of blend into each other, but the Legends is a GIGANTIC outdoor shopping experience surrounded by restaurants, Sporting Park where our MLS champion team Sporting KC plays, and beautiful homes."
If you decide to take the plunge and move to Kansas City, don't hesitate to reach out to your friends at Bellhops. We coordinate local and long distance moving services in Kansas City and we would love to help.