Moving to a new city can be stressful. Even if you're moving to a place as welcoming as St. Louis, getting acquainted with a new city can be tough. Whether you're sure about this move or not, our Bellhops city guide is exactly what you need (oh, and we're you're movers in Saint Louis, by the way).
Keep reading to get a well-rounded insider's scoop on life in Saint Louis, from the cost of living and best neighborhoods to the job market and culture.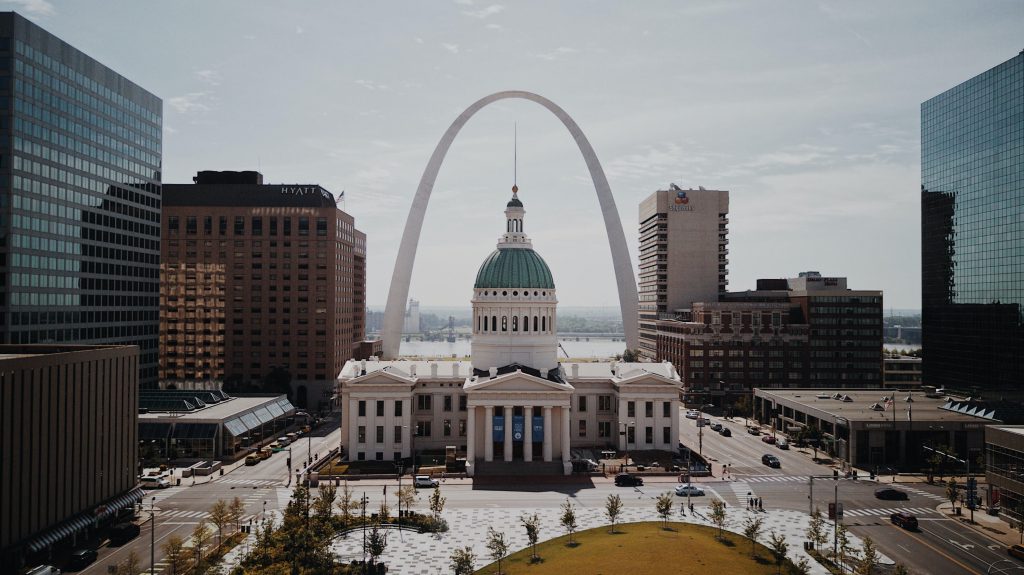 What Is Life Like in Saint Louis?
Saint Louis is the largest metro area in the state of Missouri. Its signature 630-foot Gateway Arch monument stands at the edge of the city, welcoming newcomers to enter through its towering walls. Saint Louis' bustling downtown features green lawns, walkable pathways, and art installments between the towering city buildings.
Dozens of restaurants, taverns, venues, clubs, and casinos are scattered throughout the city and cluster around the Soulard neighborhood. And venues and museums display the city's cultural and historical past and present.
The Cost of Living and Job Market in Saint Louis
Saint Louis' overall cost of living is a good chunk of change lower than the national average. It's their housing cost that's the biggest bargain. Houses here on average cost half of what they cost in the rest of the country.
Other cost of living factors like utilities, transportation, health, and groceries are also slightly lower than the national average. Saint Louis' affordability is one of its biggest draws, especially for residents looking to purchase a comfy new home.
Saint Louis' job market is vast and diverse. Accountants, business owners and specialists, software developers, and operations managers take the lead in the jobs that employ the highest number of people in the city. Health care is another dominant employment sector in Saint Louis. Its major hospitals like Barnes-Jewish Hospital and SSM Health and Mercy Hospital St. Louis offer plenty of employment opportunities for locals in the healthcare industry.
Additionally, Saint Louis' unemployment rate is below the national average. Although locals earn an annual average salary that's slightly lower than other major metro areas, the city's affordability makes up for the difference.
The Five Best Places to Live in Saint Louis
Saint Louis is home to 79 distinct neighborhoods, each with its own vibe, culture, and offerings.
Our top picks?
Central West
Downtown
Lafayette Square
Shaw, Clayton
Forest Park
Soulard
We've written elsewhere about our favorite neighborhoods in Saint Louis, the best St Louis neighborhoods for families, and the best up and coming neighborhoods in Saint Louis. Check out those guides to learn more about living in Saint Louis.
Saint Louis Culture and Crime
About 308,000 people call Saint Louis home. Saint Louis' population is wonderfully diverse, and the city celebrates its cultural diversity with dozens of community-wide fairs and festivals each year. The region has enjoyed influences from numerous races and nationalities, as its early immigrants included settlers from Germany, Italy, Ireland, and Poland.
Today, the city's population includes newer arrivals from Bosnia, Ethiopia, Africa, Asia, Latin America, and Europe. As a newcomer, you'll notice that overall, Saint Louis' residents are kind and down to earth. Old and new locals alike have found that throughout Saint Louis, store owners, neighbors, and co-workers have been friendly and welcoming to them.
Many cities have higher crime rates than the national average. Saint Louis is no exception. However, rates of violent crime and property crime in both the city and the metro area at large have decreased in the past few years.
Crime throughout the city also varies. The neighborhoods that line the Mississippi River see some of the highest crime in the city, while further west, you'll find neighborhoods with significantly lower crime rates.
Saint Louis Walkability and Public Transportation
Out of all its neighborhoods, Saint Louis' downtown is the most walkable. This incredibly foot-friendly city center allows for its close-by residents to be able to do anything – get to and from work, run errands, and reach some of the city's best entertainment just by strapping on a pair of sneakers. Other walkable neighborhoods in the city include Benton Park West and Soulard.
That said, most Saint Louis residents own a car or utilize the city's public transportation. Millions of people ride the St. Louis MetroLink system each year, which includes the MetroBus lines and MetroLink light rail trains. Biking is also common in Saint Louis. Many neighborhoods are lined by protected bike lanes. Additionally, the city offers electric scooters that you can pick up and ride for a small per-minute fee.
Saint Louis Sports and the Outdoors
Sports fans range far and wide in Saint Louis. Hockey fans gather for Saint Louis Blues games. The St. Louis Cardinals and St. Louis MLS team bring out the baseball and soccer fans in the city and surrounding states. Saint Louis' numerous sporting events throughout the year also include the Missouri Valley Conference Basketball Tournament and the Go Marathon.
The area also features a number of great outdoor recreation destinations. Creve Coeur Lake, Cliff Cave Park, and STL Sandbar give locals plenty of room to spread out and let the sunshine sink in.
Inner-city parks like Place Park, Luther Ely Smith Park, and Pelton Jackson Municipal Park provide places for neighborhood families to gather for play dates and picnics.
If stretching your legs for a run or peddling for miles is what you're looking for, St. Louis' Great Rivers Greenway is the outdoor space for you. This trail stretches for 125 miles and loops throughout the city.
Saint Louis Culture, Food and Festivals
Saint Louis has staked its name on a number of unique dishes. Gooey Butter Cake, toasted ravioli, the slinger burger, and concrete (a frozen custard dessert so thick you'll have to wrestle your spoon out) all make it on Saint Louis' signature menu. Its new food creations go all the way back to 1904 when the city introduced the hot dog bun and waffle cone – two foods that have shaped American food history.
Today, you can easily find a long list of great places to indulge in the local cuisine. From casual barbecue to date-night Italian, the city has a big table.
Newer places like Olio have joined the older ranks with longstanding spots like Pappy's Smokehouse and Blueberry Hill. Other great hubs include Salt + Smoke for some meat and bourbon and Narwhal's Crafted Urban Ice for a boozy slushie.
Saint Louis' melting-pot-feel is one of its greatest features. And the city has incorporated many cultural traditions. Local museums, music, art venues, and places of worship reflect the many views and backgrounds of Saint Louis' people.
Each year, the city celebrates with a number of cultural events like:
Festival of Nations
Greek Fest
African Arts Festival
Cherokee Cinco de Mayo
Japanese Festival
One of Saint Louis' signature aspects is its distinct local music. Traditional soul songs, gospel, and jazz make up the iconic Saint Louis blues. Residents and visitors can enjoy these unique tunes in addition to other live local musicians at the annual Grub and Groove event. Other art events throughout the city's annual calendar include the Art Fair, Schlafly Art Outside Festival, and Let Them Eat Art.
Outside of art and culture, the city still finds time to get together and party. Events like Earth Day Festival bring together tree-huggers, while Microfest gathers the beer-drinkers.
City celebrations like Taste of Maplewood, Shakespeare Festival, Circus Flora, Cocktail Party, and Pridefest make sure that everyone in the city gets to celebrate what they love at least once a year.
Saint Louis' history is protected and celebrated throughout its numerous museums. The Campbell House Museum lets visitors tour this 1880s Victorian home. The beautiful Cathedral Basilica of Saint Louis includes a museum on its lower floor with mosaics and a number of historic artifacts. The Griot Museum of Black History tells the stories of important African Americans from the region.
More Resources for Moving to Saint Louis
Interested in learning more about the city? Feel free to tailor your research and dive in more deeply on Saint Louis topics that appeal to and relate to you.
Explorestlouis.com: Get to know the city, find your way around, and read up on the best restaurants and entertainment Saint Louis has to offer.
Stlouis-mo.gov: Reference Saint Louis' official website for info about affordable housing, parking, neighborhood services, parks, and facilities.
Greatschools.org: Find some assistance in sorting through Saint Louis' best schools here.
Like What You See?
A scan of Saint Louis' list of affordable attractions will reinforce any desire you've had to move to this city. If you decide to take the plunge and move to Saint Louis, don't hesitate to reach out to your friends at Bellhops. We coordinate local moves and long-distance moving services in Saint Louis and we would love to help.