Updated December, 2022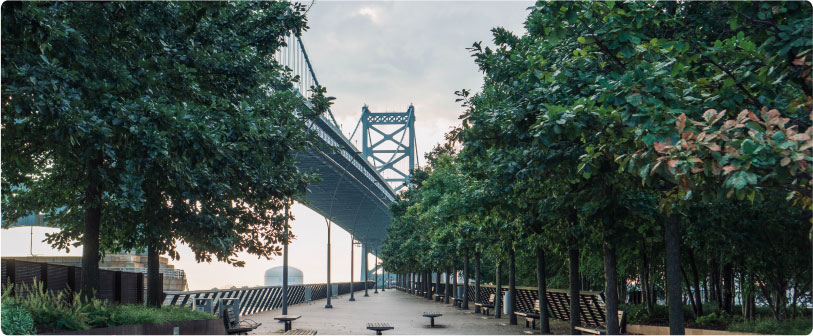 After its founding by William Penn in 1682 as a refuge for religious tolerance—a "city of brotherly love," if you will—Philadelphia went on to serve as the location in which both the Declaration of Independence and the Constitution were drafted and signed.
Due to its key role in American history, it should be no surprise that Philadelphia offers a wide variety of famous landmarks to visit, but its excellent food scene, rich culture, and inspiring sports teams prove that the city is by no means stuck in the past.
For those considering a move to Philadelphia, we've gathered information and resources to help make the decision easier. We've also reached out to folks who live there to find out what they love about the city and what they think it could improve upon. (And FYI, we're movers in Philadelphia.) Also, if you're interested in Pennsylvania, but not sure if Philadelphia is right for you, check out our guide on moving to Pennsylvania.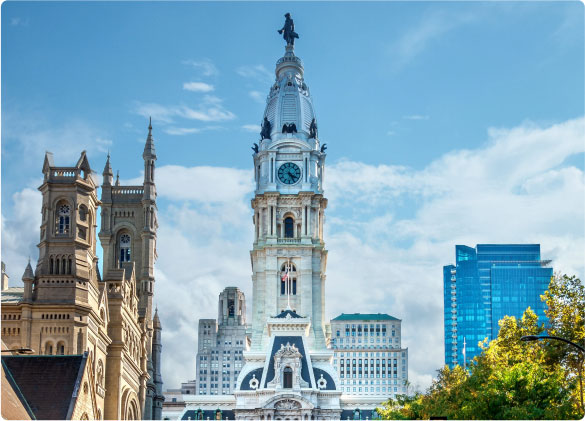 Living in Philadelphia: The Basics
Philadelphia is the largest city in Pennsylvania and the sixth-most-populous city in the United States, with around 1.5 million inhabitants. In addition to being the birthplace of the United States, it was also home to the nation's first library, hospital, medical school, stock exchange, zoo, and business school. It now has 37 institutions of higher learning located there.
The (Rising) Cost of Living in Philadelphia
According to Numbeo, it costs a four-person family around $3,600 a month to live in Philadelphia (excluding housing). Expenses for a single person run around $1,000 a month (excluding housing).
When it comes to renting, apartments tend to range from $1,200 to $1,800, depending, of course, on where you want to live. If you're interested in buying a home, be aware that the city is experiencing a shortage of affordable and middle-class housing. To give you an idea of just how much your dollar will get you, here's a report on what a rental budget of $1,800 can afford.
For those who would like a more thorough review of the cost of living in Philadelphia, check out our guide on the cost of living in Philadelphia. We break down the cost of transportation, housing, daycare, dining, and more.
The Philly Job Market
Ten of the country's largest law firms and twelve Fortune 500 companies, including Comcast and Crown Holdings, have their headquarters in the Philadelphia area. The federal government also has a large presence there, with the East Coast operations of the U.S. Mint and a division of the Federal Reserve Bank located nearby. The city is also known as one of the largest health education and research centers in the U.S.
The average monthly salary in Philadelphia, after taxes, is around $3,400.
Getting Around the City
Thanks to founder William Penn's simple grid design, Philadelphia is a very walkable city, with five public squares—Franklin, Washington, Logan, Rittenhouse, and Centre (now City Hall)—spread out to provide great places to rest during a long day out. To make navigating even easier, the north-south streets are numbered and the east-west streets are named after trees.
Philadelphia is also one of the most bike-friendly cities in America, with more than 440 miles of dedicated bike lanes and more than 1,300 bikes that can be rented from 140 stations throughout the city.
For more conventional public transit, the city offers a subway, about 70 different bus routes, and the SEPTA Regional Rail, which connects residents to surrounding areas as far east as Chestnut Hill and as far west as New Jersey. Amtrak also operates through the city's historic 30th Street Station.
Crime in Philadelphia
As with any major American city, crime is a factor, but it varies based on which part of town you live in. This interactive crime map is a handy resource for determining the level of safety in particular areas.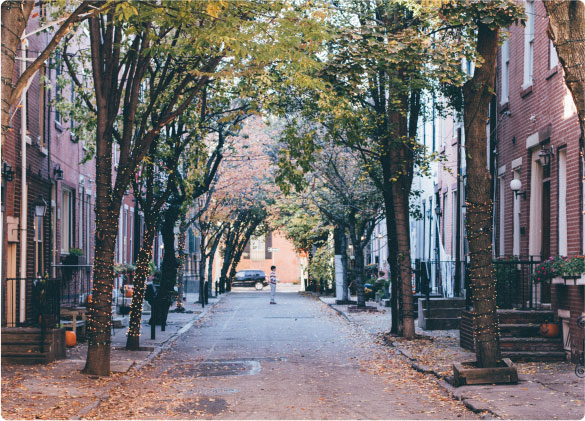 Where to Live in Philadelphia: The Lowdown on the Best Neighborhoods for You
Philadelphia has an overwhelming number of neighborhoods, so we've tried to take some of the pressure off by mentioning a few of our favorites. Check out our Philadelphia Neighborhood Guide to dive deeper into some of the best spots in Philadelphia.
Northern Liberties
The Northern Liberties area was once a bustling manufacturing district, but back in the 1990s local artists began migrating there due to its charm and affordable studio space. Since then, more and more people have gravitated to the neighborhood, and now it's filled with bars, restaurants, boutiques, and mixed-use complexes such as The Schmidt's Commons.
Fishtown
Quite a few articles have been written about this up-and-coming popular neighborhood that was once a hub for the commercial shad-fishing industry. One of the area's bars, Johnny Brenda's, was even featured in the 2015 film Creed. Located to the north of Northern Liberties, Fishtown's streets are lined with row homes, bars, restaurants, music venues, and art galleries.
Manayunk
Manayunk is a Native American word that means "place we to go drink," which is a reference to this neighborhood's proximity to the Schuylkill River—or the fact that it's filled with bars, depending on how you want to look at it. The area is known for its steep streets lined with Victorian and turn-of-the-century row homes, as well as for Main Street, where shopping, dining, and music venues abound.
The Gayborhood
Within the Washington Square West neighborhood is one of the city's hottest locations, the Gayborhood, where the nightlife is defined by the many LGBT–friendly bars and clubs dotting the area between Walnut and Spruce Streets. (You'll know you're there when you see the rainbow-colored crosswalks).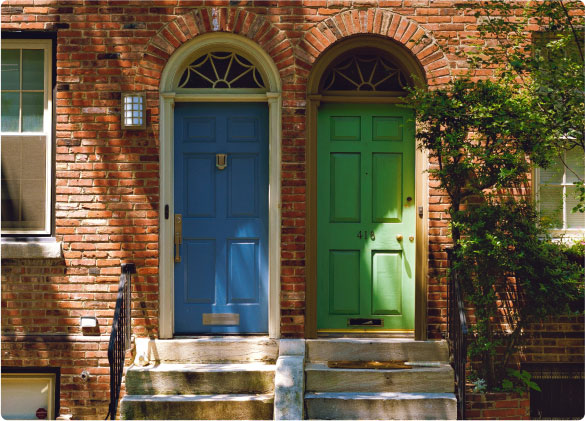 What to do in Philadelphia: Culture
As we touched on earlier, Philadelphia has a lot of important ties to America's inception. For instance, there's Independence National Historical Park (home to Independence Hall, where the Declaration of Independence was signed, and the Liberty Bell), the Museum of the American Revolution, and the Philadelphia History Museum, as well as early government buildings such as the First and Second Banks of the United States.
Art in Philly
The city is also considered a world-renowned destination for art-lovers. You can find work by Monet, Renoir, Modigliani, Cézanne, Matisse, and Picasso—and that's just at the Barnes Foundation. Other must-see museums include the Pennsylvania Academy of the Fine Arts, the Rodin Museum, and the Philadelphia Museum of Art.
With the Franklin Institute, the Academy of Natural Sciences, and the Mütter Museum, the sciences are also well represented, and visitors can enjoy performing arts at the Kimmel Center, the Academy of Music, the Wilma Theatre, and the Philadelphia Theatre Company.
The Pros and the Cons: Things You'll Love—and Perhaps Learn to Love
When we asked residents what they love about Philadelphia and what they think could be improved upon, Patricia Bernardini said she loves the city but "traffic is definitely an issue when getting downtown." She lives in Malvern, though, which is located on what's considered the Main Line, an area named after the train line that runs from the city to neighboring towns to the northwest. "The [SEPTA] R-5 can take you from the suburbs to Center City in about 30 minutes, depending on where you hop on."
Anuj Parikh, unfortunately, has had less luck with public transportation. "The city was not made for this many people," he said. "Mass transit is limited, and the airport can sustain delays, especially in the late summer." He does, however, appreciate the city's proximity to New York, Baltimore, and Washington, D.C.
And Douglas Turner Day called out what most visitors are also quick to discover: "Philadelphia has amazing cultural diversity, and the best way to explore it is through the food."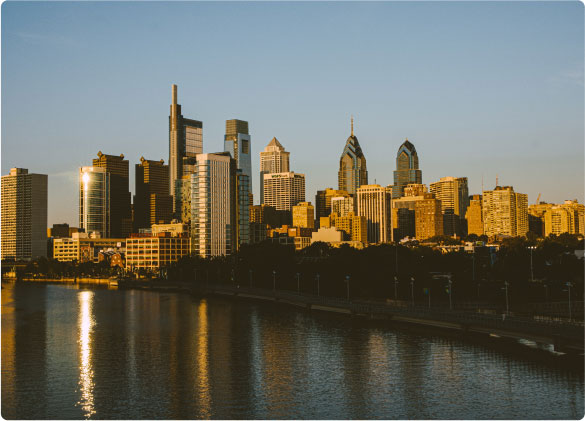 Good luck with your move to Phildelphia
And that's it. Our job is done. If you're feeling overwhelmed by your potential move, that's OK. It's all part of the process. Hopefully, what we've provided will help alleviate some of your anxiety and enable you to decide if Philadelphia is the right place for you. If you decide to take the plunge, get in touch. Like we said before, we are Philadelphia movers, after all.