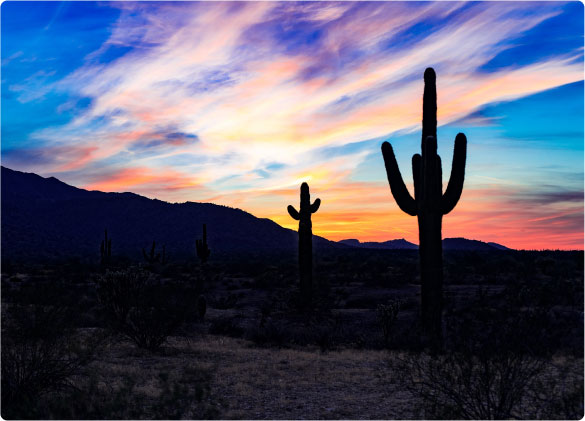 Phoenix, Arizona is known for its year-round sunshine, lush golf courses, upscale resorts, and famous Desert Botanical Garden. It is also home to some great architecture, thanks to Frank Lloyd Wright, one of the city's more well-known residents, who lived there from the late 1920s until his death, in 1959. The First Christian Church, the David and Gladys Wright House, and Taliesin West are a few of his architectural projects in the area.
For those considering a moving to Phoenix, we've gathered information and resources to help make the decision easier. We've also reached out to folks who live there to find out what they love about the city and what they think it could improve upon. (And FYI, we're movers in Phoenix, in case you were wondering.)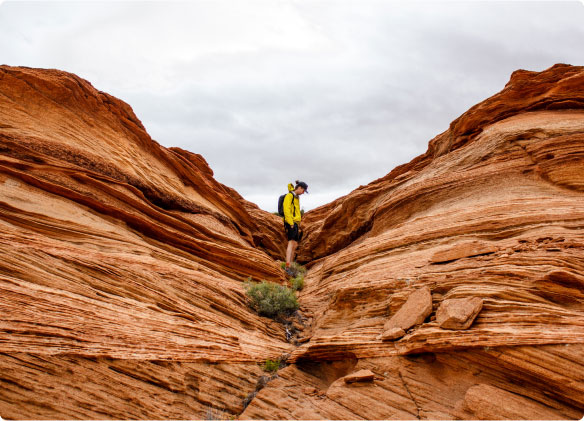 Phoenix Life: Overview, Cost of Living, Employment, and Transportation
Brief Overview of Phoenix
After seeing ruins of the Hohokam—prehistoric Native Americans who lived in the region—pioneer Phillip Darrell Duppa named the city Phoenix, predicting that, like the mythological bird, another civilization would rise there.
Phoenix is not only the capital of Arizona; it's also the state's largest city. As of 2017, it has experienced the largest population growth of any city in the United States, making it the country's fifth most-populated city, which is good news if you're single and thinking about moving there.
The (Reasonable) Cost of Living in Phoenix
According to Numbeo, the cost for a four-person family to live in Phoenix is around $2,700 a month (excluding housing). Expenses for a single person run around $800 (excluding housing).
When it comes to rent, you can expect to pay around $1,000 a month for a two-bedroom apartment. Or, if you're interested in buying a home, the prices for a three-bedroom, two-bathroom house average around $300,000.
Phoenix Job Market
Due to its growing population, strong workforce base, and expanded highway system, Phoenix was recently selected as a top emerging industrial market by Colliers International. It is also home to Arizona State University and Luke Air Force Base, both of which employ hundreds of people. Due to the warm weather, businesses related to seasonal tourism and recreation also thrive.
The Arizona Commerce Authority is a great resource for insight into the growing job sectors in the city, including aerospace and defense, technology, manufacturing, film and digital media, bioscience, and health care.
According to Payscale, the average salary is around $54K, and the cost of living in Phoenix is 5% lower than the national average.
If walking is your preference, the news isn't good. According to a recent study, Phoenix is one of the least walkable cities in the nation. But residents do have access to public transportation: Not only does the Valley Metro have multiple bus routes throughout the city, it also offers a light rail.
And if you're a frequent flier, the Sky Harbor International Airport is located three miles from Downtown and offers both domestic and international flights.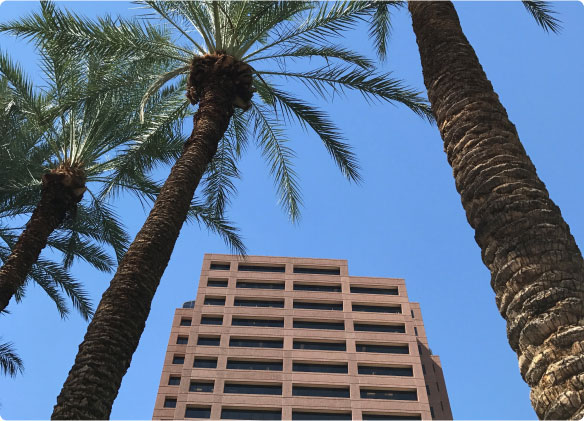 Where to Live in Phoenix? A Neighborhood Guide
History
In 1979, the City of Phoenix was divided into fifteen urban villages, each of which has a city-appointed planning committee devoted to balancing housing and employment, identifying areas in need of development, and promoting its village's unique character and identity. Phoenix also has a designated Downtown, Midtown, and Uptown, as well as the Arcadia and Biltmore areas. For the sake of this list, we'll just highlight our five favorite
Ahwatukee Foothills
Not only does this suburban neighborhood have a great name, Ahwatukee Foothills, it also has its own chamber of commerce. Golfing is huge here—with three courses located within the small confines of the community—and is complemented by a variety of shopping, local events, restaurants, bars, and a movie
Arcadia
A designated historic district, Arcadia is located 15 minutes from both the airport and downtown Scottsdale. Though a lot of its old ranch-style houses have been torn down to make way for huge, high-priced homes, some remain and are much more affordable than the area's newer
Eastlake Park
Eastlake Park, located in Downtown Phoenix, is a culturally-rich neighborhood that boasts the city's oldest park. Locals in the area frequent La Tolteca, an authentic Mexican restaurant, Sa Bai Modern Thai, and 24th Street Pizza &
Coronado
Home to about 4,000 residents, this Midtown neighborhood, which is often referred to as Greater Coronado, has not only quaint bungalow- and ranch-style homes but also plenty of restaurants, parks, and shopping—all within walking
Downtown Core
If you're looking to live in the center of everything, then the Downtown Core is the place for you. Given the convenience of the light rail, as well as all of the retail and dining options to explore, the area is attracting more and more young professionals.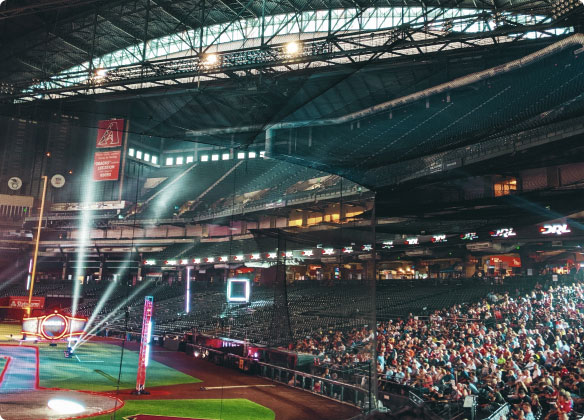 Phoenix Nightlife and Culture
If there's one thing Phoenix is known for (aside from the heat), it's golf courses. The city has more than 200 of them. It is also home to professional football, baseball, and basketball teams: the Cardinals, the Diamondbacks, and the Suns. If you like museums, Phoenix has plenty of them: the Phoenix Art Museum, the Center for Creative Photography, the Heard Museum, and the Pueblo Grande Museum, to name a few.
And we must mention an impressive list of performing-arts venues, such as the Phoenix Symphony Hall, which hosts the Phoenix Symphony Orchestra, the Arizona Opera, and Ballet Arizona. There's also the Orpheum Theater, the Herberger Theater Center, and the Talking Stick Resort Arena.
Phoenix's restaurant and bar scene is thriving as well: Downtown Phoenix Inc. provides a great list of places to eat, drink, and be merry, along with a convenient map of great spots like Bimbo Bakeries, Valley Bar, Bar Bianco, and The Arrogant Butcher.
The Pros and the Cons of Phoenix
When we asked residents what they love about Phoenix and what they think could be improved upon, we got some good responses.
Rory Holler says, "It's super easy to get around because it's a planned city laid out in a grid. The weather is nice for about four months of the year. Of course, you are in the freaking desert, so it's barren. You will not see anything green for as far as the eye can see."
He goes on to say that you will eventually acclimate to the heat but it's still pretty oppressive. And if you do move there, he recommends drinking significant amounts of water to avoid heat stroke.
Troy Browder, who has lived in Phoenix most of his life, also took time to address the weather: "If you haven't dealt with a summer here," he says, "you'll be in for a shocker. It is dry, and I've found that so much nicer than 90 degrees with 80 percent humidity after having been in Atlanta, New York, and Boston during the summer. That said, 110 to 118 is not something to be toyed with. We usually just stay inside in the AC.
"But you can literally swim until Halloween," he goes on to say, "and you never have to worry about snow, freeze warnings (though they do happen but rarely), or really any natural disasters. We do have haboobs (dust storms) almost daily in the late summer, but you get used to them—they come, they pass. Most people who move here from cold places tell me they still take it over February back east."
Meghan O'Dea doesn't live in Phoenix, but she seriously thought about moving there. "I was blown away by how much it has to offer culturally," she says. What she found surprising, however, was how car-centric the city is, even with its light rail and bus system.
Even though housing prices are going up, Troy says it's still very affordable to live there, which is rare for such a big city. Troy also says that it's safe, with not a lot of violence or bad areas. Sprawl, however, is something he sees as a problem. You can drive 90 minutes without traffic and still be in Phoenix, which can be a pain when you have to travel across the city.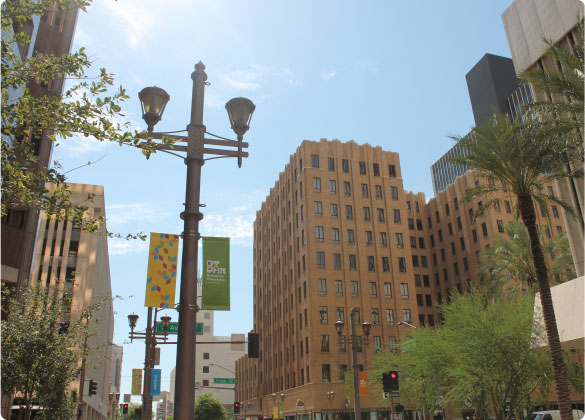 Good Luck with your Move to Phoenix
If you're feeling overwhelmed by your potential move, that's OK. It's all part of the process. Hopefully, what we've provided will help alleviate some of your anxiety and help you decide if Phoenix is the right move for you. If you decide to take the plunge, don't hesitate to reach out to your friends at Bellhops. We coordinate local and long distance moving services in Phoenix and we would love to help. Also check out our moving cost calculator to get a quick estimate on your move.
Other Phoenix Guides