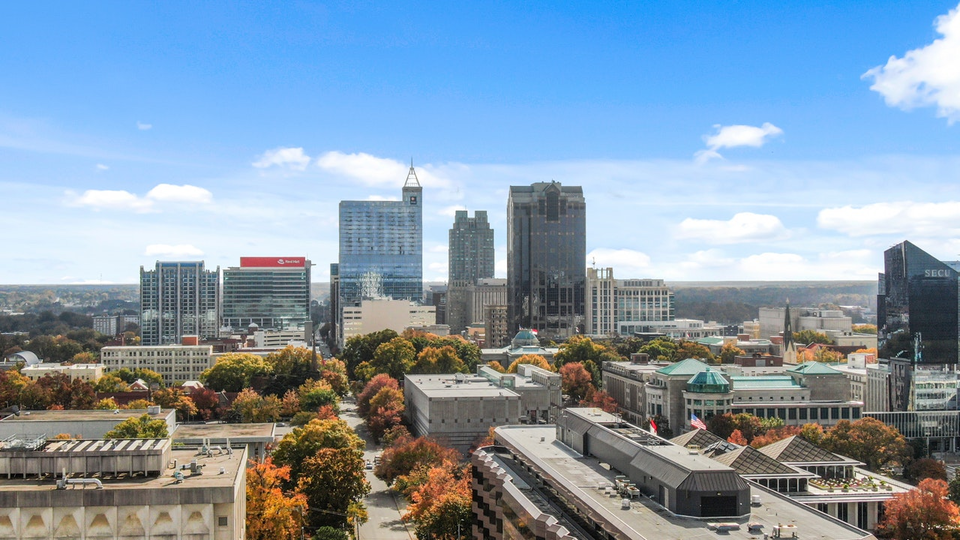 Moving to a new city can be stressful, even if you're moving to a place as bright and bustling as Raleigh, NC. Whether you're sure about this move or not, our Bellhops city guide is exactly what you need (oh, and we're movers in Raleigh, by the way).
Get a well-rounded insider's scoop on life in Raleigh, from the cost of living and best neighborhoods to the job market and culture.
An Overview of Raleigh
Despite its status as the capital of North Carolina, Raleigh has historically been known as a fairly sleepy corner of North Carolina. This is no longer the case - over the last thirty years Raleigh has grown by leaps and bounds, driven by the growth of nearby Research Triangle Park and major employers such as IBM, Citrix, and Red Hat.
Raleigh's high quality of life, strong job growth, robust public schools, and lower cost of living is luring new residents to the area every day. And the city's many amazing restaurants, renowned breweries, and local cafes don't discourage newcomers either.
Raleigh's Cost of Living
Raleigh's overall cost of living is just slightly higher than the national average. However, when narrowing in on the particular factors that affect the city's cost of living percentage, Raleigh's housing shows a bigger difference. The median home price in Raleigh is $273,900, which is about 19% higher than the national average and about 38% higher than North Carolina's average. Other cost of living factors, like groceries and utilities, are right around average. Hand transportation costs are a bit lower than the national average.
Raleigh's Job Market
Raleigh's job market is strong compared to the rest of the U.S. New jobs have increased rapidly, driven by Raleigh's exceptionally well-educated workforce. Technology, health care, and education drive Raleigh's robust job market. But entertainment and hospitality also pack a paycheck punch for working locals.
With North Carolina State University, University of North Carolina - Chapel Hill and Duke University all within 30 miles, Raleigh brings in a high population of younger residents, many of whom decide to stay after graduation. And this younger population has made the city grow in entertainment options: sports, monthly art walks, block parties, hip cafes, and rooftop bars. The city boasts over 1300 restaurants, is a brewery destination, features museums, green spaces, and has long been a destination for arts and music. These entertainment options have brought a new layer of job opportunities and a number of entrepreneurs to the city's center.
Where to Live: The Best Raleigh Neighborhoods
Within city limits, Raleigh splits between several regions (ex: Northeast Raleigh and Southwest Raleigh) that are divided by the major highways in the city (40, 440, 540, 70, and 401). Within these city sub-sections, Raleigh has well over a hundred neighborhoods, each with its own vibe, culture, and offerings. The top picks? Five Points, Oakwood, North Hills, Brier Creek, and Stonehenge. Check out our neighborhood guide for more info on these top spots and insider's tips so that you can get to know each neighborhood like a local.
What to Expect: People of Raleigh and Crime in the City
Who Walk's Raleigh's Streets?
Over 470,000 people call Raleigh home. Raleigh's population is wonderfully diverse, and the city celebrates its cultural diversity with dozens of community-wide festivals each year. As a newcomer, you'll notice that overall, Raleigh's residents are welcoming, kind, and happy. Many believe this city-wide cheer is due to all that Raleigh has to offer - its numerous job opportunities, enjoyable weather, affordability, and amenities.
Is Raleigh Dangerous?
Many cities have higher crime rates than the national average. Unfortunately, Raleigh is no exception, with a crime rate that is higher than the national average. However, Raleigh's violent crimes are actually slightly lower than the rest of the U.S. on average. Raleigh's Police Department is increasing visibility and patrols in the more dangerous districts and residential areas. According to their statistics, Raleigh's crime rates have decreased in comparison to last year.
Raleigh Walkability and Public Transportation
Raleigh's walkable downtown offers plenty of amenities. The Capital Area Transit (CAT) bus system will get you to most of the tourist attractions which are mainly downtown. Outside the city, residents find several destinations that aren't too far off by car. Durham is just a 30-minute drive away from Raleigh, and Chapel Hill is only a bit longer at 45 minutes. Drive four hours west and you'll find yourself nestled in the Blue Ridge Mountains; three hours east, and you'll be on the beach in the Outer Banks. In other words, Raleigh is foot-friendly but car-required for most residents.
Sports and the Outdoors
Raleigh is quickly gaining a reputation for its outdoor activities and sports. In fact, Raleigh was named the third sportiest city in America by Men's Health. Hiking trails, parks, waterways, and golf courses provide residents and visitors with a wide variety of options for when they want to get in the sun and get active.
No matter what your outdoor niche is, you'll find an activity to scratch your outdoor itch. Dog owners enjoy the several pup-friendly parks in the city. Fishermen and families relax or boat along local lakes. Residents can enjoy some action sports at the city's skate parks, speedways, and go-kart tracks. There are batting cages, tennis parks, ice rinks, rock-climbing gyms, and aquatic centers. In Raleigh, you'll have access to horseback riding, public gardens, two state parks, and a total of 180 miles of greenway trails that traverse the city.
Spectator sports fans also feel at home in Raleigh, from college basketball and professional soccer to Atlantic Coast Conference basketball games. Watch the NHL's Carolina Hurricanes during head-to-head competition at the 20,000-seat PNC Arena. Following each of the Carolina Mudcats Friday night home games, families and sports fans hang out for the post-game fireworks.
Raleigh Food and Dining
Even though Raleigh (and the state of North Carolina as a whole) has a distinctly different culture than deeper south states, it still brings a number of adored southern traditions and dishes to the table. Juicy fried chicken can be found at Driftwood Southern Kitchen and Mecca Restaurant.
Grits are found as a large and well-loved side at Big Ed's City Market Restaurant. The humble biscuits and sausage gravy southern classic has been perfected by the State Farmer's Market Restaurant. Warm and savory collard greens squeeze beside fried okra and house-made slaw at Joyce and Family Restaurant. Barbecue can be found in two forms, Eastern and Lexington-style, though Eastern BBQ is dominant throughout the city. Local favorites Clyde Cooper's BBQ, Sam Jones BBQ, and Aviator SmokeHouse are must-visits for BBQ junkies.
Pimento cheese, hush puppies, fried green tomatoes, and sweet potato pie are a few other dishes we love that waft Raleigh's streets with delicious southern smells. But besides southern food, you'll find classic dishes with interesting twists and culturally diverse dishes throughout the city. Soo Cafe serves a number of Korean dishes in addition to their popular Korean fried chicken. Vegan biscuits and soy-based Eastern NC BBQ are served at The Fiction Kitchen.
Downtown Raleigh is home to one of our favorite restaurants of all time. Brewery Bhavana features incredible boundary-stretching dishes that show reverence for Lao tradition. And with a thoughtful, house-made beer list, this Raleigh gem has gained attention as one of the top restaurants in the country.
Raleigh Music & Art Festivals
Each year, nearly 70,000 people are drawn out to the city streets for Raleigh's annual Artsposure Festival. Live music, local art, street performers, and family-friendly activities fill the day's schedule. Adults can enjoy the local cuisine and tent lineup while kids can take painting and drawing classes or explore the goofy theater.
The annual IBMA Bluegrass Festival takes over Raleigh every September, bathing the city in bluegrass pickers from all over the country. While performers command stages across the city, you're just as likely to hear impromptu jam sessions on street corners or in hotel lobbies. If your tastes run more indie, Hopscotch Festival has attracted a diverse array of performers for over 10 years, and J. Cole's Dreamville Festival has quickly established itself as one of the premier hip-hop festivals in the country.
Raleigh's Museums
The past is celebrated throughout the city's museums. In fact, Raleigh is often nicknamed the Smithsonian of the South. Museums like the North Carolina Museum of History walks visitors through the state's diverse history. The City of Raleigh Museum, housed in the 1874 Briggs Building, defines the heritage and culture of the area. Ancient times are celebrated at the North Carolina Museum of Natural Sciences, full of fossilized dinosaurs and skeletons of giant creatures from the past.
In addition, the Contemporary Art Museum celebrates a more recent time in the city's story. The beautiful North Carolina Museum of Art is home to the family-friendly Collection Connection program. The museum sits adjacent to a 164-acre park of woods, trails, and streams dotted with sculptures and environmental pieces. At the Marbles Kids Museum, younger art-lovers of the city can learn through dozens of hands-on exhibits and educational programs.
More Resources for Moving to Raleigh
Interested in learning more about the city? Feel free to tailor your research and dive in more deeply on Raleigh topics that appeal and relate to you.
Additional Raleigh Guides
Like what you see?
A scan of Raleigh's long list of amenities and attractions will reinforce any desire you've had to move to this Triangle city. If you decide to take the plunge and move to Raleigh, don't hesitate to reach out to your friends at Bellhops. We coordinate local and long-distance moving services in Raleigh and we would love to help.