Updated July 17, 2023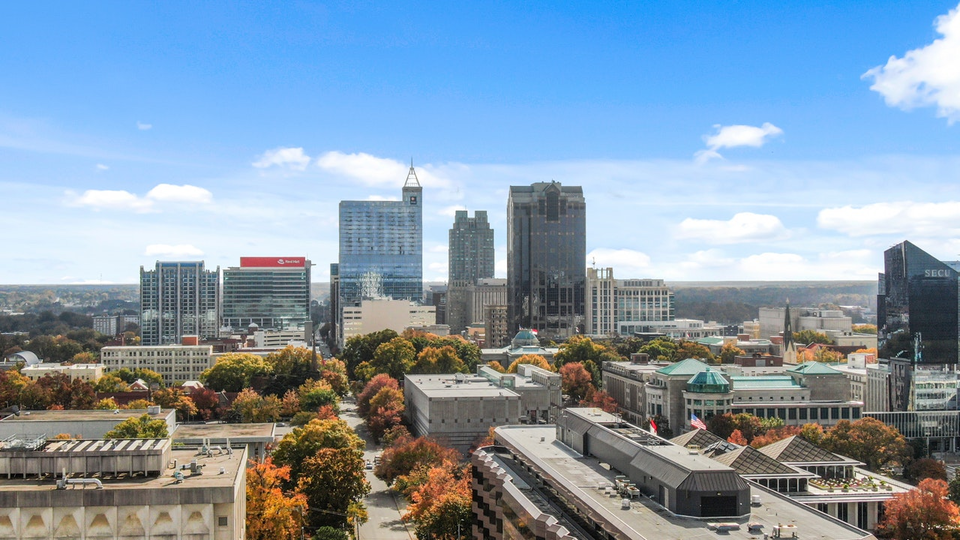 Moving to a new city can be stressful, even if you're moving to a place as bright and bustling as Raleigh, NC. Whether you're sure about this move or not, our Bellhops city guide is exactly what you need (oh, and we're movers in Raleigh, by the way).
Get a well-rounded insider's scoop on life in Raleigh, from the cost of living and best neighborhoods to the job market and culture.
An Overview of Raleigh
Raleigh was long known as a fairly sleepy corner of the East Coast. But times have changed. Over the last thirty years Raleigh has grown by leaps and bounds, driven by the growth of nearby Research Triangle Park and major employers such as IBM, Citrix, and Red Hat. Its status as North Carolina's capital means Raleigh's economy has a solid foundation of government operations and state employees.
Raleigh's high quality of life, strong job growth, excellent public schools, and lower cost of living is luring new residents to the area every day. And the city's many culinary options, renowned breweries, and cultural offerings don't exactly help keep it a secret. In fact, between 2010 and 2019, the area's population grew by 23%, and it's not slowing down anytime soon.
Raleigh's Cost of Living
Raleigh's overall cost of living is just slightly lower than the national average, according to payscale.com. Despite being one of the fastest-growing cities in the country, the median home price is about $430,000, and median rent is just above $1,300, making housing costs in Raleigh 2% lower than the national average. Other cost of living factors, like groceries and transportation, are also a little below average.
For comparison, Raleigh's cost of living is 31% below Washington, D.C. (a whopping 61% in housing), 58% below New York (80% in housing), and 5% lower than Atlanta. Raleigh even clocks in just below the cost of living in cities like Austin, TX and Nashville, TN.
Raleigh's Job Market
Raleigh's job market is strong compared to the rest of the U.S. New jobs have increased rapidly, driven by Raleigh's exceptionally well-educated workforce. Technology, health care, and education drive Raleigh's robust employment options, but entertainment and hospitality also pack a paycheck punch for working locals.
With North Carolina State University, the University of North Carolina - Chapel Hill, and Duke University all within 30 miles, Raleigh brings in a high number of younger residents, many of whom decide to stay after graduation. This younger population drove the city's growth in entertainment options: sports, monthly art walks, concerts, hip cafes, and rooftop bars. The city boasts over 1300 restaurants, is a brewery destination, features museums, green spaces, and has long been a destination for arts and music. These entertainment options have brought a new layer of job opportunities and a cadre of entrepreneurs to the city's center.
Where to Live: The Best Raleigh Neighborhoods
The first question you'll want to answer when moving to Raleigh is whether you want to live Inside the Beltline (ITB) or outside it. The Beltline is Interstate 440 – essentially a bypass that circles the core of the city. Inside the Beltline, homes tend to be more expensive, but there is easy access to downtown, with its hot restaurants, nightlife, concert venues, and central business district. Neighborhoods here tend to be older and more established, like Historic Oakwood, and stately Hayes Barton.
Outside the Beltline you see signs of Raleigh's explosive growth, with larger lots and more planned developments sporting cul-de-sacs and a suburban feel. Your money goes further here on a per-acre and per-square foot basis, but you'll be driving further for most daily activities. There are a number of neighborhoods just outside the beltline, like Crabtree, Brentwood, and the area around Lake Wheeler and Tryon roads that are a quick drive into the city, but boast better prices.
Those looking for the best of both worlds should consider North Hills, where homes are slightly more affordable, but in close proximity to the North Hills shopping center with a movie theater, boutiques, and restaurants galore. There are also several companies with office space here, so there's a good chance you'll be close to work if you put down roots in North Hills.
Raleigh has dozens of neighborhoods for new residents to choose from, but our top picks are Five Points, Oakwood, North Hills, Leesville, and Stonehenge. Check out our neighborhood guide for more info on these top spots and insider's tips so that you can get to know each neighborhood like a local.
Five Points
Named for the intersection of four roads with one of the city's main arteries, Five Points has the feel of an old-fashioned small town, bust just a five-minute drive from the heart of downtown. The neighborhood radiates out from a cluster of shops, restaurants, and bars and even a quaint post office. There's a veterinarian's office for your furry friends and a pharmacy with an old-timey sandwich shop in the back. The restaurant, Hayes Barton Café & Dessertery, is know among locals for its enormous slices of cake. Meet up with friends after work to tackle one of their rotating cast of dozens of flavors, or order one to take home to the family.
Oakwood
If you're a history buff, Oakwood is the neighborhood calling your name. Lovingly protected by its residents, Oakwood is "North Carolina's largest intact 19th-century residential neighborhood," according to the neighborhood's historic society. It's a short walk to the center of state government, and anyone moving to Oakwood gets to call the governor their neighbor! The sense of community is strong in Oakwood, and it's known across the city as the place to be for Trick-or-Treating on Halloween. But Oakwood isn't all about the past – renowned Chef Scott Crawford has not one, but two restaurants in the neighborhood and Person St. Bar is a favorite local haunt. If you're lucky, one of your new neighbors might even invite you to join them at the exclusive Atlantic Lounge subterranean speakeasy.
North Hills
North Hills has grown from a chic shopping center into a microcosm of a city. Multiple mixed-use buildings make the community highly walkable and the older homes outside of the center are refined and well-landscaped, despite being a quick jaunt from offices, banks, restaurants, boutiques, grocery stores, a movie theater, and a bowling alley. In fact, anyone living and working in the center of North Hills could go all week without needing their car for picking up food staples or finding entertainment options. Whether you want a condo above a café or a midcentury modern ranch house with a lush lawn, North Hills has a home for you.
Leesville
The Leesville neighborhood is in North Raleigh and one of the areas where the city's growth is most apparent. You can find everything from modest single-family homes, to condos, townhouses, and million-dollar new homes with large lawns and occasionally wooded areas. There are even a few small horse farms nearby, some of which offer trail rides. Leesville would be a good option for couples with one spouse working in RTP or Durham and the other working in Downtown Raleigh. It is also close to the airport for anyone who's a frequent flyer!
Stonehenge
Between Leesville and the Beltline sits the Stonehenge neighborhood. This beautiful community is quiet and family-friendly with fun summer amenities like tennis, swimming pools, and community cook-outs. The schools in the area are also excellent, which adds to the draw for young families. Homebuyers here can find plenty of townhouses and single-family homes, frequently on larger lots, and many of the homes here were built within the last 40 years. Stonehenge is also a popular spot for retirees since it offers numerous senior amenities and communities.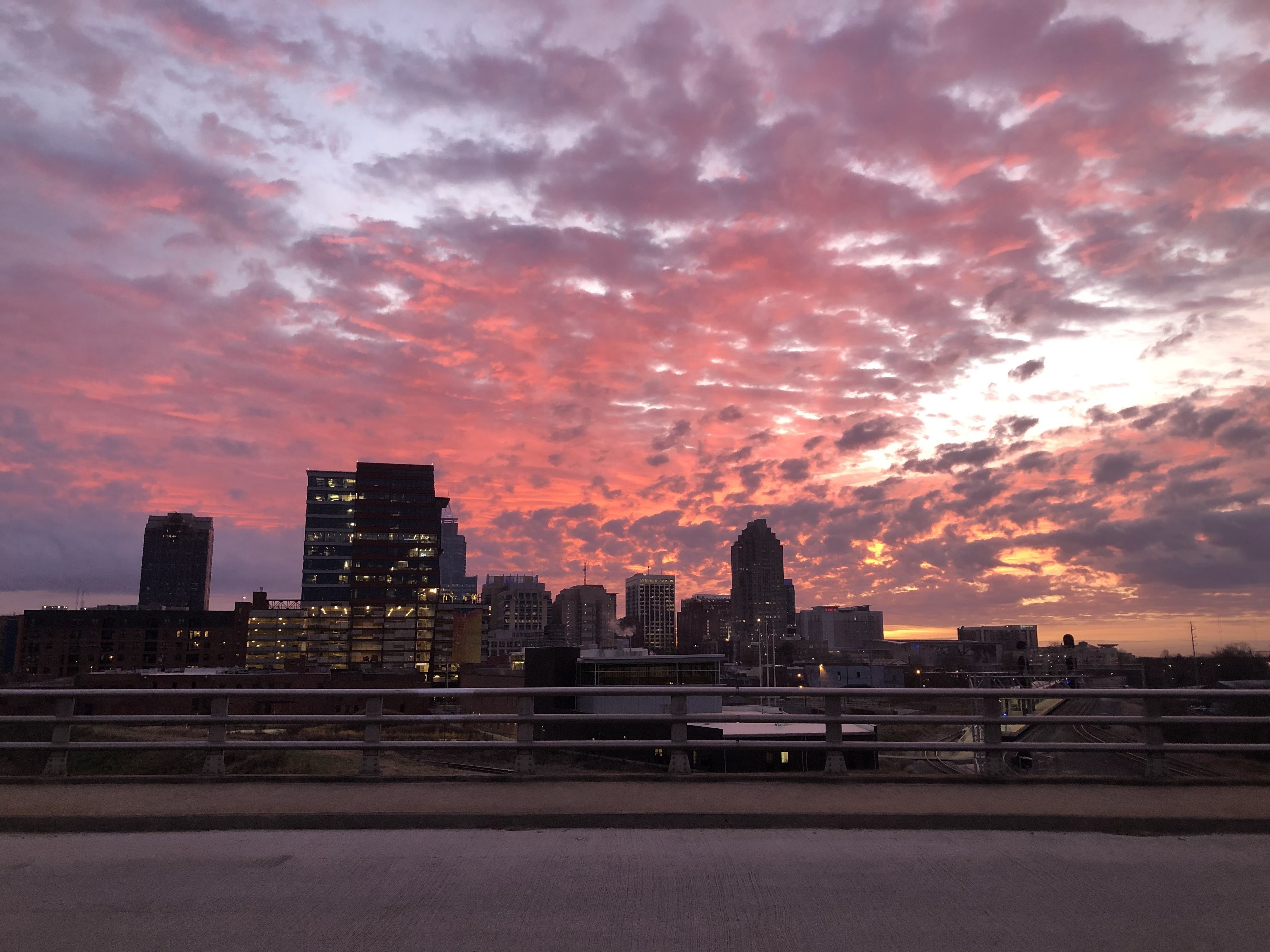 What to Expect: People of Raleigh and Crime in the City
Who Walk's Raleigh's Streets?
Raleigh's population of about 470,000 people is wonderfully diverse, and the city celebrates its cultural diversity with dozens of community-wide festivals each year. Raleigh residents also tend to be well-educated, with 52% of them having a college degree, more than twice the national average of 23%. As a newcomer, you'll notice that overall, Raleigh's residents are welcoming, kind, and happy. After all, why wouldn't they be?
Is Raleigh Safe?
Raleigh's property crime rate is in line with the national average, and its violent crime rate is lower than the national average – 219.7 vs. 228.3 according to 2020 data. Most residents feel safe and go about day-to-day activities without substantial concerns for their safety.
Raleigh Walkability and Public Transportation
Raleigh's walkable downtown offers plenty of options for living, working, and playing. Many grocery stores have established locations there to take advantage of the booming population, and its well-regarded restaurant scene will keep foodies happy. The Capital Area Transit (CAT) bus system can get you to most of the tourist attractions in the area and there's an Amtrak station a short walk from anywhere downtown.
Outside the city, residents find several destinations that aren't too far off by car. Durham is just a 30-minute drive away from Raleigh, and Chapel Hill is only a bit longer at 45 minutes. Drive four hours west the foodie mecca Asheville, nestled in the Blue Ridge Mountains; two hours southeast, and you'll be on the beach in Wilmington. In other words, Raleigh is foot-friendly but a car is required for most residents.
Sports and the Outdoors
Raleigh is quickly gaining a reputation for its outdoor activities and sports. Hiking trails, parks, waterways, and golf courses provide residents and visitors with a wide variety of options for when they want to get in the sun and get active.
No matter what your outdoor niche is, you'll find an activity to scratch your outdoor itch. Dog owners enjoy the several pup-friendly parks in the city. Anglers and families relax or boat on local lakes. There are batting cages, tennis parks, ice rinks, rock-climbing gyms, and aquatic centers. In Raleigh, you'll have access to horseback riding, public gardens, two state parks, and more than 100 miles of greenway trails that traverse the city.
Sports fans also feel at home in Raleigh. After all, it's on college basketball's famed "Tobacco Road," connecting North Carolina State University, Duke University, and the University of North Carolina – Chapel Hill. Soccer fans will be right at home, with North Carolina FC and the North Carolina Courage playing just outside the city. The NHL's Carolina Hurricanes, 2006 Stanley Cup winners, face off in the 20,000-seat PNC Arena. For baseball fans, the famous Durham Bulls are a quick drive away, and following each of the Carolina Mudcats Friday night home games, fans are treated to a fireworks show.
Raleigh Food and Dining
Even though Raleigh (and the state of North Carolina as a whole) has a distinctly different culture than deeper south states, it still brings a number of Southern traditions to the table. Beasley's serves up crispy fried chicken, creamy collards, and more Southern staples, and just up the street, the Mecca diner has been filling bellies since 1930. A few steps away, Big Ed's is known for their hearty breakfasts, with country ham, grits, and bacon all on offer.
While Raleigh hasn't traditionally been known as the best place to find either of North Carolina's two legendary styles of barbecue, several pit masters have fired up their smokers in town. Sam Jones BBQ recently joined local favorite Clyde Cooper's BBQ and The Pit in dishing out smoked goodness.
But Raleigh's ever-growing and diversifying population means there's much more to the food scene. The kudos roll in for chefs like Ashley Christensen, Cheetie Kumar, and Scott Crawford and others are joining them every year. Bon Appetit magazine named Brewery Bhavana one of the 10 best new restaurants in America, and Benchwarmer's Bagels at Transfer Co. food hall one of the best bagel shops outside of New York City. Soo Cafe serves a number of Korean dishes in addition to their popular Korean fried chicken and just up the road, Pho Far East makes hearty and authentic Vietnamese pho. Vegans aren't left out, either, with fantastic biscuits and soy-based BBQ from The Fiction Kitchen.
Raleigh Music & Art Festivals
Each year, nearly 70,000 people are drawn out to the city streets for Raleigh's annual Artsplosure Festival. Live music, local art, street performers, and family-friendly activities fill the day's schedule. Adults can enjoy the local cuisine and tent lineup while kids can take painting and drawing classes or explore the goofy theater.
The annual IBMA Bluegrass Festival takes over Raleigh every September, bathing the city in bluegrass pickers from all over the country. While performers command stages across the city, you're just as likely to hear impromptu jam sessions on street corners or in hotel lobbies. If your tastes run more indie, Hopscotch Festival has attracted a diverse array of performers for over 10 years, and J. Cole's Dreamville Festival has quickly established itself as one of the premier hip-hop festivals in the country.
Raleigh's Museums
The past is celebrated throughout the city's museums. In fact, Raleigh is often nicknamed the Smithsonian of the South. Museums like the North Carolina Museum of History walks visitors through the state's fascinating past. The City of Raleigh Museum, housed in the 1874 Briggs Building, showcases the heritage and culture of the area. The North Carolina Museum of Natural Sciences, full of fossilized dinosaurs and skeletons of giant creatures is a treat for adults and budding archaeologists alike.
Art aficionados have plenty of options, as well. The Contemporary Art Museum showcases an ever-changing lineup of exciting and thought-provoking work and is walkable from anywhere downtown. The North Carolina Museum of Art (NCMA) is one of America's 25 best according to Insider, and the West Building, with its stunning modern design, is an architectural work of art in itself. The 164-acre park wrapped around the museum is the nation's largest art park, and invites patrons to wander through its gardens, woods, and trails, dotted with sculptures and experiential installations. NCMA is also connected to the rest of the city by the greenway system, making it a popular destination for cyclists and joggers. At the Marbles Kids Museum, Raleigh's younger art-lovers learn through dozens of hands-on exhibits and educational programs.
More Resources for Moving to Raleigh
Interested in learning more about the city? Feel free to tailor your research and dive in more deeply on Raleigh topics that appeal and relate to you.
Additional Raleigh Guides
Like what you see?
A scan of Raleigh's long list of amenities and attractions will reinforce any desire you've had to move to this Triangle city. If you decide to take the plunge and move to Raleigh, don't hesitate to reach out to your friends at Bellhops. We coordinate local and long-distance moving services in Raleigh and we would love to help.