If you're moving from Washington DC to North Carolina, you're in good company. Recent census data shows that the Charlotte metro region's population grows by about a hundred people daily, with most coming from New York City and Washington DC. You can't blame people for looking at North Carolina as their new home state. As the twelfth state to enter the Union, North Carolina has hundreds of small towns with local stories and architectural examples that remind visitors of Colonial American life. In addition to the Blue Ridge and Smoky Mountains, North Carolina's coast is a mixture of marshes and wetlands with hundreds of miles of hiking trails.
North Carolina life isn't just for history buffs and outdoor enthusiasts. East of Charlotte is North Carolina's Research Triangle, a Metro region recently becoming a software technology hotbed of industrial productivity. The Triangle has about 7,000 businesses and a dozen world-renowned universities and colleges.
If you're moving from Washington, DC, to North Carolina, you'll need to plan your move so your transfer goes as smoothly as possible. To this end, we put everything you should know about your move in this handy quick-read guide.
The Tarheel State
North Carolina's nickname is older than the American Colonies. Given its natural resources, it was a major sailing ship manufacturer for the British as residents settled in the Colonies. Pitch and Tar was an essential ingredient for making ships watertight. Just as it was then, North Carolina is an industrial hub representing industrial growth and development.
What's It Like Living in North Carolina?
Moving from the U.S. Capital to North Carolina can be a culture shock, especially if you settle in a rural community. If you go with the rural option you'll need a dependable car. Commuting into areas like Charlotte and Raleigh Durham are the norm throughout much of the state.
One thing you'll probably notice right away is the lower cost of living in North Carolina. With a flat 4.75 % personal income tax rate, the tax burden isn't the best. However, the state legislature passed a comprehensive plan to lower North Carolinians' tax rate to just under 3.99%.
Another difference between living in Washington DC and North Carolina is the political climate. Most of the state's population is Conservative, especially in rural areas. State residents voted for the Republican Presidential candidate in all but one election cycle since 1980.
To help you decide where to move to in North Carolina, we've listed some pros and cons and some popular destinations that might influence your choice.
The Pros of Living in North Carolina
World Class Higher Education–North Carolina's Research Triangle is the top draw for many who move to North Carolina. Some of the best Universities in the world are inside the triangle, including Duke University, North Carolina State, and the University of North Carolina. Geographically, these universities create a triangle of state-of-the-art research and development.
Reduced Cost of Living–Washington DC's cost of living is higher than in most places in North Carolina. Washington DC's cost of living is 50 % higher than the national average. In contrast, Charlotte, North Carolina's cost of living is .3 % lower than the national average. A major magazine's yearly list of most affordable places to live listed Hickory, North Carolina, at the top.
Lower Housing Costs–North Carolina's housing costs are lower than the U.S. average and Washington DC's. According to one source, the median home price in North Carolina is $289,300. At $644,900, the median home cost in Washington, DC is about double that of North Carolina.
The Climate–Although Charlotte, North Carolina, is a little more than a 6-hour drive, North Carolina's weather is better on average than the District of Columbia. Most areas in the state see an average of 6 inches or less of snow per year. The Washington, DC, area receives about 16 inches of snow yearly.
The Cons of Living In North Carolina
Job Market–North Carolina's job market is spotty and depends on what part of the state you move to. The Raleigh Durham is the state's capital and employs thousands in government roles.
Public transportation–Local buses and transit routes are limited to the larger metropolitan regions in North Carolina. Nonetheless, many of the almost 100 bus companies are rural companies with limited services.
Summer Humidity–North Carolina gets enough sunshine. However, it's the summer humidity that catches visitors off guard. February is the best month for lower humidity at 77 % on average. In September, humidity can reach into the lower nineties, making outdoor activities nothing but a sweat bath.
Hurricane Season–North Carolina is a frequent target for tropical storms and hurricanes. The Eastern United States experiences catastrophic storms, mainly in the South Atlantic Ocean, where warm water feeds hurricanes. The season lasts from June 1 to 30 November.
Notable Attractions in North Carolina
The Wright Brothers National Memorial—People started flying in airplanes because the Wright Brothers dared to achieve the impossible. The Memorial is in Kitty Hawk, about a 6-hour drive east.
North Carolina Museum of Natural Sciences—Located in the Raleigh Durham area, the North Carolina Museum of Natural Sciences is about a 3-hour drive east of Charlotte.
Chimney Rock State Park—Chimney Rock is several hour's drive west of Charlotte and gets its name from the unique granite outcropping in the region. The Park has hiking trails and stunning views of the valley below.
NASCAR Hall of Fame—Paying tribute to one of the most popular spectator sports in the world, the NASCAR Hall of Fame makes up part of Charlotte's Southern Charm.
Battleship North Carolina—The US North Carolina is the first ship built in the then new fast attack battleships. The ship is docked about 3 miles northwest of Wilmington, North Carolina.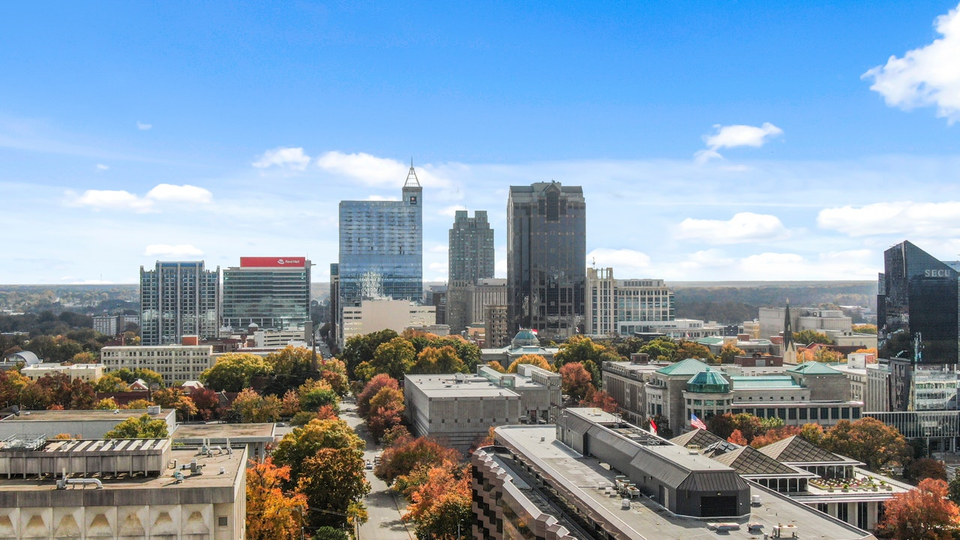 Popular Destinations in North Carolina
Charlotte
Known as one of the largest financial centers in the country, Charlotte's population has exploded over the past fifty years from a sleepy backwater to one of the most prominent examples of the "New South". And it's showing no signs of slowing. While it's always had a reputation of a "business first, culture later" city, that's beginning to change, as institutions such as the McColl Center for Art + Innovation incubate new artists in the region.
Learn more about moving to Charlotte.
Raleigh
The once-sleepy capital of North Carolina is fast becoming a hub for technology, drawing talent from the nearby North Carolina State, University of North Carolina - Chapel Hill, and Duke University. The Research Triangle Park, created in 1959 and the largest research park in the United States, is responsible for drawing first IBM, and later Glaxo Smith Kline and Cisco Systems to the area. For those moving to Raleigh, it offers a world-class public education system, safe streets, and a Southern charm.
Durham
Durham has emerged as Raleigh's funkier, more artistic sibling within the Research Triangle. Formerly a tobacco town, its warehouses have emerged as havens for artists and musicians such as Sylvan Esso and Wye Oak, as its economy has been fueled by Biotech companies large and small.
Learn more about moving to Durham.
Wilmington
This seaside city has become one of the fastest growing places in the nation, fueled by people looking for a thriving job market and excellent surfing. Downtown restaurants such as Indochine have been turning heads, and nearby Wrightsville Beach and Kure Beach offer some of the best surfing on the East Coast.
Asheville
This hippie enclave nestled in the Appalachian Mountains drew hordes of new residents during the COVID epidemic, and it's easy to see why. Though small, Asheville offers some of the best restaurants and breweries in the state, along with myriad nearby trails and parks for those looking to enjoy the great outdoors.
Conclusion
With the right moving partner, a move from Washington, DC, to North Carolina can go smoothly with little worry. Developing a moving plan and timeline are critical aspects of a long-distance move. Unlike during cross-town moves, people making long-distance moves are more prone to forgetting small details. Preparing a plan and timeline in advance helps you see hidden costs that can add up and catch you off guard. Don't let your long-distance move fall victim to unplanned events. Book today and leave the details for the experts.