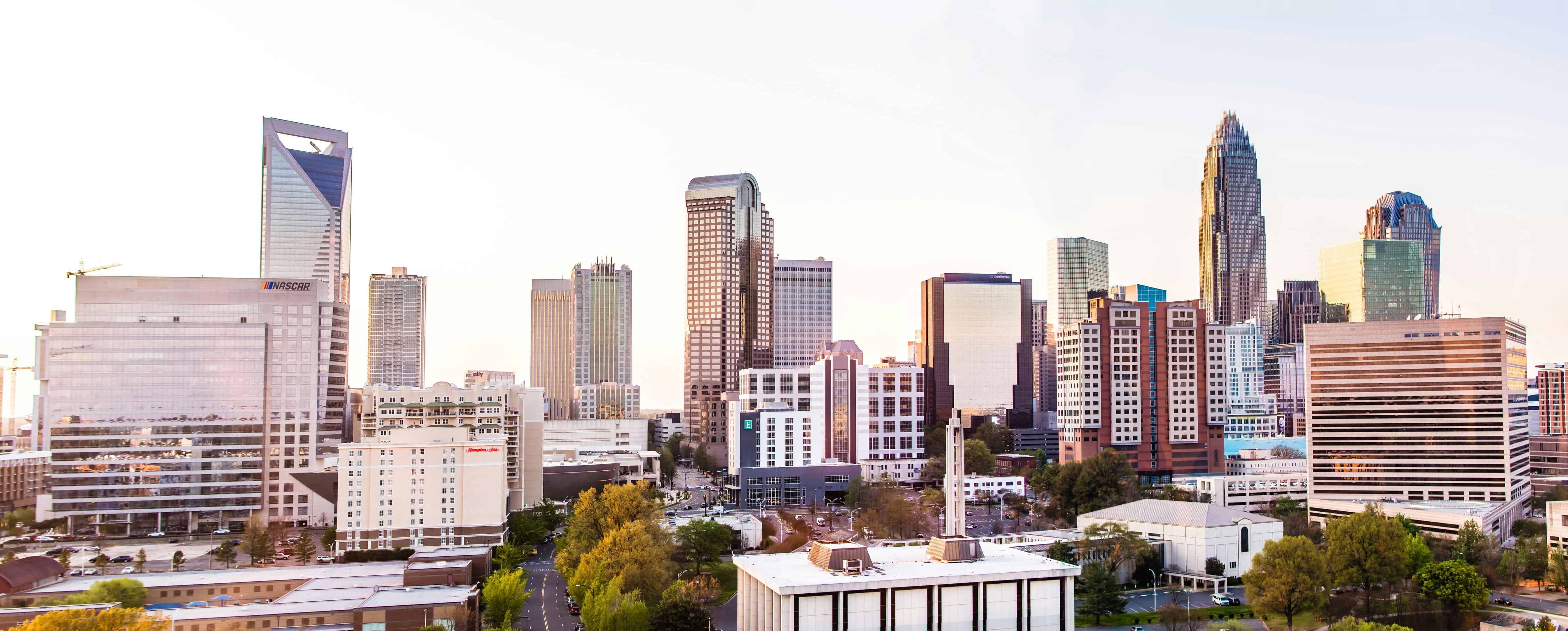 Updated August 17, 2023
Moving from one city to another is stressful. There's no way around it—even if the city you're moving to is awesome as Charlotte, NC. It's not just the packing and the actual move that's makes this such a tough process— it's the research you need to do to get acquainted with your new city.
Whether you're already committed to moving to Charlotte, still on the fence, or only doing some exploratory reading, our Bellhops City Guide is exactly what you need (oh, and we're movers in Charlotte, by the way). Keep reading, and you'll find info on where to live in Charlotte, the cost of living, the job market, pros and cons, and more. Let's dive in.
Living in Charlotte
Charlotte is the most 'unsouthern' of major southern cities. Most folks divide the 'south' into the 'south' and the 'deep south' with Virginia and North Carolina having a little bit of northern influence. Charlotte as a major metro area really took off when the city wooed Bank of America to headquarter there in 1998. Other banks opened large offices, making it the second largest banking center in the US. Soon multiple Fortune 500 companies added headquarters or regional centers – companies like Wells Fargo, Amazon, IBM, Nucor, Dillards and probably the most unusual one: Nascar.
These nationally focused companies brought talent from outside the region, growing the population from 540,000 in 2000 to 897,000 today (66%). When you consider the larger metropolitan area, Charlotte's 2.7 million folks drive a national rank of of 8th in the US. So, you are just as likely to hear a 'hello' as a 'hey' when meeting new neighbors.
Is Charlotte a Good Place to Work?
With 2.7 million people and a good mix of Fortune 500 and smaller companies, Charlotte represents a good opportunity for work. The unemployment rate is slightly below the national average at 3.2% (as of mid-2023). The population moved in 2021 at about the same rate as the national average (13%), (which means there are lots of job opportunities). Just remember this was the peak of Covid).
Who Lives in Greater Charlotte?
All these major and global corporations attract an educated and diverse work force to the area. The population tends to be younger, better educated and more ethnically diverse. Ten percent of the population is foreign-born (according to the US Census) with Latin America leading, followed by a vibrant Asian community.
Cost of Living in Charlotte
Depending on the source you trust, it can be more expensive or less expensive to live here than nationally. According to RentCafe, Charlotte is slightly more expensive than average for all of NC, but slightly less than the national average (-2%). The bill paying service Doxo, says it costs more by 7%.
Housing Costs in Charlotte
RentCafe says an average apartment costs $1,600. An average home price is $389,000 and a condo costs $311,000 according to Zillow. Prices vary significantly by neighborhood (like in most cities).
Dilworth – one of the older suburbs - $681,000
Downtown Charlotte - $522,000
Elizabeth - $578,000
Wilmore - $577,000
Sedgefield - $551,000
Greater Charlotte straddles the North and South Carolina border. Several South Carolina cities, located about 40 minutes south by car, can be thought of as suburb, places like Indian Land and Fort Mill. Home prices average $506,00 and $493,000 respectively. (SC residents have to pay NC taxes if income is generated in-state, so check before you decide where to start looking).
Communities with less expensive homes include:
Catawba, SC - $305,000
Lesslie, Rock Hill, SC - $312,000
Landis, NC - $242,000
Commuting in Charlotte
Given Charlotte's relatively fast growth, there are a lot of options for living close-in or farther out. Census data shows Charlotte as having an 'average' commute time of about 25 minutes. 65% commute alone, 7% carpool. Latest information shows 25% working from home, but this is likely to change. It is worth noting that only 1% use public transportation.
Charlotte opened the Lynx light rail system in 2007. The north-south running, 19-mile line operates from South Boulevard to the UNC Charlotte campus. It includes 26 stations with 11 park-and-ride locations.
There are three bike / scooter companies serving Charlotte as of this writing mid-2023: Bird, Lime and Helbiz. As in other cities, the business models are still risky so check before you grab your helmet.
Charlotte Weather and Climate
Charlotte's average low temp in January is 31 degrees, its high in July 90. That said, you can expect to regularly have 49 days of 90+ and seven nights a year with lows in the range of 11 to 20 degrees.
The city is located in the 'Piedmont' area of NC, midway between the mountains and ocean. It sometimes experiences hurricanes and tropical storms with loss of power as it did in 2022 during Hurricane Ian when 11,000 Duke Energy customers lost power.
Charlotte's Food Scene
Charlotte is a more diversified city than most in North Carolina. Notable is a higher Hispanic and Asian populations. This translates to more restaurant and food choices. One of course is donuts. Why mention this? Because Krispy Kreme Doughnuts is headquartered here and every graduating high school senior seems determined to eating an entire dozen by themselves.
With its growth and globe-trotting corporations, the city has attracted world class chefs to enhance the food scene. Many bring their traditions while experimenting with 'southern' faves. But we have to start the discussion with barbecue.
Barbecue in Charlotte
We're not trying to start a food fight, but… Texans moving in will be most challenged by the pork barbecue that dominates here. There are two styles of barbecue to be aware of - Eastern NC BBQ, which is served with a thin sauce of vinegar and red pepper flakes, and Lexington style BBQ, which is served with a tomato sauce. It's important to have an opinion on your favorite BBQ style - for example, I personally find lexington-style BBQ fit only for deviants, but that's just me.
There's also a mustard-based BBQ style found in South Carolina, but we needn't discuss it.
Best Restaurants in Charlotte
What else besides Krispy Kreme and barbeque is happening in the food scene in Charlotte? The answer is just about everything. Here are five to get your tastebuds started. Local sources like Charlotte Magazine regularly review and score the changing food scene:Noble Smoke serves both Texas and Carolina-style barbecue so you can sample side by side and decide which you like more.
Charlotte and Sports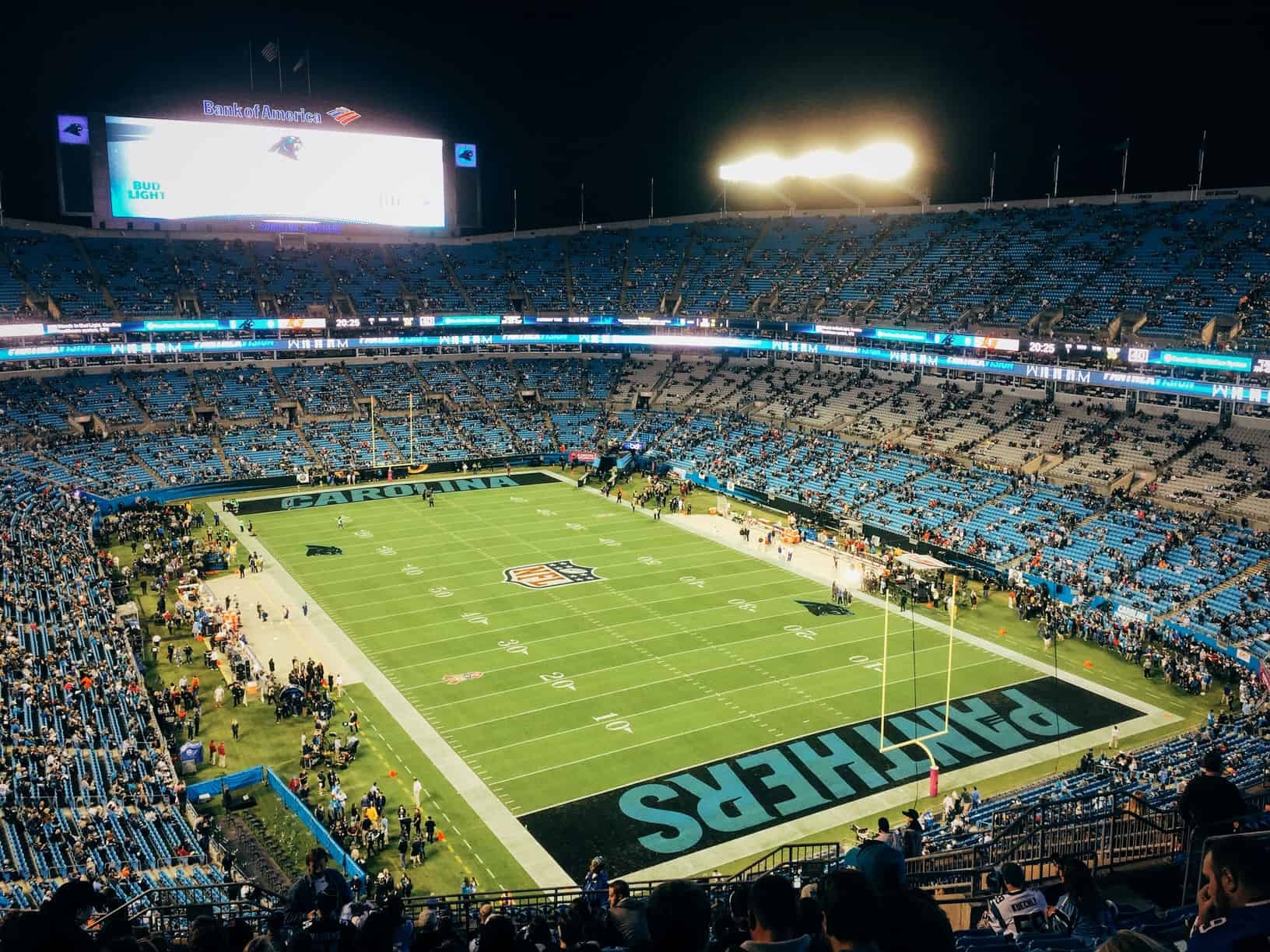 For the sports fan, Charlotte is pretty close to paradise.
Carolina Panthers
NFL fans have much to enjoy in Charlotte--it's the home of the Carolina Panthers! The Panthers are the five-time NFC South champions, so even if you're not a Panthers fan now, you may just become one. Catch a Panthers game at the Bank of America Stadium, situated comfortably on 33 acres and located right off I-277.
Charlotte: The NASCAR Legend
If it's not football season, then it must be time for NASCAR. The NASCAR Hall of Fame appropriately resides in the heart of the Queen City, as NASCAR roots were first planted on the Charlotte Speedway in 1949. Today, the Charlotte Motor Speedway sits outside Charlotte and hosts a few races each year (including the Coca-Cola 500 on Memorial Day Weekend!)
The Charlotte Hornets
NBA fans can catch the Charlotte Hornets in action at the Spectrum Center, located in the heart of Uptown Charlotte. Starting in the 2014-2015 season, the franchise returned to Charlotte after their stint in New Orleans and the Hornets returned to their home basketball court. Catch them in action, even in the off-season.
NCAA College Athletics
The University of North Carolina at Charlotte, the "Charlotte 49ers," compete in Division I NCAA athletics and are a part of Conference USA. As you may know, North Carolina is a hotbed of college basketball dynasties. Fans can make the two-hour drive north from Charlotte for the famous Tobacco Road rivalry between Duke University and University of North Carolina Chapel Hill.Charlotte and the Outdoors
Charlotte and the Outdoors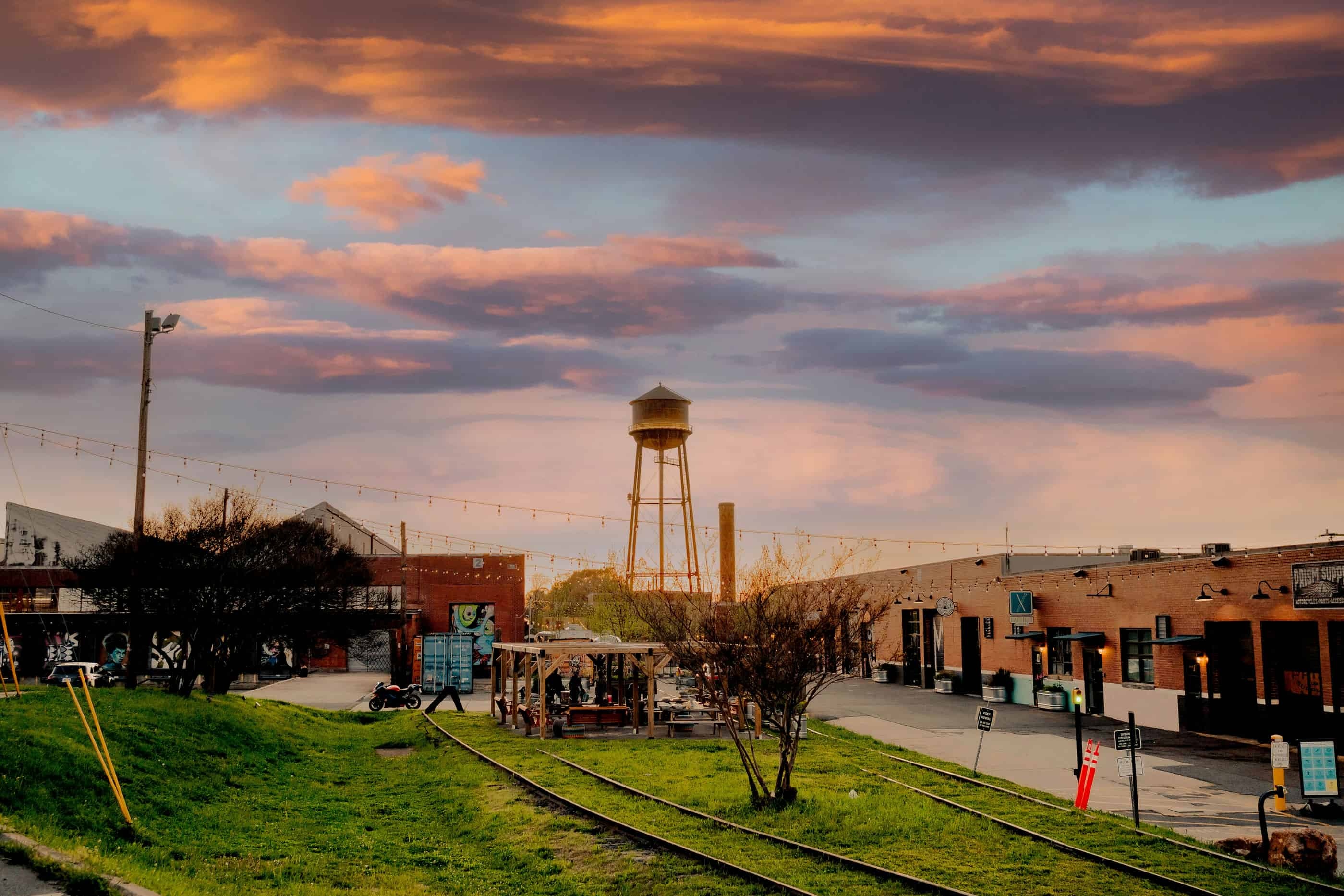 One benefit of living in Charlotte that residents mention over and over again is the location. Outdoor adventures are no exception here. Charlotte is just a few hours from both the beach and the mountains. Wilmington, NC on the ocean is 3.5 hours away. Asheville, NC in the mountains is closer - at little over two hours. Other closer-in places to adventure deserve mentioning.
US National Whitewater Center
Located just west of the Charlotte-Douglas International Airport, the U.S. National Whitewater Center was originally built as part of the U.S. Olympic Training Center. The 1300 acres on the Catawba River have been developed to provide outdoor thrills to those of all skill levels. You can go white water rafting, then mountain bike over 30 miles of trails, and then enjoy the scenery on one of the many walking trails, all in the same day! Relax after a long day of activity with their River Jam concert series during the summer. Both day and seasonal passes are available.
Lake Norman
Located an hour north of Charlotte, Lake Norman is the perfect getaway for an afternoon or weekend. It's also the ultimate haven for watersport enthusiasts. Bring your boat, jet skis, kayak, or paddleboards and enjoy this 34-mile-long body of water. Want to relax? Sunbathe on one of the many beaches or have a picnic in the nearby State Park. For a more thorough guide to Lake Norman, check out the excellent resources at Visit Lake Norman.
Charlotte Arts and Culture
The Bechtler Museum of Modern Art
Bask in the natural light that permeates this gorgeous building as you peruse the 1,400+ works housed in the new Bechtler Museum of Modern Art. The Bechtler is a rare jewel of a museum, as it is only the second museum in the US designed by the Swiss architect Mario Botta.
Until now, the Bechtler's collection was privately held by the Bechtler family of Switzerland. Since the Bechtler opened on January 2, 2010, their impressive collection has been enhancing the cultural and intellectual life of Charlotte.
The collection at the Bechtler includes works from some of the most important artists of the mid 20th century, including Miró, Giacometti, Picasso, Calder, Hepworth, Nicholson, Warhol, Tinguely, Ernst, Le Corbusier, Chillida and many others.
Yiasou Greek Festival
The Yiasou Greek Festival is a family-friendly festival held each September in the Dilworth neighborhood. If you have a taste for Mediterranean flair, this festival is for you. Best of all, you can stuff your face with spanakopita. You can also take in traditional Greek music or learn traditional folklore dance of Greece. In no time at all, this festival will have you saying, "Opa!"
Summer Pops with the Charlotte Symphony Orchestra
This isn't your average orchestra performance. Each Sunday in June, the Charlotte Symphony Orchestra performs an outdoor concert in Symphony Park with a 'Summer Pops' different theme, such as jazz or Broadway tunes. You can either buy a ticket for a single performance or an annual pass from the Symphony Orchestra website. Concert-goers are welcome to bring in food and beverages, including alcohol -- perfect for a date night.
Charlotte Schools: What You Should Know
Charlotte's public school system is a big selling point to moving to the city. Below are some of Charlotte's highest-performing public schools, in case you're still trying to figure out where to move to in Charlotte:
Best Elementary Schools in Charlotte, NC:
Best Middle Schools in Charlotte, NC:
Best High Schools in Charlotte, NC:
Like what you see about Charlotte?
We'll let Charlotte resident Bob Eksten leave you with his opinion of Charlotte, "Charlotte has most of the features you'd expect to find in a major American city, and it's a remarkably clean city. It is exciting to see how fast it is growing. There are a couple of caveats, however, if one were to move to Charlotte: Try to live close to where you work. Commutes can be punitive. Living in the suburbs and working in the city limits to my way of thinking is a bad idea for Charlotte. Don't be surprised to find out that Charlotte is a Southern city and that its inhabitants are Southerners. Some may not take particularly kindly to hearing that Northerners do things better. I have lived in several large and large-ish cities. In many respects, Charlotte is the best of that list."
If you decide to take the plunge and move to Charlotte, don't hesitate to reach out to your friends at Bellhops. We coordinate local Charlote moves and long distance moving services in Charlotte and we would love to help.
Other Charlotte Guides