Updated December 1, 2022

It's hard not to think about politics if you're considering moving to Washington, DC.
For those of us who don't live in our nation's capital, there's a sense that this city—which is formally known as the District of Columbia and commonly referred to as "the District," or more simply, "DC"—is a place where politics dominate everything.
But that's not necessarily the case, according to D.C. resident Andrew Shapiro, who's lived in the city for more than 18 years. "It's not like everyone is talking about tax policy all day. They are living their lives," says Andrew, who is the founder of K&B Sodas, DC's first bottled ginger beer brewery. He's also the beverage director at Dino's Grotto, a neighborhood Italian eatery focused on sustainable, seasonal ingredients.
If you're thinking about moving to Washington DC, you're most likely interested in hearing what folks who have lived there think about the city. That's why we here at Bellhops (we're movers in Washington D.C, FYI) used the magic of social media to ask people who currently live there, like Andrew, to tell us the good, the bad, and the political—and why this town is much more than the place the President lives.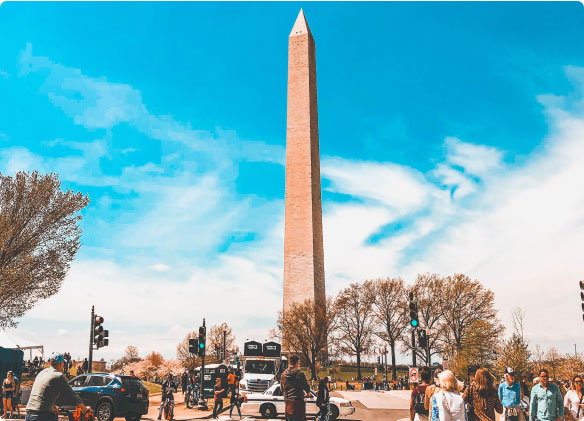 Living in Washington DC—Let's Start With the Essentials
Basic DC Info: Population and Area
Washington DC had an estimated population of 693,972 people as of July last year. During the workweek, though, commuters from the Maryland and Virginia suburbs such as Fairfax raise the city's population to more than one million people. And if you include the Washington metropolitan area—which is the sixth-largest metropolitan statistical area in the country—it brings the population to more than six million.
Speaking of Washington's metropolitan area, the U.S. Census Bureau has split it into two divisions:
Washington–Arlington–Alexandria, DC–VA–MD–WV Metropolitan Division, comprising the majority of the metropolitan area
Silver Spring–Frederick–Rockville, MD Metropolitan Division, consisting of Montgomery and Frederick counties
These places are considered the city's suburbs. Because a lot of people who work in DC commute from these surrounding areas, it can be overwhelming when it comes to deciding whether or not to live in DC proper or just outside of it.
Best Places to Live in Washington, DC: The Neighborhoods and the Suburbs
If you're looking to live in the city, there are 21 neighborhoods in D.C. to choose from, along with the nearby states of Maryland and Virginia. From the Shaw neighborhood, which is where the legendary 9:30 Club is located, to Penn Quarter & Chinatown, home to the International Spy Museum, there's sure to be a part of town that fits your taste if you can afford it.
"So, DC is basically divided into thirds, by Rock Creek Park and the Anacostia River," says DC-resident Christie (whose last name is withheld here). "Washingtonians talk a lot about 'West of the Park,' 'East of the Park' and 'East of the River' as far as rough geography goes.
"The city is divided into eight wards as well. There are a ton of smaller neighborhoods within that designation.
Enora Moss, who just recently moved to DC, says it costs more to live in the city than on the outskirts. "I Live in the southeast and I really like it," she says. "There is something to do every single day and night of the week. I love visiting the museums. I also enjoy the nightlife. My favorite place to go right now is Bukom Cafe and Marvin."
"I have lived in the Northern Virginia area for over 40 years and have experienced much of the cultural scene, which is fantastic," says Glenda Finley. "Yes, it is expensive to live in this area. I never lived in D.C., but always in Virginia. People are finding homes near the Metro so commuting by car will not be necessary."
Getting Around The City
Speaking of the Metro... it takes an average of 40 to 50 minutes to get anywhere in D.C. Fortunately, Washington D.C. has one of the cleanest and busiest public transport systems in the country. Though, D.C. resident Luke Thomas says that the Metro can sometimes be unreliable.You can choose to drive but beware of the traffic, especially during rush hour. Parking can also be expensive.
D.C. also has one of the highest taxi-to-person ratios in the country, with more than 6,000 taxis available. The best way to hail one is using the DC Taxi Rider app for iPhone or Android. Of course, whistling and flailing your arms works, too.
There's always Uber and Lyft if you've sworn off taxis. And if you're a bike rider, the city has more than 3,000 bicycles in its Capital Bikeshare program.
Also, the District is very pedestrian-friendly, with wide sidewalks and plenty of historic monuments and inspiring museums in the National Mall, as well as the city's beautiful gardens and it's famous Cherry Blossoms.
The Cost of Living in DC
According to Nerdwallet, Washington D.C. is the sixth most expensive city in the country. The average rent for a two-bedroom apartment is $2,111.00, and the average home price is $786,416, with the average salary at $61,835.
Christie says, "DC residents pay both federal and state income taxes, despite the fact that we do not have any elected representatives in Congress" (we'll get to this later). She goes on to say that property taxes are relatively low.
"Sales tax is 5.75%, except for dining out or prepared meals, which is 10%," she adds. "The city generates a lot of revenue through tourism."
The Washington, DC Job Market
As far as jobs go, needless to say, politics is easily one of the main careers in the District. But like any other city, there are other professions, too.
The city hosts 176 foreign embassies as well as the headquarters of many international organizations, trade unions, non-profit organizations, lobbying groups, and professional associations.
Schools and Universities in Washington DC
If you have kids, D.C. has some excellent schools. But like any other city, some are better than others.
Also, we got some opinions from those who live there. "It's a highly educated city," Christie says. "Universities in the district include Georgetown, George Washington, Howard, Catholic, and American Universities."
Want to learn more about schools in DC? Check out our guide on the best schools in Washington, DC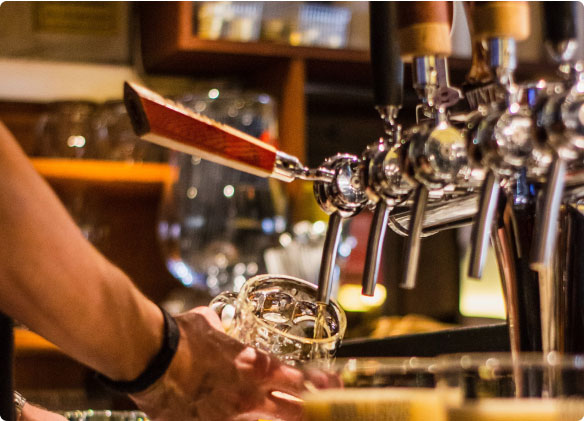 Things to Do in DC: Let's Hear from the Locals
Washington DC is known for its abundance of historical monuments and museums—many of which are free to the public—like the Smithsonian, the Lincoln Memorial, and the Washington Monument. If you're thinking about moving to DC, you're most likely aware of these attractions.
It's also home to all sorts of professional sports teams, like the Nationals, the Redskins, the Wizards, and others. But we won't go into this stuff.
Instead, we'll let the DC locals tell you about some of their favorite spots, from neighborhood restaurants and bars to small, lesser-known museums to festivals and other things to do.
Christie's Favorites: Great Public Libraries, Music, and more.
Our friend Christie tells us D.C has a lot of year-round public pools and a strong public library. "We also have the Kennedy Center, which hosts performances from opera to musical theater to concerts. And you can go see Congress of the Supreme Court in session."
Luke's Favorites: A Booming Food and Bar Scene, Constant Opportunities to Learn, and more.
Luke says, "The food and bar scene has exploded, and it's one of the most outdoor-exercise-friendly cities in the country. Museums, guest speakers, exhibits are constantly rotating into the city. There are lots of music venues now as well, catering to many different kinds of needs.
"Seriously, there's always something to do in the city. If people are bored here, they're probably just boring people."
Dorie's Favorites: Diversity, Local Art and Music, Volunteer Opportunities, the Location, the Sense of Vitality, and so much more.
Dorie Turner Nolt is the senior vice president of education at Strategies 360 and the former press secretary for the U.S. Department of Education. Along with her husband, John, Dorie responded with a vast and entertaining list of things to do in DC, where they've been living since 2013.
"DC is awesome," says Dorie. "The city is vibrant, diverse and exciting. I moved to DC from Atlanta, after having lived in Chattanooga, Knoxville, and Memphis, and it's my favorite place to live so far.
"You can walk down the street and hear 15 different languages. You can go to dozens of world-class museums for free. You can access incredible events at prominent think-tanks for free. Speakers and authors from around the world hold events here.
"The local art and music scene is solid and is much less cliquish than other big cities. There are so many ways to volunteer here for social justice, political and charitable organizations at every level. You can get involved in whatever you want.
"It's got four real seasons, unlike the deep south. Fall and spring are stunning. The architecture is amazing. The city is constantly renewing, reviving and regenerating. It's near the mountains. It's near the ocean. It's near other big cities like Philly, New York, and Baltimore.
"Yes, it's expensive. All big cities are expensive. You get so much for what you pay for here." If that didn't make you say "I want to move to DC right now" out loud, we don't know what will.
John's Favorites: Film, Music, Cultural Institutions, A Fire Bar Scene, and way more.
Then her husband John, who's a musician, chimes in, "There are a dozen movie theaters that are accessible via public transportation and a couple more that aren't. A mix of art and mainstream.
"D.C. culture benefits greatly from federal institutions like The Kennedy Center. But it has its own cultural institutions like the Lincoln Theatre, Howard Theatre and a new wharf chock-full of stuff to do and new music venues."
He goes on, "The bar scene here is on fire. There's anything you want. Like, for example, our world-famous, themed pop-up bar that basically blew up the world last season with their Game of Thrones installation. Come hear my band play at tiny venues like The Velvet Lounge, DC9, Rock n Roll Hotel, Club Heaven and Hell, and on and on."
John continues with non-music-venue suggestions, "Eat at one of the dozen or so really, really, tasty restaurants owned by world-saving chef Jose Andres. Lie around on a spring day at Meridian Hill Park aka Malcolm X Park. Watch July 4th fireworks from the Washington Monument, just to say you did it."
"Get your mind blown in the Alexander Calder room at the top of the East wing of the National Gallery. Get what's left of your mind blown on the third floor of the American Art Museum."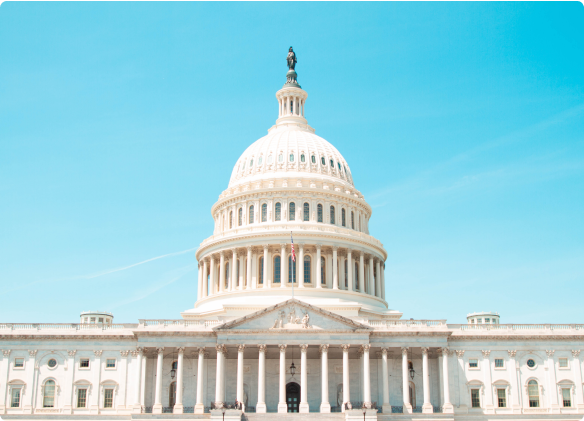 Politics—You Knew it Was Coming
And here we go. Now it's time to talk about politics, and how it differentiates Washington, DC from any other place in America.
Local Politics and the Lay of the Land
All three branches of our federal government—Legislative, Executive, and the Judicial—preside in DC. A 13-member council and a locally-elected mayor have governed the district since 1973. But, oddly enough, Congress has power over the city and can overturn local laws.
D.C.residents elect a non-voting, at-large congressional delegate to the House of Representatives. But the District has no representation in the Senate (that's that whole taxation without representation thing Christie mentioned earlier in this post).
A Spectre Haunting DC
Even though Andrew said earlier that it's not all about politics in DC, he feels like that's changing a bit lately. It seems that politics are all people talk about now because of the unconventional nature of the current administration has brought to the White House.
"It's pervaded everyday life, I think. People are talking politics all the time and most things are framed by that. What can you do? You can't ignore it. It's related to what you do in your job. It's related to people that keep your business going (because of so many politicians working and living in the city). I think that makes it difficult because you don't ever feel like you get a break."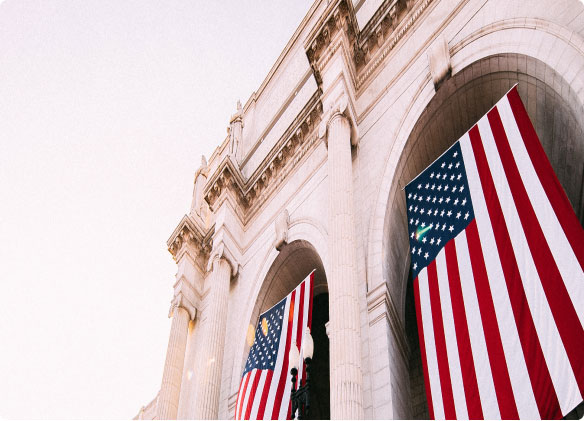 Good Luck with Your Move
And that's it. Our job is done. If you're feeling overwhelmed by your potential move, that's okay. It's all part of the process. Hopefully, what we've provided will help end some of your anxiety, and will help you decide if Washington, DC is the right move for you. If you decide to take the plunge, don't hesitate to reach out to your friends at Bellhops. We coordinate local and long distance moving services in DC and we would love to help. Also, check out our moving cost calculator to get a quick estimate on your move.
Additional Washington, DC Resources
Want to learn more about where people are moving to, and why? Check out our 2022 report on the state of moving.